The ultimate Summer Camp is just a jump away at SkyZone in Boston Heights, Ohio.  Kids ages 6-12 will enjoy a 1/2 Day of jumping, games, crafts, and more with unique themes daily.  It doesn't matter if it is 100 degrees or raining, nothing dampens the fun at SkyCamp where the fun never ends!
What is SkyCamp?
This is what a day at SkyCamp looks like at SkyZone in Boston Heights, Ohio:
SkyCamp in Boston Heights, Ohio is a full week of jumping fun with a new theme daily!
The day starts with stretches and open jump at the largest trampoline court in Ohio! This will get kids wide awake and ready for a fun day at camp.
Next, kids will play active games like relay races, building forts out of foam blocks from the Foam Zone, Trampoline Quidditch for Harry Potter fans, etc.
Continuing with the daily theme, kids will make a craft next. For instance for a Superhero Day, kids will design their own Superhero cape, for Animal Day, kids will make animal masks and even get a chance to visit with animals from the Akron Zoo! For Under the Sea day, kids will make their own "aquarium," for Pirates and Princesses Day, kids will design their own swords and crowns. The favorite theme day is Skylmpics where kids make their own tie-dye t-shirts, relay races, and outside water games!
Even snack time is fun at SkyCamp where kids can make their own trail mix, S'mores, and more.
There is plenty of time for jumping and ultimate dodgeball in the trampoline courts!
SkyCamp in Boston Heights, Ohio Dates and Times:
June 15-19, 2015
July 20-24, 2015
August 10-14, 2015
SkyCamp Drop off: 8am
SkyCamp Time: 8:30 am – 12:30pm
SkyCamp Cost:
$149 per child, per week. Get $10 off for additional children signed up.
Sign up for SkyCamp now!
SkyCamp is for ages 6-12. Sign up now for all three SkyCamp weeks!  Call 34-249-3030 or email lauren.ciolli@skyzone.com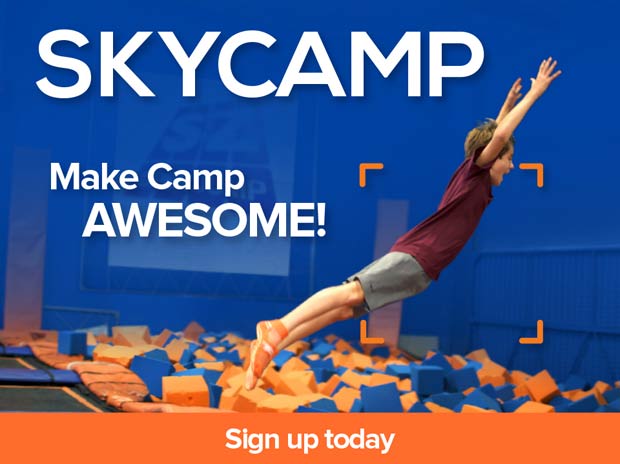 Sky Zone Indoor Trampoline Park
6217 Chittenden Road
Boston Heights, OH 44236
234-249-3030
Connect with Sky Zone Boston Heights on Facebook and Twitter.