Are you looking for a way to take the emphasis off candy this Halloween? There are so many reasons why having a load of candy isn't a healthy choice for kids. It's just not healthy for kids to have access to piles of candy. How can you fight it though? Have your kids feed their candy to the Sugar Goblin!
This post is part of a sponsored campaign for The Sugar Goblin. I received compensation for my participation, but my review and opinions are my own.
Sugar Goblin Gives Tricks for Treats
This year, we introduced an amazingly fun tradition to our Halloween. The Sugar Goblin showed up one day and started doing all sorts of pranks on our kids and they love it!
The Sugar Goblin is similar to Elf on the Shelf or tricky leprechauns that play tricks on kids. Kids are invited to seek out their own Sugar Goblin by saying "Tricks for Treats" before Halloween.
During the days leading up to Halloween, the Sugar Goblin will play tricks on your kids like hanging pictures upside down on the wall, flipping over chairs, moving decorations around the house, and even riding on home decor!
After the Sugar Goblin has played tricks on your family and provided endless laughs on the days leading up to Halloween, your kids pay him back with their Halloween treats. The Sugar Goblin and candy disappear the next day, leaving behind a special present for your kids.
My kids are smart and getting older for things like this, so I wasn't sure how they would respond. Certainly they know he isn't real, right? When they got off the bus last week, we sat down to read The Sugar Goblin: The Return of Tricks for Treats
together.  The book talks about how the sugar goblins need candy to survive and they were running out. One small goblin had the idea to ask children for Halloween candy in exchange for tricks and it worked.
My kids thought it was a cute book, although my son immediately said, "this is for parents that don't want their kids to eat too much candy." True, but I didn't say anything.
The moment they got up for school the next morning, they both rushed downstairs to find the Sugar Goblin! They were so excited and thought it was hilarious that the Sugar Goblin turned all of our photos and wall hangings upside down!
My son immediately remembered that the book talked about the Sugar Goblin turning photos upside side and compared the two. Did you notice the adorable charcoal portraits of my beautiful kids? I still need to frame them but they were done by a local artist and I love them!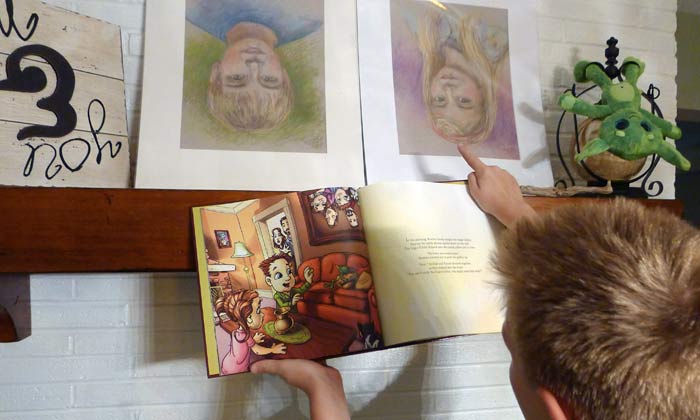 Every day, they talked about what the Sugar Goblin did and what he might do the next day. My kids totally bought the concept and have had so much fun playing in this imaginative, make-believe world! I am still surprised that they believe, to them, this is fun! Our Sugar Goblin has had fun too, moving things all around the house!
Now, my kids have started talking about what kinds of presents the Sugar Goblin might give them after he receives their Halloween candy! They are excited to give him their candy.
Since my kids are both Type 1 Diabetic, it is hard to deal with holidays and events that are all about candy. For me, the Sugar Goblin has made Halloween fun again, and not another day that I have to tell my kids that they can't be like the other kids who can (but shouldn't) consume piles of candy.
The Sugar Goblin is a fun family tradition that will be around for years to come. I encourage you to invite him into your home this season too. It is amazing how he can entice kids to eat less candy!