Updated with 2014 Stats.
The phrase lyme disease, and the word 'tick' can cause fear and trepidation among anyone within ear shot of a deer crossing sign.  After a recent back and forth with Glenn Needham of The Ohio State University, I have some things to share, including a tick comparison chart.
Let me get to the root of the problem.  Ticks.
What is a Tick, Exactly
Ticks are 8 legged arachnids that range in size from a quarter inch around to the size of a tiny poppy seed.
Ticks are blood suckers and latch onto anything with a pulse – deer, rodents, birds , pets and people
Ticks that have gorged themselves on the blood of an animal can grow many times their own size- even as large as a lima bean.
Ticks do live in the woods, along the edge of woods, tall grass and brush areas- anywhere animals may have been, or will be passing through.
There is more than one variety of tick.  American Dog Tick, Black Legged Tick, and the Lone Star Tick
What Diseases Can Ticks Carry?
The American Dog Tick can Carry Rocky Mountain Spotted Fever.
The Black Legged Deer Tick can Carry Lyme Disease.
The Lone Star Deer Tick can carry Ehrlichiosis and Anaplasmosis.
What Areas of the Country have Ticks with Infectious Diseases?
Rocky Mountain Spotted Fever Infection Area (spread by American Dog Tick)
Rocky Mountain Spotted Fever is found across the United States, but surprisingly, rarely in the northern Rocky Mountains from which it originated.  This infection is most commonly in a band across the middle of our great nation.
 have found this dog tick species on my own person, on my dog, and on the clothes of my children. These are the largest of the ticks in Ohio and easy to spot. Keep an eye out for these horrible biting bugs!
Lyme Disease Infected Area (spread by Black Legged Deer Tick)
Human Lyme Disease Infections are numerically on the rise in Ohio.
2010 – 40
2011 – 53
2012 – 67
2013 – 93
2014 Lyme Disease Infections in Ohio  – 119
To further elaborate on the spread of Lyme disease in Ohio.  Check out the CDC's interactive map.  You can watch the infection spread, and, in a hopeful manner, shrink from year to year between the years 2001 and 2013. Find the Lyme Diseases interactive maps here.
Thanks to Glenn Needham of The Ohio State University, we have this outstanding map of the population of the Black Legged Deer Tick.  This is not a map of Lyme disease infecting Deer Ticks, but a decent indicator.
Ehrlichiosis and Anaplasmosis (Spread by Lone Star Tick)
Infections like these include symptoms like Fever, Headaches, Chills and aches and pains. CDC Links: Ehrlichiosis and Anaplasmosis.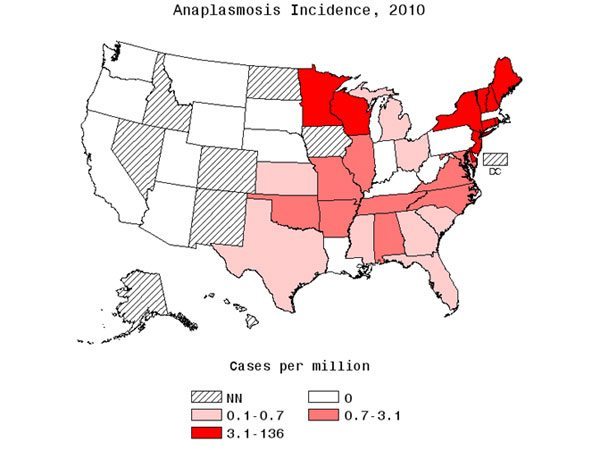 What About Tick-borne diseases in Ohio, and More Specifically Akron?
As per Mary K. Daniels of the Ohio Department of Health, in 2012 there were 2 cases of Lyme disease confirmed in Summit County, and 1 probable cause.
So, yes, Lyme disease is here in Akron and the parks.
How Can You Protect Yourself from Ticks?
Apply tick repellents (DEET/Permethrin)
Tuck pants in socks/shirt in pants
Do thorough tick-checks daily
Remove/save attached/crawling ticks
Develop a tick-safe zone by mowing/mulching
Use veterinarian approved anti-tick products, test &
Vaccinate pets for Lyme disease
What do you do if you find a tick attached to you?
Remove it as per the video below, and watch the infected area for signs of Lyme disease at least- which would be a large rash, possibly in a bullseye pattern.  The rash can be accompanied by fatigue, chills, fever, headache, muscle aches, and swollen lymph nodes.  If such happens, go to your DOCTOR.