We were delighted to be a sponsor of the Toys R Us Grand Re-opening at Chapel Hill and Parma last week. Thanks to all who met up at the Chapel Hill Toys R Us, we made up about 1/2 of the attendance when the doors opened! We had fun chatting while standing in line with our kids, even though a few of us didn't REALLY need to be there 2-1/2 hours early! I would recommend getting to a Toys R Us Grand Opening about 1/2 hour early.
Even Mayor Don Robart of Cuyahoga Falls, OH was at Toys R Us for the official ribbon cutting cermony.
We felt like movie stars entering the store. About 20 Toys R Us associates lined both sides of the entrance clapping and cheering for us as we entered the store. It was exciting! My kids looked behind them to see who they were cheering for! I was about to as well.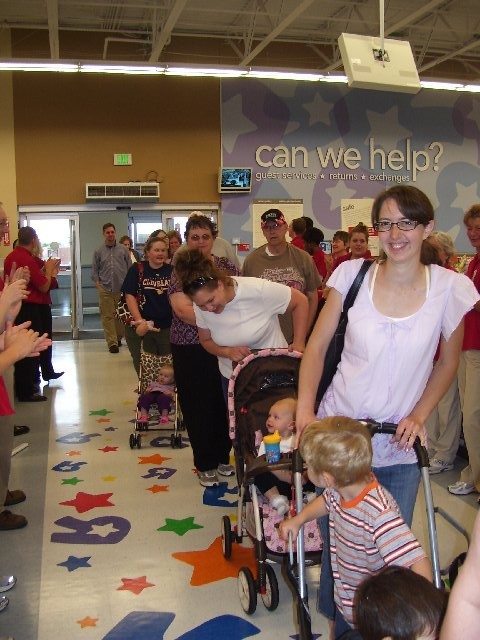 The first 100 moms (1 per family) received a prize pack worth $100 that included a baby wrap, nail polish, snacks, and tons of coupons. See picture of our prize below.
There was a flyer with some good grand opening specials as well as a coupon for $10 off $50 purchase! We were thrilled to use the coupon to buy a great 10′ wide swimming pool for my young kids. All of their summer pools and toys are on special, now is the time to buy!
The kids had fun getting their picture taken with Geoffrey! There were other costumed characters at the grand opening throughout the weekend. The flyer included who was going to be there and at what time. This was perfect so moms can take their kids when their favorite characters were there.
We had so much fun at the Toys R Us Grand Opening that 1-1/2 hours went by in no time!
The kids had fun dancing and playing games with the DJ. Kids loved the toy giveaway prizes! We even stayed for storytime.
Thanks to Toys R Us for the $50 Gift Card Prize Giveaway! Alicia was the winner! Always, thanks to Toys R Us for the Oprah T-shirt that went to Debbie.
Grand Opening Near You
Toys R Us will be celebrating grand openings and grand re-openings all summer long. There is sure to be one near you! If you are interested in finding one near you, go to www.IwanttobeaToysRUsMom.com! You can also email me (cindy @akronohiomoms.com) for details on how your blog or moms club could become a sponsor like us!
This was not a paid post. My own opinions were used based on my perceptions and experience. Thank you to Toys R Us who provided prizes for post & giveaway.