Urban Air Adventure Park is the nation's premier full-service indoor family entertainment center for all ages and is now open in Copley, Ohio!  Bring the whole family because there is fun for all ages from toddlers to adults!
This is a sponsored post.
Urban Air Adventure Park Video Tour
While at their media preview event, I shared a video tour of Urban Air Adventure Park through Facebook Live, check it out below to get a feel for the amount of things to do, size of the place, and all the fun being had in Copley!

One ticket gets you access to all the fun at Urban Air! If you have younger kids that can't do all the big-kid stuff, there is a lower priced admission for them. When you walk in, there is a rock climbing walls and free fall section to the right. Get harnessed up and climb to the top – race your friends, and challenge yourself. The free-fall is something else too!
My daughter climbed the 'stairway to Heaven' with no fear, then propelled down to the floor.
There is a large area dedicated to trampolines of all kinds. The dodgeball arena was quite popular, especially for the older boys and teenagers!
There is a freestyle jump area for bouncing your heart out and even a long running length area for gymnastics completing their flips! As you can see in the video above, there are also places to slam dunk a basketball from a trampoline, and a place run, jump, and dive.  Something I've never seen at an indoor trampoline park before is their Apex Trampoline that allows you to jump HIGHER and land on the side of the walls!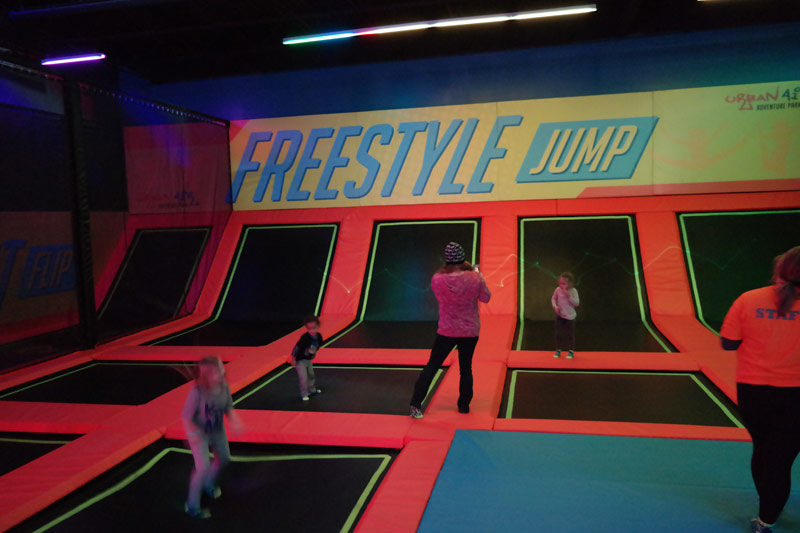 Urban Air's version of Wipe Out is hilariously fun and quite the work out!  The spinning arms will have you jumping over and ducking under while on a trampoline! It's fun to watch too!
The Battle Beam is a lot of fun too, walk on the balance beam to your opponent and try to knock them off into the pit of foam!  This is a fun event for kids as much as it is for adults. Oh, by the way, Urban Air is a fun place to let your older kids and teens run free with their friends. There is plenty of seating areas for parents to veg out, however, don't. Instead, go play with your kids!! There is so much fun to be had and so many memories to make if you join in on the fun with your kids. Urban Air is made for families to have fun together, so go ahead and challenge your kid to the battle beam – he'll love it and so will you!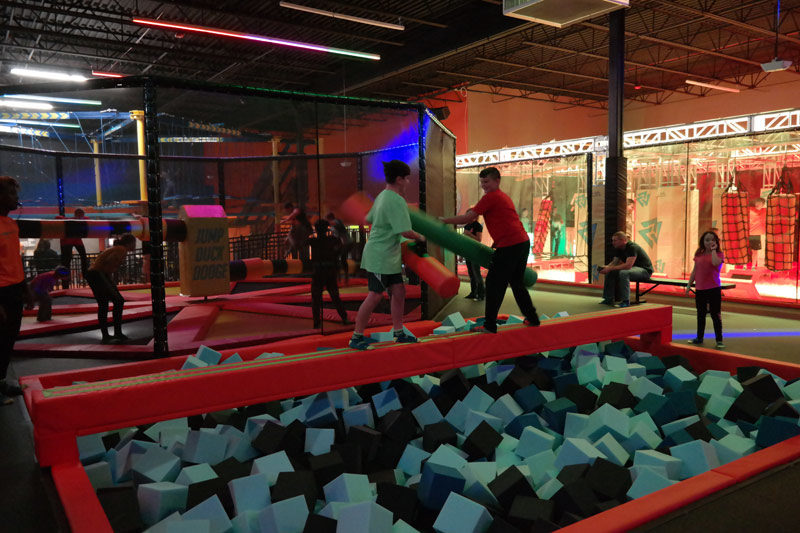 There are 3 different Warrior Obstacle Courses with 3 challenge levels. I'll be honest with you, I barely made it across the first level but it was fun! And who can complain about falling into a pit of balls?! That's half the fun!
The obstacle courses are fun to race each other or challenge yourself. Believe me, it is a work out. If you want to get your family off the couch and active, especially this winter, a trip to Urban Air Adventure Park should be on your schedule. They even have monthly passes – make it your gym membership – you get plenty of exercise with a lot more fun!
There are a couple playgrounds just for kids under the 52″ – parents can join them but it is meant for the younger ones. There is even a handicap entrance for one!
I went through a couple levels of the little kid playground in the video above, so check it out!
Birthday parties, corporate events, and parties of all sorts are better at Urban Air! Urban Air has been voted BEST place to have a child's birthday party nationwide. They have at least 5 party rooms that I noticed!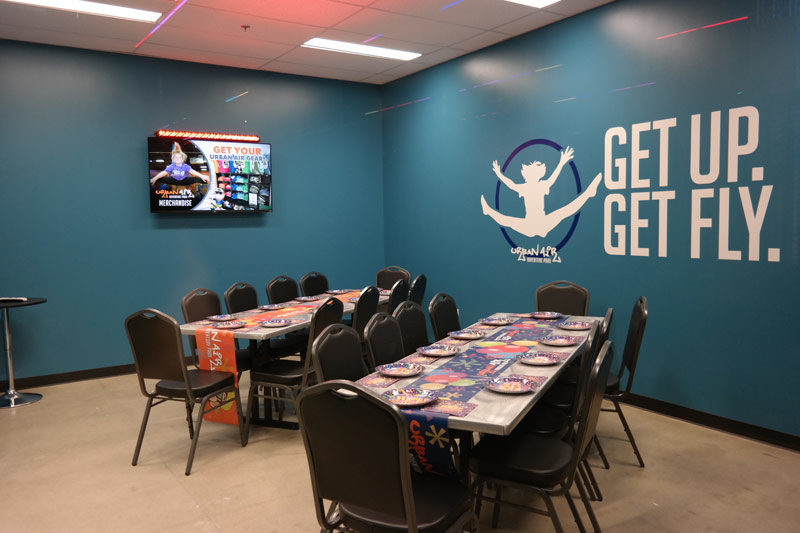 My family loves ropes courses so we were excited to check out Urban Air Adventure Park's ropes course. It was challenging but not too scary or difficult.  It leaves you climbing over people in the cafe below!
The Sky Rider is their version of ziplining. You must be 48″ but that's it, there is no skill involved, you just zip through the indoor amusement park up high! I didn't get a chance to ride it when we were there – we ran out of time because there was so much to do and we were only there for 3 hours. However, I saw a lot of adults on it and they went fast! The kids were having fun too but it didn't look as fast – must be a weight thing. So, go for it, moms – I know I will next time!
Another really fun thing at Urban Air in Copley is their Spin Zone Bumper Cars!  Choose between two types of cars – one spins around and around and the other has you spinning upside down!!!  Who doesn't love bumper cars? Adding this element makes it the ultimate. If you watch my video above, you'll see just how much fun it is for adults too with the two ladies laughing their heads off!
Fun, fun, fun! Urban Air Adventure Park is fun for the whole family! We nee more active fun places in the Akron area, so I'm so glad we have Urban Air in Copley. It is located right off Rt. 18, in the old HH Gregg building. There is plenty of parking and so much to do at the park, plan to take your family, meet up with friends, and have a great time. Again, I can't stress enough, get yourself a ticket too and have fun with your kids – you'll be glad you did. Plus, allow enough time to do everything, I'd say at least 4 hours! Your ticket is good all day so there is no time restraint.
Urban Air Adventure Park
160 Rothrock Loop
Akron (Copley), OH 44321
Enter Urban Air Adventure Park Giveaway
You have the chance to win an incredible giveaway to Urban Air Adventure Park in Akron/Copley!  Win 4 ultimate passes for 2 kids and 2 parents, 4 waters, and 4 snacks or sweets!
a Rafflecopter giveaway

This promotion is in no way sponsored, endorsed or administered by, or associated with, Facebook. In order to comply with the latest Facebook Promotion Guidelines (revised 5/11/11), the following statements are true: