I don't know about you but my family loves flavorful foods. We like trying recipes of all kinds as well as mixing up new flavors to family favorite dishes. One flavor we can't get enough of is avocado. We have found that Kumana Avocado Sauce makes it easy and convenient to add the modern and desired flavor of avocado to everything – breakfast, burgers, fries, entrees, and more. Trust me, once you try it, you'll want to put it on everything!  It is the missing ingredient that your food never knew was lacking until now.
This is a sponsored post. Some links below are affiliate links, meaning, at no additional cost to you, I earn from qualifying purchases.
Kumana Avocado Sauce is delicious and gives a kick of flavor to all kinds of cuisine and even alone with nachos!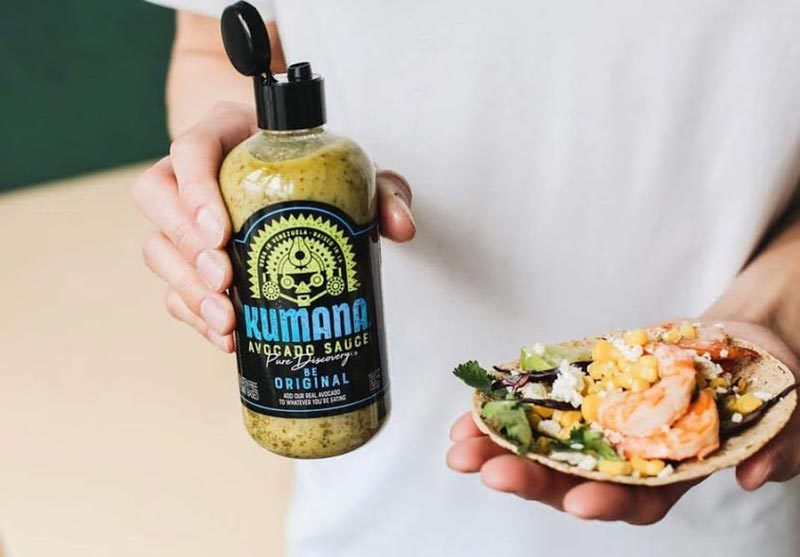 It is a creamy, smooth sauce, not a chunky topping that you might be used to when you think of avocado. You can drizzle a little bit or really pour on the flavor!
With Super Bowl around the corner, up your app game with real flavor with a fresh and vibrant drizzle of Kumana! No more boring foods allowed!
A recipe that I just discovered is Best Avocado Egg-In-A-Hole. Basically you split an avocado in half, take out the seed replace with a cracked egg, season, and cook at 400° for about 10 minutes. Top with your choice of cheese, veggies, herbs, and sauces. It is a tasty breakfast or lunch! I like to top it with the slightly sweet Kumana Be Mango Avocado Sauce while my husband and son like the Be Hot Avocado Sauce.
I've never had an avocado sauce before so I didn't know what to expect. Kumana Avocado Sauce is creamy and super fresh, made with real avocados, fresh onion, bell peppers, cilantro, garlic, and white vinegar. Choose from three flavors: original, mango, and hot. Personally, I like all three, just depending on what mood I'm in and what food I'm topping.  It's a great way to add flavor without added sugar to all kinds of food.
Like I said, you can top traditional Mexican type foods with this sauce as well as kicking up flavor in your family favorite recipes. If you want more delicious ideas, check out Kumana Foods Instagram feed for mouth-watering inspiration!
Kumana Avocado Sauce is available at select retailers but I didn't see any local Ohio stores listed as of today. Your best bet is to hop on Amazon.com to pick up a couple bottles for about $8 each.