Ever wonder how professional chefs can create such flavorful and decadent foods, drinks and desserts, it is all about the flavorings. When you use the same tools as culinary professionals, at least you stand a chance at creating equally delicious foods for your family. I was recently introduced to Amoretti, a company that specializes in syrups, toppings, olive oils, nectars, and sugar free flavorings by Amoretti for this review.
With all their products, I learned quickly that a little goes a long way – unlike the supermarket flavorings that takes a ton. I've enjoyed experimenting with their products, although I'm not a culinary genius yet, I sure feel like it when I turn the ordinary into something special!
Sugar Free Flavorings
Looking to add flavor without sugar and added carbs? I am! Since my son was diagnosed with Type 1 Diabetes, I've been on the search for healthier alternatives that add flavor, without adding sugar and additional carbs.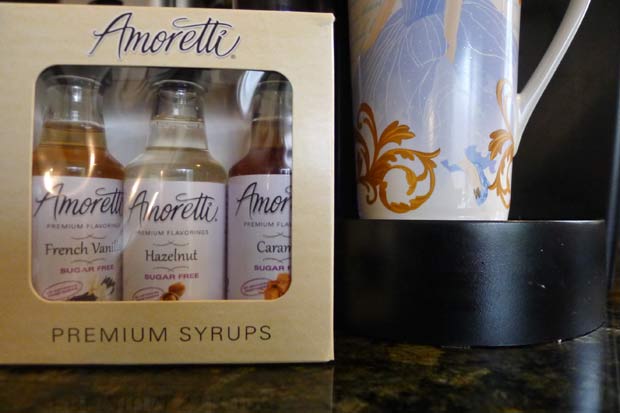 Amoretti has about a dozen sugar free flavorings  to choose from for decadent and delicious drinks. What I liked it that many do not contain artificial flavors, colors, or sweeteners!  I sampled the French Vanilla, Hazelnut,and Caramel sugar free premium syrups. They are perfect for adding flavor – without sugar and only a few carbs – to hot drinks like coffee, tea, hot chocolate or steamed milk, AND cold drinks like Italian sodas, milkshakes and smoothies, or cola.
I have been enjoying delicious, coffee shop type coffees with the flavorings – with more flavor and less price than the coffee shop!

Although there is sugar in ice cream, I've found a couple "natural" brands with less sugar, making it easier to incorporate into our lifestyle – but nothing flavored. I simply add vanilla ice cream to my blender with Amoretti sugar free flavorings for delicious French Vanilla, Hazelnut, and Caramel milkshakes. The French Vanilla is divine, I add it to everything from coffee to cola to yogurt to hot oatmeal!
Premium Toppings
Amoretti also offering premium toppings  for your hot drinks and desserts. A swirl of their Crema di Hazelnut, Vanilla, or Caramel is the gourmet touch that will send your treat over the top!
I can't tell you how flavorful they are and they are so creamy. They are similar to the above flavorings but much creamier.  They are amazing as a topping to brownies and ice cream!
It is amazing how much taste and decadence a little syrup can do. If you are counting calories or carbs, no worries, it is only 70 calories and 14 carbs for a full Tablespoon – you won't need even 1/4th of that for a drink! The syrups are smooth, creamy, and delicious. All of this without artificial sweeteners, trans-fats, and high fructose corn syrup!
You can of course use Amoretti syrups in a million different ways beyond hot drinks and desserts. If you are like me and need inspiration for true culinary creations, check out the Amoretti recipes to release the culinary genius hiding inside of you! 🙂
Get inspired and social with Amoretti on Facebook  and Twitter.
You can purchase Amoretti products on Amazon.com. I suggest starting out with the 3-packs to find what you like the most, then order the full size bottles. Experiment and have fun in the kitchen!