Do you love discovering cultures through food? I've never been to Japan but my family has enjoyed discovering all about Japan through Bokksu Authentic Japanese Snack Box!

Every month Bokksu delivers a snack box with a Tasting and Culture Guide that are as tasty as they are fun to discover! This is a gift-worthy subscription with a beautiful, sturdy box presentation. I moved items around in the below picture just to try to show how many items are hidden inside – it is packed!
This Japanese snack box changes each month and is filled with interesting flavors and foods from partners with 100+ year old family snack makers. Sourced from authentic local makers in Japan, your box ships free directly to your door. You'll enjoy authentic Japanese snacks with fun themes each month. The best part is that it is FUN to discover together with friends and family – that's an authentic fun smile there on my daughter, folks! We pulled this box out during a recent playdate. All of the adults and teens loved discovering what each snack was.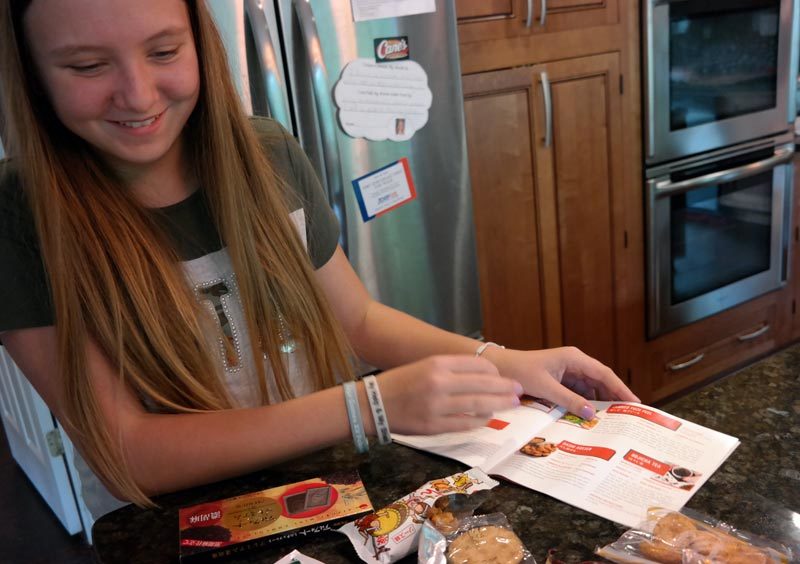 We have the Bokksu: Spring Picnic theme, it is a good old-fashioned Japanese picnic in a box! It is full of fresh spring flavors from around the country including fragrant 20th Century Asian Pears from Tottori, umami-rich uni (sea urchin) from Kumamoto, gourmet shrimp from Niigata, organic strawberries from Nagano, and can't miss matcha-flavored snacks you need to try! The teens knew the matcha flavor because it reminded them of Starbucks! 
The box comes with a Tasting and Culture Guide so you can match up is snack with a distribution. I was surprised that the kids reached for the guide to see exactly what each item was as they tasted it. Bokksu is a great way to learn a new culture, where the food comes from, what it is made of, and how it is enjoyed in Japan. The Uji Matcha was a favorite, they were surprised it was made from red beans while still sweet!
The Mochi Puffs were also a favorite because the texture is like nothing else you'll find in America – I promise! Japan is known for being the country of mochi, a traditional rice cake eaten for dessert.
Another favorite was the Matcha Baton because of the matcha flavor and light sweetness. Plus, the texture was layered and unique.
There are plenty of savory, sweet, and even spicy items in the Bokksu box including Wasabi Rice Crackers that I didn't dare try but my adventurous teenage boy loved them and took one to school to share!
The founder Danny Taing, fell in love with the myriad of unique flavors he experienced while living in Japan for many years and wanted to share that experience with everyone. He really succeeded! My family had so much fun discovered everything in this picnic themed box. It would have made a delightful afternoon picnic if we took it to the park or beach with us. I've seen on social media that people do save their Bokksu box for a special occasion like date night, picnics, beach time, camping, and parties.
Start your monthly subscription today or give a Bokksu box as a gift starting at just $23.50!