Variety is the spice of life, this rings true with the new "A Variety of Flavors" menu at BRIO Tuscan Grille in Lyndhurst and Westlake, Ohio.  This limited time menu is only available now through Saturday, April 15th, so make reservations soon for your next family dinner out or date night.
I was a guest to facilitate this post.
A Variety of Flavors Menu at BRIO Tuscan Grille
This was our first visit to BRIO Tuscan Grille, we were pleasantly surprised by the entire experience.  BRIO offs an upscale dining experience with affordable prices. The ambiance is that of Tuscany with warm design that includes high ceilings, marble chandeliers, and stonework. Although it is a short drive to Lyndhurst to Legacy Village or Westlake for Crocker Park Village, BRIO offers an escape from Ohio to something more exotic.
Although everything about BRIO says fine dining from the atmosphere to the delicious entrees, it is very family-friendly from the prices to the white paper topped tables with crayons to color with. My family enjoys a variety of family time activities and one of those is dining out.
BRIO Tuscan Grille features Tuscan entrees of oven-roasted steaks, chops, and seafood in a variety of  menus including a children's menu, light menu, gluten-free menu, and seasonal. This is one Italian restaurant that isn't all pasta. Everyone can find an authentic Italian meal at BRIO to enjoy.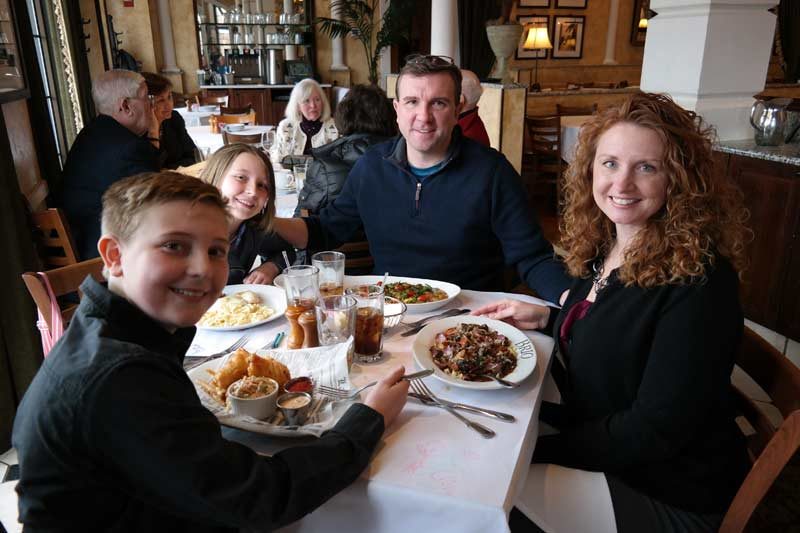 During our visit, we only ordered from the Variety of Flavors limited time menu. With so many new dishes, we wanted to try them all before it was too late.
For starters, we ordered the Calamari Fritto Misto. The battered rings and tentacles were cooked crisp and golden. Who can resist diving into this? The fried peperoncini added a kick to the dish that surprised me. On either side of the calamari were two sauces, a marinara and creamy aioli sauce.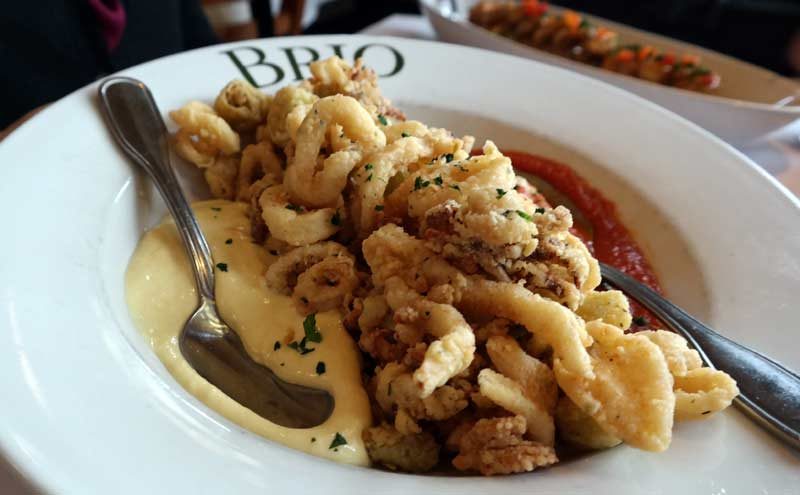 My daughter just mentioned the other day that she never wanted to try octopus. My family has a rule that you must try one bite of everything at dinner. How will you know if you like it or not? My 10 year old, Elizabeth tried the calamari and liked it once she got passed what it was. The rest of us devoured this entree, it was like a guilty pleasure.
The second appetizer on the Variety of Flavors menu is their Spicy Shrimp & Eggplant. If you've ever had difficulty getting your children to try eggplant, give them a taste of this, they will love it. The Romano crusted eggplant was hearty and flavorful. I've been experimenting with meat alternatives like tofu at home, Elijah said to try eggplant after tasting it at BRIO – now, where can I find their recipe?! 🙂 The pan seared shrimp was perfectly cooked and seasoned with enough spice to give it a bite but not overly powerful. The black pepper cream sauce is zesty, the perfect way to pull the eggplant and shrimp together for this crowd-pleasing appetizer.
You caught me! I had more than my share of these tantalizing appetizers.
BRIO is the type of restaurant where you might dress up a little more than typical – I had my son switch out of his sports gear that he wears constantly. That being said, it's not required to dress to the nines. For my family, it is more special when we make an event out of going to dinner. The parties to either side of us were there celebrating and relaxing together. BRIO is the type of place that allows you to slow down and enjoy life a little bit more. Maybe this is how it feels to dine in Tuscany?
I like that BRIO is very family-friendly. Their kid's menu has delicious, healthy options that any parent would approve. There are also activities on the menus that kids can do with their parents/siblings like tic-tac-toe. Activities like this makes it a fun way to engage with one another while waiting for dinner to be served.
Once my husband tasted the spicy black pepper cream on the Spicy Shrimp & Eggplant appetizer, he knew he had to order the Lobster & Black Pepper Shrimp Ravioli. This is actually a customer-favorite recipe for the Lyndhurst restaurant and no wonder! The ravioli is packed with tender lobster. The shrimp is cooked to perfection. My family loves spinach so he was pleased to see it was topped with spinach and grape tomatoes. I had several bites and can confirm that if you like seafood with a bit of a kick, you'll enjoy this limited item entree.
I never fry foods at home, that is why my family tends to indulge in such foods while we dine out. My son was excited to see the Peroni Beer-Battered Fish & Chips on the Variety of Flavors menu!
Although I cook fish at home, my kids dread the days that fish is on the menu. This is not the case at BRIO, everyone wanted a taste of the flaky North Atlantic cod with golden crispy battered outside. Brussels sprouts is another food that is difficult to get my kids to eat but not the Brussels sprout slaw at BRIO. It was a good twist to the traditional cole slaw that you typically find with fish & chips.
I chose the best of the Variety of Flavors menu when I ordered the Braised Beef Pappardelle. I know this because everyone wanted extra bites. Even my daughter who doesn't like onions specifically asked to have red onions in her portion. I couldn't believe it. The Braised Beef Pappardelle includes Rosemary pappardelle cooked to perfection, crimini mushrooms, roasted carrots, and red onions with a tomato porcini sauce.
What a hearty, flavorful meal. The beef was cooked fork tender while the vegetables had enough firmness to take notice. I will be ordering this again.
We don't typically order dessert and although our tummies were full, we couldn't resist the temptation. I'll be honest, I wasn't too thrilled to see pudding on the Variety of Flavors menu, that was before I tasted the Butterscotch Budno – this is no ordinary pudding! Budino is Italian for pudding, the Italians know how to do it right. The creamy butterscotch pudding had a delightful flavor. Topped with Marcona almonds, caramel, and vanilla whipped cream, this dessert something that can stand on it's own against any dessert. My husband and I shared but I wish I had my own.
My children were in chocolate heaven while they shared a Torta di Cioccolata. With a warm chocolate center, this chocolate cake is outstandng topped with vanilla bean gelato, anglaise sauce, raspberries, and chocolate drizzle. I don't know if you can tell in this picture but I think it is adorable how my daughter eagerly awaits the first bite with her hands at the ready.

We are fortunate enough to have two BRIO Tuscan Grille restaurants in NE Ohio.
BRIO Lyndhurst/Legacy Village is located at 24325 Cedar Road, Lyndhurst, OH 44124. The restaurant is open Sunday 11 a.m.–9 p.m., Monday–Thursday 11 a.m.–10 p.m. and Friday and Saturday 11 a.m.–11 p.m. Saturday and Sunday brunch is offered until 3 p.m. Call (216) 297-9232 for reservations.
BRIO Crocker Park Village is located at 200 Crocker Park Boulevard, Westlake, OH 44145.  The restaurant is open Sunday–Thursday 11 a.m.–100 p.m. and Friday and Saturday 11 a.m.–11 p.m. Saturday and Sunday brunch is offered until 3 p.m. Call (440) 250-8630 for reservations.
Be sure to hurry in to experience the Variety of Flavors menu by Saturday, April 15th to try the dishes featured above! If it is warm, you may even be able to enjoy their outdoor seating.
Find your nearest BRIO Tuscan Grille location here.