It's 4:46, do you know what you are serving your family tonight? I hope it isn't something boring like grilled chicken and rice….your kids are bound to react like mine to something like this:
Don't get me wrong, I enjoy cooking, many meals from scratch but sometimes my busy schedule doesn't lend to hours or preparing dinner.  I always include vegetables but sometimes my dinners aren't so appetizing as I scramble to find something quick to make my family for dinner.
Besides looking less than appealing, usually slapdash meals are also much less healthy than something you've prepared from scratch and taken time to prepare. Enter: Mom Guilt! 🙁
No longer will my kids give me the disgusted look of "what's this?" for dinner because I found Del Monte Foods Chef's Pantry Meal Toppers! Yay!
I received product to facilitate this post.
The brand new way to "make over your meal" in just minutes is Del Monte Foods' Chef's Pantry Meal Toppers.  These packets turn boring and unappetizing dinners into a disappearing act! Seriously, when we tried the Southwest Beans & Corn in Chipotle Chile Sauce Meal Toppers, my kids were both done eating before me!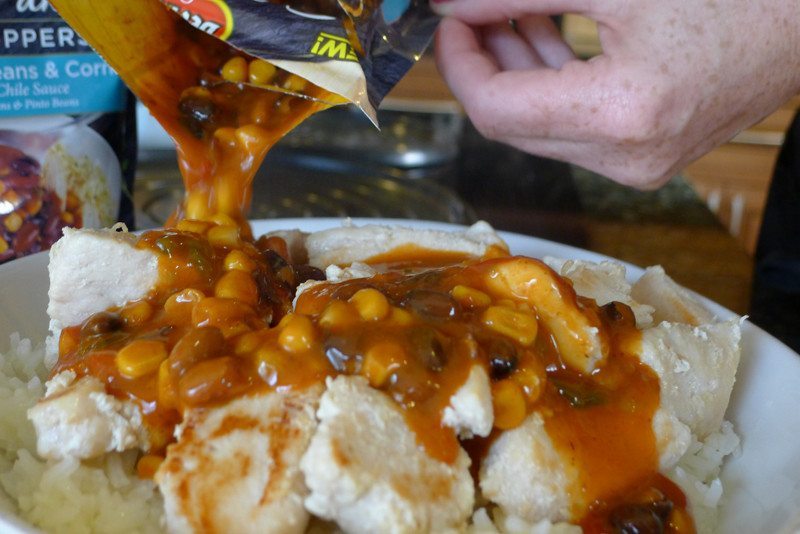 It is amazing how easy it is to make over your meal. Simply cook chicken, rice, or another starch combination like pasta. Next, heat the Meal Topper in a skillet or microwave (3 minutes!) and pour over the chicken and rice. Easy peasy! Plus, I love that each serving size includes a whopping three servings of garden-quality veggies!
My son gives the Southwest Beans & Corn in Chipotle Chile Sauce Meal a big thumbs up – and silly face!
In fact, my son gives it 2 thumbs up! We were having way too much fun in the kitchen. Just the way it should be. I like to include my kids with cooking any time that they are interested, it is a great learning experience for them and bonding time for all of us.
Easy peasy dinner that kids love!
 I can't wait to try all
six chef-inspired dishes
including Pot Pie Vegetable Medley, Orange-Sesame Vegetables, and Tuscan Style Beans & Tomatoes.  I like to keep items like this stocked in my pantry for busy night and with this variety, it will keep everyone happy! — there's enough variety to keep everyone happy. I can't wait to try them all!
You can purchase Del Monte's Chef's Pantry Meal Toppers at Giant Eagle, Kroger, Target, and Walmart!