Nothing is more relaxing and inviting than waterfront dining in Cape Cod. Choose from several restaurants at the Sea Crest Beach Hotel for guests and visitors alike.
Cape Cod Waterfront Dining at Red's Restaurant and Lounge
Enjoy the best of Cape Cod at Red's Restaurant and Lounge for lunch and dinner inside Sea Crest Beach Hotel.  This casual waterfront restaurant offers beautiful views of the ocean in the Three Seasons Porch dining room as well as private dining rooms.

We received dining at the Sea Crest Beach Hotel to facilitate this post.
The name "Red's" is named after Arnold Jacod "Red" Auerbach, one of sports' all-time greatest personalities. Red's is the perfect choice for Cape Cod dining for families, couples, business meetings, and more. Everyone is welcomed and the attentive staff makes everyone feel at home.
We had a busy day sight-seeing and having fun on the beach, so we were happy when our waitress brought fresh baked rolls and cranberry bread to us right away.

Our waitress recommended the Garden Vegetable Pizza for starters. It was loaded with fresh tomatoes, basil, onions, squash, goat cheese, with a tomato basil sauce. It was full of delicious flavors that my husband and I thoroughly enjoyed.
The Filet Mignon was also recommended and now I know why – it is amazingly tender and full of delicious flavor. The generously sized center-cut filet mignon sits on top of a hill of garlic whipped potatoes with a mushroom jus, blue cheese, and roasted tomatoes. The mushroom jus sauce was the perfect accompaniment to the the filet, it really complimented the filet and potatoes nicely. I highly recommend this dish.
My husband ordered a daily special of scallops with fresh roasted vegetables. It was the freshest scallops he has ever had and cooked to perfection. Although the picture displays the food nicely, you can't tell the size from this photo. It was plenty for my husband for dinner, it was a large serving.

My son is adventurous when it comes to food. Another daily special was Lobster Macaroni and Cheese. When he heard the waitress mention it, he knew he wanted it. We all had a taste or two of this scrumptious meal – it was just too tempting!

The portions of lobster were beyond generous in the Lobster Macaroni and Cheese. Bite after bite has large lobster pieces to my son's utter delight!
My 6 year old daughter played it safe and ordered a pasta marina with salad for dinner. She ate her entire bowl, believe it or not!  The marina sauce was quite tasty. The kids' menu offers a nice selection of kid-friendly foods to keep any child happy and satisfied.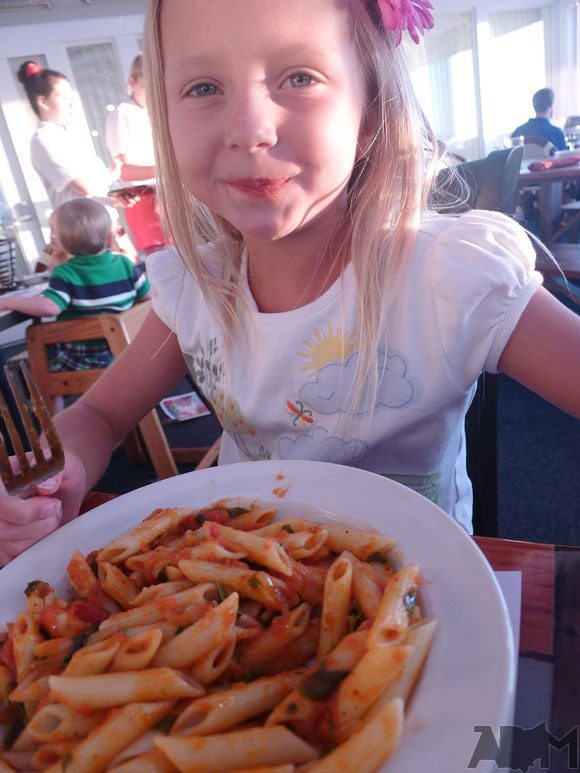 It is worth noting that if you or someone in your party isn't a seafood lover, there are many entrees at Red's to choose from. They even offer a gluten-free menu.
Dining at Red's Restaurant was a very enjoyable experience. We were able to watch the sunset over the ocean from our table – the perfect ending to the perfect day in Cape Cod.
Cape Cod Waterfront Dining for Breakfast
Start your day off right with an ocean view during breakfast at Sea Crest Beach Hotel. Breakfast is set up buffet style with a waffle station and omelet station. Have your breakfast prepared just the way you like it.
There are many hot dishes to choose from including fluffy scrambled eggs, French toast with fresh fruit, sausages, bacon, potatoes, and more. The food was hot and plentiful.
We all enjoyed the French toast with fresh blueberries and raspberries!
There is plenty of fresh fruit – both whole and cut-up. Enjoy hot oatmeal with all the toppings as well.
There is an array of muffins, danishes, croissants, muffins, pastries, and more too choose from.
Enjoying Cape Cod waterfront dining at breakfast is the best way to start any day. The views from the dining room were breathtaking. There isn't a bad seat in the house with floor-too-ceiling windows on three sides.
Juicy raspberries topped the hot French bread, making it irresistible.
A hot bowl of oatmeal with plenty of fresh cut strawberries gave us a hearty start to the day.
We probably ate way too much but the food was just too good!
Dining Options on Cape Cod Beach
Sometimes, you don't want to get showered and de-sanded to stop for lunch. Red's also offers a Poolside Bar by the Sea Crest Beach Hotel outdoor swimming pool for guests. You can also order take-out from Red's Take Out for lunch and snacks on the beach. Everything taste better when dining ocean-side!

There is also a waiter service for Sea Crest Beach Hotel guests on the beach.
Cape Cod Waterfront Dining at Sea Crest Beach Hotel
Whether you are a guest at Sea Crest Beach Hotel or just want a delicious meal in Cape Cod by the ocean, there are plenty of appetizing options at Sea Crest Beach Hotel. Read our full review of our Luxury Cape Cod Beach Vacation at the Sea Crest Beach Hotel.
Like Sea Crest Beach Hotel on Facebook
Follow Sea Crest Beach Hotel on Twitter
Sea Crest Beach Hotel
350 Quaker Road
Old Silver Beach Cape Cod
Falmouth, MA 02556
800-225-3110 or 508-540-9400
This was not a paid post. My own opinions were used based on my perceptions and experience. Thank you to Sea Crest Beach Hotel who provided us with dining for review.