Have you visited Earth Fare, the new All-Natural Supermarket in Fairlawn, Ohio yet?  We had the chance to take a tour during their Grand Opening last week and I'm here to share with you why Earth Fare is now my favorite grocery store!
This past year, I've learned more and more about organic and all-natural products, especially through AOM blogger, Beth. I have been reading labels and trying to buy food and products that are safer for my family. It can be a challenge to know what is good and what is not. If you are a newbie like me or you are just tired of reading labels, Earth Fare is for you.
Earth Fare in Fairlawn, Ohio is a 26,000 sq feet all-natural supermarket with organic and gluten-free options, meat, seafood, local produce, bulk items, fresh sushi, a full-service café and more.  It is a store designed for people who want to eat healthy.
Earth Fare food policy:
NO hydrogenated or partially hydrogenated oils (added trans fats)
NO High-Fructose Corn Syrup
NO artificial colors, flavors, sweeteners or preservatives
NO antibiotics, synthetic growth hormones or animal by-products in the feed (fresh meats & milk)
NO bleached or bromated flour
NO irradiated single source spices, produce or meat
NO animal by-products in foods
NO inhumane treatment of the animals providing us with dairy, meat, and eggs
You can shop for healthy foods for your family at Earth Fare without the time and worry of reading labels. You already know what is not in the foods.
Earth Fare Review
Elizabeth and I visited Earth Fare last week on Grand Opening Day. I think all of Fairlawn was there to check out the new store. It was an exciting visit with people filling up their carts and plenty of oohs and awes.
Earth Fare Organic and Conventional Produce
Start your trip out in the produce section where you will find the best selection and variety of organic and conventional fruits, vegetables, and drinks. You can easily spot what is organic with the orange labels and what is conventional with the brown labels. Earth Fare wants to give you the choice. Below is a very small portion of the impressive produce department at Earth Fare.
Do you want to support local farms? Look for the 100 mile logo and you know that those products are from local farms within 100 miles of the Fairlawn, Ohio store. You'll find "local" items throughout the store from produce to meat to dairy to health & wellness.
Or, do you want to support small family farms, not matter if they are local or not? If you want to support small family farms and artisan craftsmen, look for the Family Producer logo throughout the store.
Buy Bulk at Earth Fare
You can buy in bulk at Earth Fare for the freshest ingredients, just the right quantities, and save money too. Buy Organic and Fair Trade Coffee, Nuts, Candy, Chocolates, Pantry staples, and more. You can even make your own fresh peanut butter! This is the largest bulk products selection that I've seen in the Fairlawn, Ohio area. We needed this!
Fresh Seafood, Meat, and Poultry at Earth Fare
Did you know that many grocery stores add colors to seafood to make them appear fresh? Not at Earth Fare! Fresh seafood at Earth Fare is guaranteed with No antibiotics, No chemical preservatives, and No artificial colors.  The Fresh Meat & Poultry counter carries a full selection of products with No antibiotics and no hormones. You can request items to be cut to order at no additional charge. Both departments had a fantastic display.
There were many sampling stations throughout the store. My favorite was of their Filet Mignon. Can you believe it? Who does that? It was a really nice display where you could buy a package of Filet Mignon for you and your spouse to have Filet Mignon for just $10! Great marketing on their part. I'll keep this in mind for sure.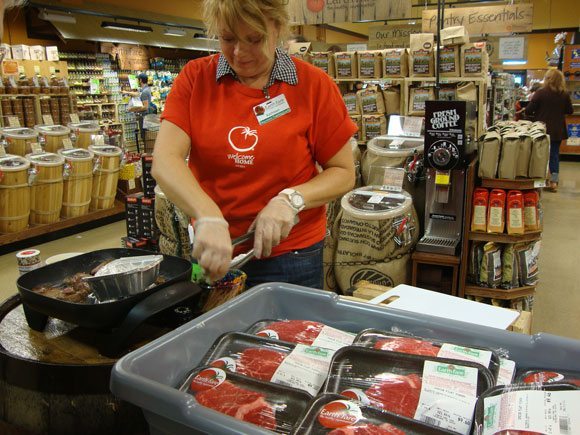 Wellness, Health & Beauty at Earth Fare
The Wellness section at Earth Fare houses about 8 rows of superfoods, minerals, amino acids, first aid, cosmetics, kid and baby products, cold, flu, allergy products, medications, health & beauty products, and more.
Gluten Free at Earth Fare
Gluten Free items are easy to find at Earth Fare. Items that are traditionally gluten free are throughout the store. However, Earth Fare has many items that are not traditionally gluten free throughout the store on easy-to-spot shelves. If the shelf is has a wo0den front, it hold gluten free products. It is now easy to find a great variety of gluten free products without reading labels.
Cheese and Wine at Earth Fare
What a cheese selection! They have every kind of cheese imaginable, all with No artificial preservatives, No artificial flavors, and No artificial colors. Not sure if you like something, ask for a free sample of anything.
Next door is their Wine and Beer section. They have a rotating section of great wines for under $15 as well as a great assortment of wines of every type. For those of us that are unsure which wine to pair with dinner, there are easy to read labels that indicate whether that wine is good for chicken, seafood, meat, etc.  Chill your wine for free with the Chilling Service. It is 25 times faster than a refrigerator and you can decide how cold you want it chilled. Also, find a large assortment of specialty beers.
Prepared Foods and Rotisserie Chicken at Earth Fare
This is where I saw many, many people with glazed eyes. The Prepared Foods section of Earth Fare is unmatched anywhere that I've shopped in and around Fairlawn and Akron, Ohio.  Below is about 1/3rd of the case of prepared entrees and sides that are just gorgeous.
There are plenty of sides and salads in the Earth Fare Prepared Foods section to finish off your meal.
The Prepared section of Earth Fare looks like a feast set at a king's table! Many moms will be picking up dinner and serving up delicious meals to their families from this case, myself included!
The Rotisserie Chickens looked yummy too with various options of plain, lemon pepper, and bbq. All Rotisserie Chickens contain no antibiotics, no hormones, and no inhumane treatment
Baked Goods at Earth Fare
The drooling from the prepared foods section continues on at the Baked Goods section where you will find desserts and baked goods of all sizes and kinds to satisfy any sweet tooth. No bleached flour, bromated flour, no high fructose corn syrup, no hydrogenated oils, no artificial color, flavors, or sweeteners are used in any baked goods product.
Earth Fare Cafe
The Earth Fare Cafe has variety to suit whatever mood you are in. Choose from the Hot Food Bar, Salad Bar, Coffee & Tea, Smoothies, and Juice Bar, Sushi that is Made Fresh Daily, and a Grill that serves hot foods like fresh pizza, sandwiches, and burgers. My husband and I have been looking for a salad bar, there is no good ones in Fairlawn, so we are thrilled to check this out. Below is just 1 of 2 of the Hot Foods and Salad Bars in the Cafe.
There is a full seating area and separate entrance into the Earth Fare Cafe which minimizes the feel of "eating in a grocery store".
Kids Eat FREE at Earth Fare Family Dinner Night
Schedule Family Dinner Night for Thursdays at Earth Fare. With each paying adult who spends just $5, up to 2 kids can eat free! That is an amazing deal!  Plus, it isn't a fast food joint where your kids are eating unhealthy foods. This is a healthy dinner out.
Save Money at Earth Fare
There are plenty of ways to save money at Earth Fare. Each month, items go on sale. Check them all out on their monthly flyer. Download it here. This flyer is packed with their sale items and much more. Find tips on how to grill foods, recipes that coincide with what's on sale, tips on better living and eating and even chances to Win Free Food! Sign up for Freebies from Earth Fare. By submitting your email here, you will automatically receive an email weekly with what you can get for free at Earth Fare that week. This week, it is free blueberries. Pretty cool, huh?
Print Earth Fare Coupons. When I was at the store, I received a sizable coupon book packed with really good coupons, most were for $1 off, some more, some less. What I found most enticing was that many of the coupons coincided with what was already on sale – #1 rule with couponing! So, either pick up a coupon book at the store or just print the coupons you want.
Right now, you can receive a special promotion of a FREE family dinner for four. If you sign up for Welcome Home, you'll get a coupon for a free whole chicken or bag of veggie burgers, a pound of baby carrots and a pound of mashed potatoes.
Visit Earth Fare in Fairlawn, Ohio
Earth Fare
3737 W. Market St.
Fairlawn, OH 44333
(Hobby Lobby and Sears Hardware Plaza)
Like Earth Fare Fairlawn on Facebook
This was not a paid post. My own opinions were used based on my perceptions and experience. Thank you to Earth Fare who provided the gift cards for review and giveaway.