If you enjoy Asian food, including Ramen, be sure to stop by Fire Leaf located inside Whole Foods 365 in Akron, Ohio.  Based on customer feedback, they just released a NEW menu with exciting, made-to-order pan-Asian cuisine that the whole family will enjoy!  Enjoy authentic dishes of China, Japan and Thailand all at one counter including Japanese ramen and familiar Chinese entrees like General Tso's.
This is a sponsored post.
Fire Leaf Review at Whole Foods 365 Akron
Fire Leaf at Whole Foods 365 Akron has an amazing new menu with something for everyone. Each menu item can be customized so you could literally go there for 365 days and enjoy it 365+ different ways. This is good for both adventurous and picky eaters in your family. My family recently visited and each ordered completely different meals. I love that we can each get exactly what we want and it is all healthy and good for you.
Ordering is easy. They have a kiosk by the kitchen with plenty of colorful photos so you and your kids can visually see what you are ordering and customize it to exactly what you want – or order as-is.  Eat in or order for take-out, either way, your family will love the selection. Everything is made-to-order with top quality, fresh ingredients.
When we visited, it was a cold evening so this table of food was even more appetizing! Delicious Asian comfort food is just what we need to get through this Winter, right?!  Just look at how appetizing this assortment of food is too – and loaded with plenty of vegetables.  The entire menu at Fire Leaf is colorful and flavor-packed making it delicious and fun to eat healthy.
I love a good Ramen bowl and was delighted by this gorgeous looking Original Tonkotsu! Let me tell you, it was amazing and plentiful so I was happy to have leftovers for lunch the next day!
The Original Tonkotsu at Fire Leaf includes thin noodles with chashu pork, bean sprouts, black mushrooms, ajitsuke-tamago, mayu, red ginger, seaweed, and sesame seeds in a delicious, rich pork broth. This hearty Ramen bowl was just what I needed to warm up and be satisfied.
My husband also enjoys a good Ramen bowl. Fire Leaf actually has 4 different Ramen bowls to choose from, plus you can customize them all. He chose the Spicy Niso Tonkotsu which is like the original but made with a spicy housemade rayu.
If you like traditional Chinese entrees, you'll enjoy Fire Leaf's Rice Bowls including Orange Chicken, General Tso's Chicken, Ginger Teriyaki Chicken, and Fried Rice with Chicken, Beef, or Tofu.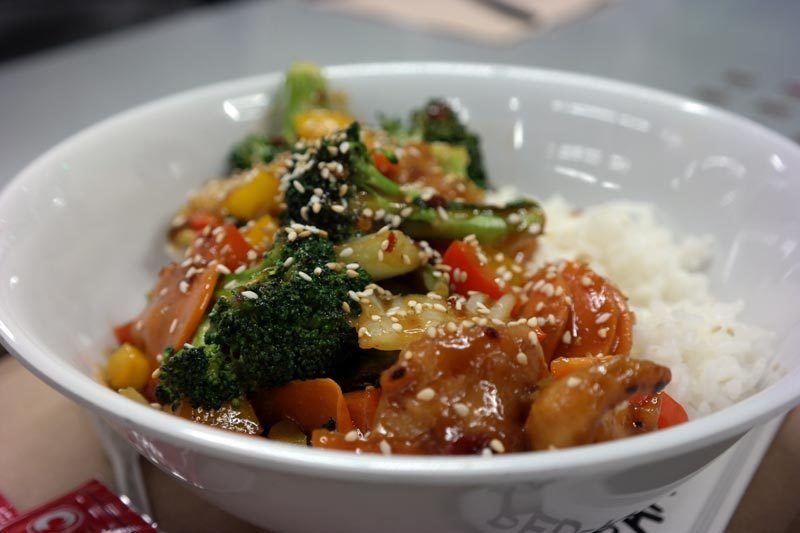 My son enjoyed a generous serving of General Tso's Chicken, one of his favorite Chinese dishes. It was full of flavor, a bit on the spicy side which he prefers. Loaded with delicious chicken as well as tender vegetables, I'm happy my son enjoys eating real food with real flavor – not junk food made with junk. Fire Leaf holds the highest standards with their food – just like Whole Foods.  They use fresh ingredients and uses NO artificial preservatives, coloring, flavor-enhancers or hydrogenated fats. Their meat and poultry adhere to strict quality standards too.
My daughter loves Lo Mein dishes of all kinds. She ordered Beef Lo Mein and was delighted by the flavors. She also couldn't finish her meal and enjoyed it for lunch at school the next day.  All the dishes at Fire Leaf are generous in size. Their prices are reasonable too, especially for the quality of the food and sizes. You'll feel satisfied with the quality, taste, and price.
We plan to go back soon to check out other menu items that we have yet to discover including Pad Thai,  spring and summer rolls, sesame balls and two types of gyoza. I like that Fire Leaf has something for the entire family, even young children. It is a great way to get kids to eat their vegetables, however if you want, you can also just order a simple Lo Mein with a protein for your children. I saw a couple different families there during our visit, one had a toddler munching down on Lo Mein!
I was also able to try their bubble tea which is a very unique experience.  Bubble tea is a Taiwanese tea-based drink (black or green tea) mixed with milk, sugar and chewy tapioca pearls. It is actually good for you, boosting your energy, strengthens immune system, and prevents free radical damage. Fire Leaf offers 3 flavors and you can customize the sweetness of unsweet, a little sweet, and sweet.
Make plans to take your family to Fire Leaf soon for delicious, made-to-order Asian comfort food. Dine in or bring it home for a delicious healthy alternative. Fire Leaf is open 11:00am – 8:00pm seven days a week. Call 330-864-8256 to place an order. See full Fire Leaf Menu here.
Fire Leaf at Whole Foods Market 365
1745 W. Market Street
Akron, OH 44333
Phone: 330-864-8256
Check out all our Whole Foods posts here.