If you are looking for gourmet Asian food, look no further than House of Hunan in Fairlawn, Ohio.  Whether you enjoy Sushi, Thai, or Chinese food, House of Hunan has an extensive menu to satisfy.  Holding the award for Best Chinese Food in Akron Canton Hot List Fox 8, you know you are in for a treat.
House of Hunan is a beautiful restaurant decorated in a welcoming modern Asian decor. The seating is spacious, lending to a more intimate dining experience. New age music floats quietly through the air. The white tableclothed tables and soft leather chairs set the mood for a gourmet experience. The soft candle lighting on each table is relaxing and romantic. Besides tables, there are booth spaces too. We sat at a corner rounded booth, perfect for families or parties of 6-8. If you prefer, you may sit at the Sushi Bar with granite tops while the chef prepares your sushi.
House of Hunan is the perfect location for a date night in Fairlawn, girls night out, business meetings, and even family dinners. My husband and I have visited House of Hunan many times over the past 18 years as a couple throughout our dating and married life.  When our kids were toddlers, we visited once or twice.  Now that our kids are ages 5 & 7, we are very comfortable taking them to nicer restaurants like this. It is a very welcoming restaurant for all ages and groups.
House of Hunan Food
The House of Hunan Food is out of this world. My entire family agrees that it was one of the best meals we have had in a long time and by far the best sushi and Chinese food!
House of Hunan Appetizers and Starters
We started our meal off with our favorite, the House Platter. This platter includes 2 egg rolls, 2 beef sticks, 2 spareribs, and 2 crab meat with cheese puffs. We all enjoyed tasting and sharing this delicious treat.  The egg rolls were light and tasty, the beef sticks were tender and sweet, the spareribs were also tender with great flavor, the crab & cheese puffs were light and creamy. It was the perfect start to our dinner at House of Hunan.
My kids shared a bowl of Wonton Soup, because you can't enjoy a Chinese meal without it! My daughter exclaimed, "I love it!" It was very tasty with a full flavored broth, soft noodle, and tender meat.
There are many other House of Hunan Appetizers and Starters to choose from including egg rolls of various kinds, ribs, pot stickers, gyoza, dumpling, edamame, and an array of soups.
House of Hunan Sushi
Our waiter recommended the King Crab Sushi, enough to feed two people easily. He said many couples come to House of Hunan for the Sushi and this dish in particular to share. It would be next to impossible to finish this dish yourself. It is more like a Sushi loaf, if there is such a thing. It's enormous.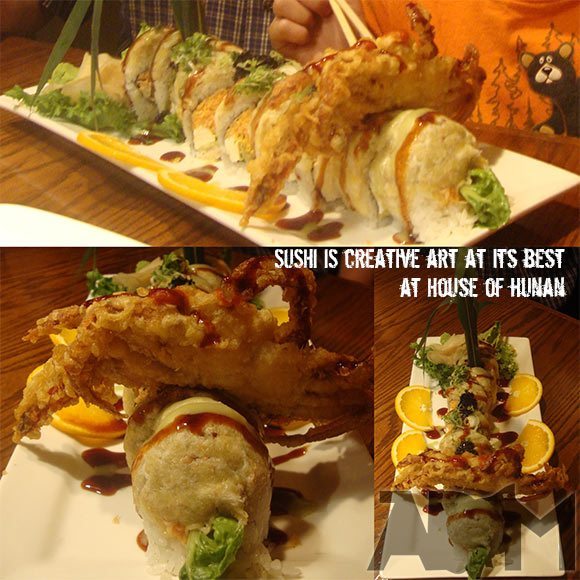 The King Crab Sushi is an arrangement of about a dozen 2-1/2″ diameter sushi rolls with shrimp eggs and a sauce drizzled on top. There is a deep fried King Crab triumphantly resting on top. The presentation is outstanding and lends to the excitement of the meal. The entire meal was a fun and delicious experience.  My husband and son both enjoy sushi so they shared this meal. Of course, I had a couple slices of the sushi too, it was so good! Elijah, my 7 year old still tells everyone that he ate a king crab, claws and all! I guess the meal comes with bragging rights too? 🙂
Priced at just over $20, this King Crab Sushi meal is not only delicious but an inexpensive way to dine out on the finest sushi with a loved one – it is the perfect option for a Sushi Date Night in Fairlawn, Ohio.
Other House of Hunan Sushi options include Futomaki fat rolls, Sushi Rolls, and Japanese Sushi.
House of Hunan Chinese Food
After enjoy the appetizer, my daughter and I decided to share an entree. House of Hunan does offer a full kids menu with plenty of kid-friendly items sized just right for kids. However, my kids enjoy tasting and experiencing the foods that mom and dad enjoy, so often times, we order off the main menu for our kids.  It was hard to choose from with all the enticing Thai and Chinese options including options of poultry, vegetables, pork, beef, and seafood. Elizabeth and I share the Happy Family entree.
The House of Hunan Happy Family is perfect for indecisive people who want a little bit of everything. It is a combination of scallops, shrimp, chicken, pork, beef, and vegetables sitting on top of soft noodles and surrounded with crispy noodles. The flavorful brown sauce pulls the entire meal together to complete perfection. Elizabeth, my 5 year old daughter and I ate and ate and still brought home leftovers!
Speaking of eating and eating, we were all stuffed at the end of our dinners. My son exclaimed, "How can I be done with it is so good?"
We didn't save room for dessert, however there is always room for a fortune cookie. I really liked my daughter's fortune, " You will have no problems in your home"!
House of Hunan Review
My family had a delightful experience at House of Hunan in Fairlawn, Ohio.  It wasn't just a meal to fill our tummies, it was a dining experience that we won't soon forget. In fact, my kids have asked to go back several times and have told people about their experience – especially the king crab!  It is a lovely place to introduce a finer dining experience to your kids, which they all need to experience at a young age. The prices are quite reasonable, especially for the quality and award winning entrees, averaging around $10 – $14 per meal. The proportions are generous. Even with sharing just 2 meals, we had plenty of leftovers for lunch the next day.
Our kids enjoyed experiencing House of Hunan food at home too!
Like House of Hunan on Facebook
Follow House of Hunan on Twitter
House of Hunan Locations
There are 3 House of Hunan locations.
2717 West Market Street
Fairlawn, OH 44333
(330) 864-8215
12 East Exchange Street
Akron, OH 44308
(330) 253-1888
18 Public Square
Medina, OH 44256
(330) 722-1899
This was not a paid post.  My own opinions were used based on my perceptions and experience. Thank you to House of Hunan who provided the gift cards for the post and giveaway.