The Short North Arts District of Columbus, Ohio has become the dining destination of Columbus with Marcella's a popular favorite for Authentic Italian food. Their extensive menu leaves everyone pleased as proven with their award of Best Italian Food by Columbus 614!
We were guests for dinner to facilitate this post.
We recently traveled to Columbus, Ohio with two other families for a quick Ohio getaway. While traveling as a multi-family group, it is important to find a restaurant that will have food for everyone to enjoy. After a full day at the Columbus Zoo, we were ready for a hearty meal. Unfortunately in the hustle and bustle of the day, I left my good camera at the hotel. I apologize for the sub-par images as our experience was nothing but exceptional.
Marcella's Restaurant was a crowd-pleaser  for us all! We started our dinner with an impressive platter of fried calamari, zucchini, roasted garlic aioli and lemon (pictured above). It was a huge hit with our group and gone in no time.
We also enjoyed their signature appetizer of melted pecorino cheese with fresh sliced apples and truffle honey. Pecorino is an amazing Italian melting cheese made from sheep milk. The sweet taste of truffle honey and apples paired with the saltiness of the cheese makes this appetizer close to a dessert.
While we enjoyed out appetizer, I couldn't help but notice how chatty and happy everyone around us seemed, our party included.
Marcella's is a bustling, energetic Italian cafe even on a weeknight. Although busy, it was not crowded or loud. The seating was in such a way that we each had privacy, offing intimate dining. We saw many groups of friends, couples, and family dining during our visit. We loved the decor with exposed bricks, high ceilings, and modern lighting.  The accordion windows in the front of the store opens up the entire restaurant to the bustling sidewalks of the Short North Arts District.  Marcella's looks and feels like an authentic Italian cafe, not like a 'chain' Italian restaurant. 
We were seated near the open kitchen so we were able to get a little peak into where all the magic happens. They also have on display their selection of more than 50 Italian wines that are served by the bottle or quartino.
We were intrigued by the dry-aging meat chamber. It is a bold visual statement of Marcella's craftsmanship.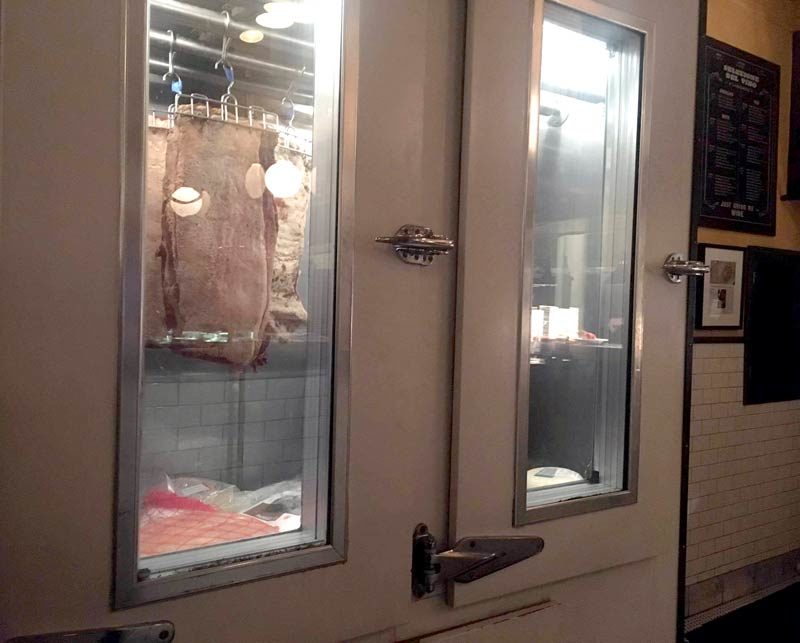 Marcella's menu is designed perfectly for sharing and enjoying tapas style. In addition to appetizers that work well for tapas meals, there is a fantastic selection of antipasti, cheese, and salads as well. If you aren't familiar with the tapas idea, let me explain a little. Tapas is where you receive several small plates to share and enjoy a variety of foods. Sometimes this is at the bar for a light meal. Other times a restaurant will bring your meal out on individual tapas plates or courses. At Marcella's, we received a stack of plates when we enjoyed several items to share between a few of us for dinner.
We started with an amazingly fresh Capresse salad of fresh mozzarella, tomatoes, and basil with an incredible dressing of chili, EVOO (natural juice squeezed from olives), and balsamic. How I wish I had this recipe for summer entertaining!
We also enjoyed roasted cauliflower with olives and EVOO. The cauliflower was delightfully crisp. What a way to eat your veggies!
When you visit Marcella's, you must order their signature Spaghetti & Meatball! The meatball is huge, larger than a baseball. I was skeptical as to the taste with a meatball so large but was pleasantly surprised at the taste, texture, and flavors. We shared this between a couple of us since we were taste-testing so many dishes but the next time, I'm ordering one for myself! They even have one on the kids menu that is just as large. The house-made tomato marinara sauce is the best I've ever had.
One of Marcella's feature dishes is Chicken Picatta.  The brick oven baked chicken was juicy and tender, my friend consumed the majority of this dish and claimed she's never had anything like it and I agree.
The Chicken Picatta was served with Tuscan potatoes that were cooked and seasoned to perfection with capers, and artichokes with a lemon parsley butter. The combination was mouthwatering and appealing. This satisfying meal will please people of all ages.
The brick-oven pizza is another customer favorite at Marcella's! I wanted to also mention that many items at Marcella's can be prepared gluten-free including pizza, just ask. There is also a gluten-free menu.
Our boys devoured a full pepperoni pizza prepared with provolone, Asiago, and mozzarella cheese and onions.  There is nothing like brick-oven pizza! Marcella's has a full menu of combinations that I'd like to try next time including their Chicken Florentine and Pesto Shrimp pizza.
Our kids loved Marcella's. The atmosphere was fun and family friendly even though I'd consider this an upscale casual restaurant.  It is a high energy atmosphere while still being able to hear and enjoy your own party. That being said, if you have a 2 year old that likes to make a bit of noise, they would be totally welcomed here with no evil eyes staring there way. (Moms, you know what I'm talking about!)
Marcella's goes out of their way to welcome children with a full kids menu with Italian favorites, coloring and activity pages to doodle on while waiting and even a free toy! Our younger kids loved getting this note for a free toy!
The portions are generous at Marcella's for both the main menu and kids' menu. My daughter ordered the chicken Parmesan with Alfredo noodles.
She was in heaven when she realized the noodles had Alfredo sauce, her favorite!
My family will be visiting Marcella's on our next trip to Columbus. The food was amazing, the staff was friendly and attentive, and the atmosphere was fun and exciting.  There are two Marcella's in the Columbus, Ohio area including where we visited at the Short North Arts District and at Polaris.
Marcella's Short North
The Short North Arts District is also home to amazing art, fashion, home decor, and nightlife. Check out all of our Short North reviews.
Marcella's Short North
615 N. High Street
Columbus, Ohio 43215
614.223.2100
Dinner Hours:
Sunday – Thursday: 4:00 p.m. to 10:00 p.m.
Friday – Saturday: 4:00 p.m. to 12:00 a.m.
Marcella's Polaris
Marcella's Polaris is within the heart of Polaris Fashion Place which is a premier shopping destination in Columbus, Ohio with more than 150 retailers like Sak's Fifth Avenue, Swarovski, Loft, a fun Dick's Sporting Goods with Field & Stream combo store, and more. It is also where the new IKEA will be opening on June 7, 2017.
Marcellas Polaris
1319 Polaris Parkway
Columbus, Ohio 43240
614.844.6500
Lunch Hours:
Monday – Friday: 11:30 a.m. to 4:00 p.m.
Saturday – Sunday: 12:00 p.m. to 4:00 p.m.
Dinner Hours:
Monday – Thursday: 4:00 p.m. to 10:00 p.m.
Friday – Saturday: 4:00 p.m. to 11:00 p.m.
Sunday: 4:00 p.m. to 9:00 p.m.
Join the Marcella's VIP Club to receive exclusive online offers and invitations.