We Cook. You Host. It'll be your new holiday tradition. This is the motto for the catering at Giant Eagle's Market District® . For a truly relaxing holiday season, take the work, time, and effort out of entertaining by catering your next party.
I received product to facilitate this post.
Market District Catering makes holiday entertaining a cinch. Simply stop by your local Market District or call to speak with their culinary team. They will help you choose food and quantities specific to your party and guests. Market District does no charge for personal party consultation and menu customization like other places.
They will even help you accessorize with service ware, ice, decor, flowers, and balloons. You don't have to think of anything – let the professionals do it for you.

Once my order was place, I could choose from delivery to my door, curbside pickup, or pickup at the front of the store. Since I wanted to take photos, I went inside. They had my order ready, but not waiting on the counter – which I liked. The cold food was kept cold and the hot food hot until I picked it up.
I held a party this week for 10 adults and 7 children. The Culinary Experts helped me select the best menu, offering foods everyone would enjoy as well as tasty options for people to try for the first time.
I highly recommend adding the Market District RollUp Platter to your party menu. It isn't just a sandwich platter, it is a platter of several specialty combinations your guests will enjoy. You'll receive a selection of Roast beef and Provolone with horseradish sauce – my husband's new favorite food!, Roast turkey and Swiss with Dijon mustard, and Black Forest ham with Pimento cheese.  Everyone will find a favorite combination!

The Petite Quiche Lorraine is a crowd favorite as well, offering familiarity of eggs, bacon, and Swiss cheese to your menu. This delectable quiche is settled in a rich pastry shell layered with cream cheese. Serve warm or cold for easy entertaining.
A must-serve hors d'oeuvre are the Vegetable Quesadilla Trumpet. Small in size, yet bold in flavor, your guest will enjoy the jalapeño and poblano peppers with tomatoes, peppers, cilantro, and cheddar and monterey jack cheeses wrapped inside a flour tortilla. It is both fresh and a bit spicier to give your guests something to savor.
Another must-serve are Market District Specialty Olives. Choose from more than 60 variates at the bar or have a Specialty Olives tray prepared in advance for you. I chose to stop by the bar to check out all the varitieis. They actually prepare the tray for you while you pick and choose, if you'd like. 
Or have it prepared in advance for pick up with favorites including Maddalena, Red Bella di Çerignola, Kalamata, Oil-Cured Black Olives, Provolone-Stuffed Green Olives, and
French Medley. It is our holiday tradition to pick up a platter at Christmas and then serve it to guest the entire holiday season. It is a great value too.
The Sushi Chefs at Market District are amazing. They prepare sushi fresh daily in their stores in a variety of combinations and sizes. We enjoy their sushi year-round and especially during Christmas and New Year's Eve time.  They have a number of platters and trays available for catering, including their Sunrise Platter. This is perfect for small gathering like mine and includes 20 pieces, including 4 pieces of giant California roll, 6 pieces of spicy roll, 6 pieces of rainbow roll and 4 pieces of assorted nigiri.
Market District has a holiday catering menu and a year-round catering menu. We selected items from both for a variety that was perfect for our party, and our guests agreed! Everyone enjoyed the assortment of diverse foods. Of course, if you wanted to cater your party with a traditional or themed party, that is available as well at Market District.
The sushi was the biggest hit, there were dares taken for first timers and exclamations of joy that there was sushi by others (my 8 year old son!). I enjoy trying new foods and introducing new foods to others. The Sunrise Sushi Platter was perfect for our party, there are now new sushi lovers in Akron, Ohio!
Choices, choices, choices…everyone piled their plates high with the catered foods and went back for seconds. Everything was just delicious and I got all the credit, sort of. 🙂 They all knew it was from Market District but I got the credit for putting it altogether, although I didn't do that either – the culinary team helped with that too!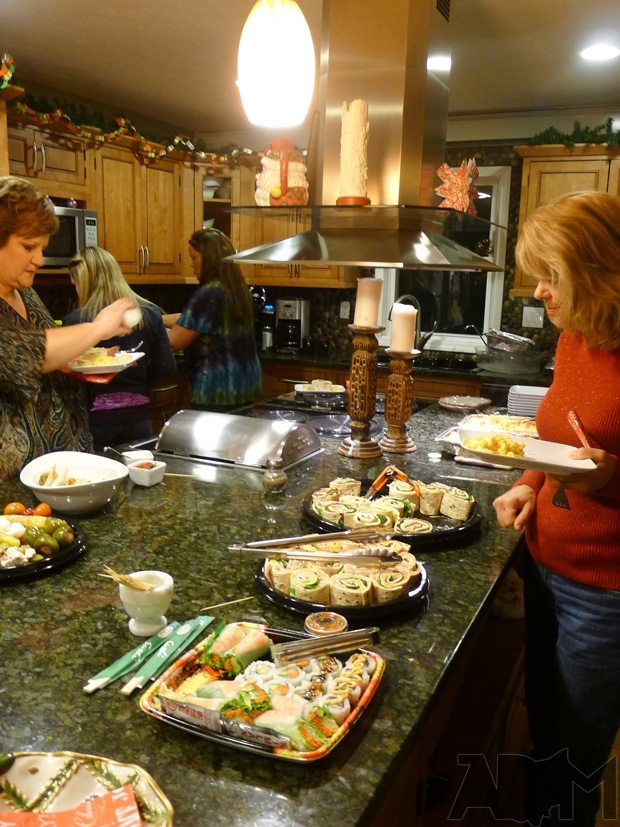 Delicious foods always lead to an exciting, fun party. We all had a great time enjoying the catered food, from the enticing presentation to the delicious, distinctive flavor combinations.
The food was divine, check out my full plate!
Market District Catering is my new holiday tradition. From Christmas to Easter to birthday parties, it is the easiest and most delicious way to celebrate any special occasion or holiday. I like that as a hostess, I can enjoy the party as well. I'm not exhausted after spending hours in the kitchen, everything taste great, and I can enjoy spending time with my guests.
Call or stop by your local Market District for your Christmas, New Year's Eve, and other parties this holiday season. Locally in the Akron, Ohio area, we have the Market District Green and Market District Solon to choose from.
Market District Green
1700 Corporate Woods Parkway
Uniontown, OH 44685
Phone: (330) 896-4456
Market District Solon
34310 Aurora Road
Solon, OH 44139
Phone: (440) 519-1381
Check out more delicious foods on the Market District Pinterest page.
Follow Market District on Twitter
Like Market District Green on Facebook
Like Market District Solon on Facebook
There is still time for all this week's Christmas parties and next week's New Year's Eve parites to let Market District do all the work for you!