Enjoy Cape Cod oceanfront dining at the Lighthouse Inn Waterfront Restaurant.  Enjoy panoramic ocean views as you dine inside or outside on the deck. The Waterfront serves breakfast, lunch, and dinner daily to the public and guests staying at the Lighthouse Inn.
The Lighthouse Inn began as a lighthouse in 1855 and is known as the West Dennis Light. It still stands today to greet guests as the only U.S. Coast Guard sanctioned, privately owned and maintained lighthouse in the country.
Lighthouse Inn Waterfront Restaurant Review
My family enjoyed dinner at the Lighthouse Inn Waterfront Restaurant during our stay at Cape Cod. We received our meals to facilitate this post.
Our fist impression was "WOW" from the beautiful lighthouse to the gorgeous scenery. Upon arrival, we were greeted by beautiful, live piano music.
There isn't a bad seat in the restaurant, with large windows to take in the panoramic ocean view.
While we were there, a wedding reception was set up in a private dining room – it looked gorgeous.
We were seated promptly on their outdoor deck to take in the panoramic ocean view.  The Waterfront offers a relaxed atmosphere that isn't often found at oceanfront restaurants.
The secluded 9 acre beach and rock pier was peaceful and simply gorgeous.

Our waitress, Janesta was very friendly and attentive to our family.  We started dinner with hot mozzarella sticks with marinara sauce and their popular garlic ciabatta bread. It was a welcomed treat for my hungry family. My kids espeically liked the mozzarella sticks.
During our appetizer, we witnessed a beautiful ocean side wedding. If you are looking for a Cape Cod ocean wedding location, check out the Lighthouse Inn – it was gorgeous!

For dinner, I ordered the Seafood Lighthouse which was an enourmous meal of shrimp, scallops, and mussels with fresh vegetables over penne pasta with marinara. It was so fresh and delicious with large pieces of seafood to my utter delight!
My daughter enjoyed pasta marina with a side salad. The marina sauce was delicious – as I had a sample.  They offer a variety of kids menu items, I was happy to see healthier choices like the one my daughter chose.
My husband enjoyed the special of the day of Rosemary lamb with the house specialty rice pilaf and fresh steamed broccoli. The lamb was tender with a flavorful sauce.
My son loves seafood and trying new things. Instead of a kids meal, he opted for a kids size portion of their Twin Seafood Cakes. Made with shrimp, scallops and crabmeat and sauteed golden brown, he ate every last bite. It is served with a chipotle aioli that spiced it up a bit, which was perfect for his taste buds – he is like his dad and likes a little spice!  If crabcakes are too 'fishy' for you, the twin seafood cakes offer a milder mix that taste amazing. It came with hot french fries too.

The Lighthouse Inn Waterfront Restaurant offers a full menu including appetizers, burgers, sandwiches, chicken, pork, seafood, salads, and pasta.
After dinner, we watched a beautiful sunset and walked on the rock pier.
I was able to capture a couple gorgeous photos of my children on the rock pier.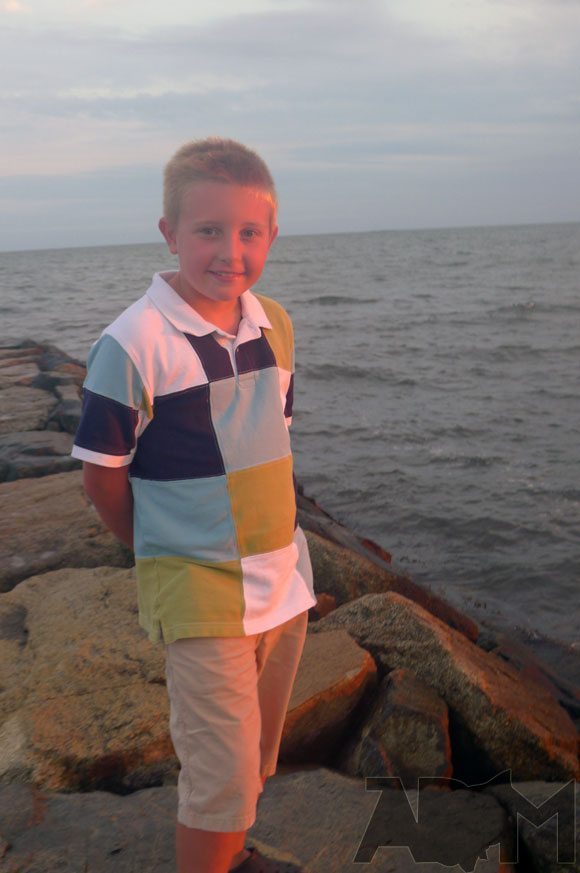 Visit Lighthouse Inn Waterfront Restaurant
Lighthouse Inn
1 Lighthouse Inn Road
West Dennis, MA – Cape Cod
508-398-2244
Like Lighthouse Inn on Facebook
Follow Lighthouse Inn on Twitter
This was not a paid post. My own opinions were used based on my perceptions and experience. Thank you to Lighthouse Inn who provided us with dinner for review.