What is PlanetBox? It is a stainless steel box with compartments for food! These boxes are great for kids and adults who hate their food to touch, as well as a great way to go green! Forget stuffing school lunches into separate plastic bags or Tupperware, the days of brown bags and buying a new lunch box for your child every year are gone! PlanetBox lunch boxes can last for years, and unless you need a bigger one because your child's appetite has grown, this dishwasher safe lunch box is made to last for years.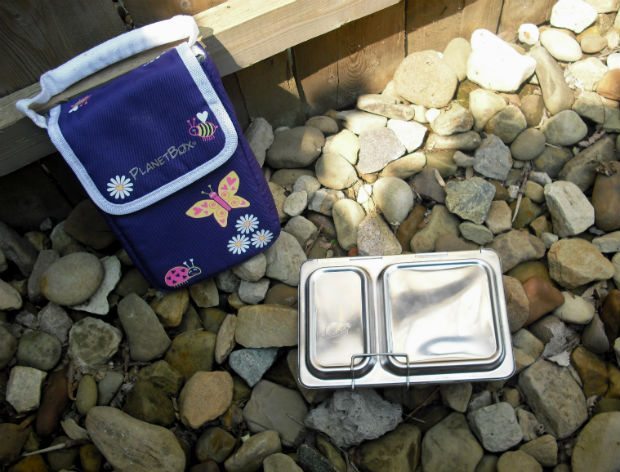 I received product to facilitate this post.
Eat Healthier With PlanetBox
Just seeing how beautiful fresh produce and healthy food looks in your PlanetBox will inspire you to plan healthier meals for your kid's school lunches. My daughter Grace is so excited for her first year going to school and can't wait to use her PlanetBox lunchbox, good news is that she doesn't have to wait! Because of how durable and tough PlanetBox is, I feel comfortable using it to pack snacks and lunches for both of my girls when we go to the park or on long car rides.
PlanetBox has 3 different sizes of lunchboxes, from smallest to largest, the Shuttle (pictured above), the Rover, and the Launch.  The Shuttle PlanetBox that we received is the perfect size for little kids. You can personalize each PlanetBox with a choice of insulated bag and magnets that fit perfectly onto your child's stainless steel box.
You can also purchase other accessories for your child like utensils, a cold pack that fits perfectly into your case to keep your food cold until lunch time. PlanetBox is not designed for hot foods however, so get creative with your lunches! PlanetBox's website has a ton of awesome ideas for lunches to pack for your family!
PlanetBox lunchboxes vary in price depending on size. Each size can be bought as a complete set, including the stainless steel box, insulating case, and dipper bowl. All magnets, cold packs and utensils are a separate cost. Ranging from $34.95-$74.95, PlanetBox will last you for years!
To buy PlanetBox or to get healthy meal ideas visit www.PlanetBox.com. You may also purchase PlanetBox on Amazon.