If you are looking for homemade bakery, sweets, and breakfast sandwiches in Put-in-Bay, Put-in-Bay Village Bakery & Sandwich Shoppe is for you. Pauline makes everything from scratch daily including muffins, scones, danishes, croissants, biscuits, and breakfast sandwiches. Even the fruit fillings are made from real fruit.
We were delighted to enjoy a tray of delicious bakery treats and breakfast croissants and sandwiches upon our arrival at Put-in-Bay!
This is a sponsored post.
Put-in-Bay Village Bakery & Sandwich Shoppe Review
Wow! You can tell everything is make from scratch – with no mixes or short-cuts at Put-in-Bay Village Bakery & Sandwich Shoppe. Pauline loves what she does and it shows, serving Put-in-Bay visitors and residents for nearly 30 years.
We fell in love with Pauline's fresh baked goods and her passion for honest, made-from-scratch food and her heart of giving.

We were lucky enough to sample many different types of muffins and pastries during our visit to get a great overview of what they have to offer. We were all delighted by the selection!
The warm, freshly made croissants are the best I've ever tasted. You can tell they were made-from-scratch. Everyone loved the variety of breakfast sandwich combinations. Pictured below, the croissants are cut into thirds for our sampling purposes – so you can imagine how large a full size one is! What a hearty breakfast or brunch!
Pauline's iced vanilla coffee and iced tea recipes are top notch too. I especially loved the vanilla coffee – all of the coffee is ground fresh daily from Costa Rica coffee beans – a tribute to her daughter and her love of fine coffee.
Put-in-Bay Village Bakery & Sandwich Shoppe is also a great stop for lunch with freshly prepared sandwiches, sausage and dogs. It is not only a tasty place to eat any meal or snack and also one of the most affordable places to eat in Put-in-Bay!  This is a very family-friendly place to eat in Put-in-Bay, located at the end of the street for a more relaxed, quieter atmosphere. There is plenty of seating outside in the shade and sun.
If you are visiting Put-in-Bay on the cheap but still want to eat good, stop by Put-in-Bay Village Bakery & Sandwich Shoppe for the daily lunch special, for a fresh baked treat or ice cream, or specialty coffee.
Located right next to the Put-in-Bay Chamber of Commerce Visitor Information booth, Put-in-Bay Village Bakery & Sandwich Shoppe is easy to find. It is basically located at the first stop sign once you get into downtown Put-in-Bay, just turn left.  It is near Kimberly's Carousel and PIB Candy Bar.
If you are visiting Put-in-Bay for a special occasion such as birthdays, anniversary, graduation, engagement, retirement, etc, consider ordering a custom-made cake to celebrate. Call ahead at 419-285-5351.
As you can see above, even the fruit in Pauline's desserts are fresh. She uses fresh fruits for all the pastries and cakes decorations and filling – nothing is pre-made, canned, or from a mix.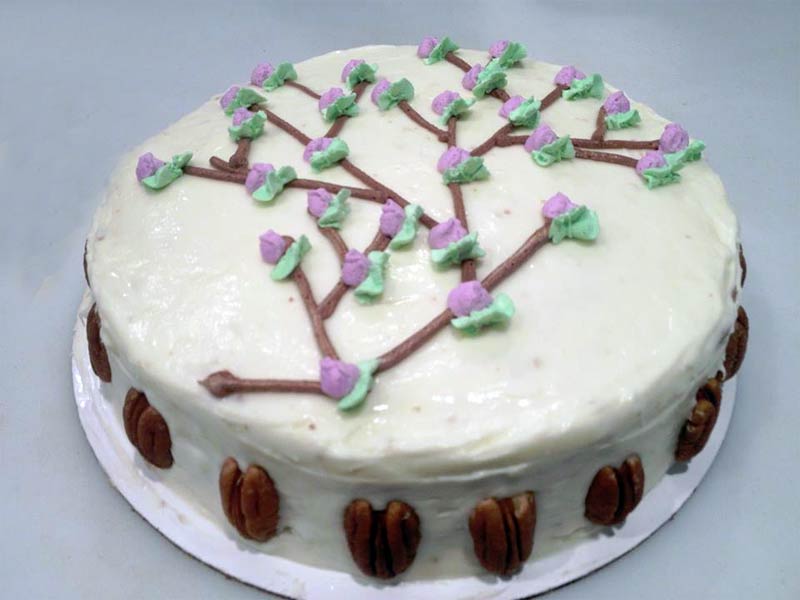 Village Bakery & Sandwich Shoppe also offers catering in Put-in-Bay for events of all sizes.
This woman-owned business is worth patronizing. She's a remarkable business owner and person – donating her time during the off season to quilt blankets for the hospital and organize fundraisers for the needy.
Stop by Village Bakery & Sandwich Shoppe on your next trip to Put-in-Bay for delicious food, treats, and coffee. Tell her AkronOhioMoms.com sent you!
Village Bakery & Sandwich Shoppe
104 Delaware Ave
Put-In-Bay, OH 43456
419-285-5351