When entertaining, I enjoy presenting a delicious meal to my guests. I always try to make something gourmet, something special. This usually ends up wearing me out after doing all the grocery shopping, the prep work, the cooking, the presenting, and then all of the clean up afterwards. Sure, the food might taste good for that 20 minutes eaten but the amount of time and energy it takes is exhausting! Now that I have been introduced to Omaha Steaks, I have a fantastic solution to entertaining guests in my home! Omaha Steaks Easy Dinner Meals!
Omaha Steaks Easy Dinner Meals Review
Just because it is easy doesn't mean it isn't delicious and you can't take credit for it! We were able to review the Omaha Steaks Chicken Cordon Bleu Dinner. This meal comes complete with:
4 (8 oz.) Breast of Chicken Cordon Bleu
4 (5.75 oz.) Stuffed Baked Potatoes
2 (6.5 oz. trays) Green Beans With Red Peppers
Omaha Steak's slogans on the boxes are so appropriate. Serve with Pride – there's no shame in serving this gourmet meal, Blend with laughter – with Omaha Steaks even the hostess can enjoy the meal, and Mix with company – this food is made to enjoy with friends and family.
Anyone, at any cooking level can cook and serve this delicious meal! Each portion of the meal comes in it's own box with cooking instructions. The Omaha Steaks Chicken Cordon Bleu Dinner comes with 2 boxes of (8 oz.) Breast of Chicken Cordon Bleu.  Simply remove from packaging, and cook frozen, there is no need to defrost! It is ready for 35-40 minutes.
The meal comes with 2 sides: 4 (5.75 oz.) Stuffed Baked Potatoes and 2 (6.5 oz. trays) Green Beans With Red Peppers. Both cook within 40 minutes, frozen.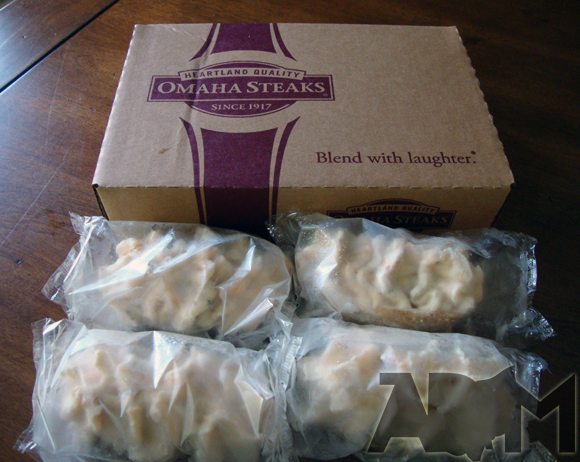 I was very excited to serve my family this amazing dinner. I was even more thrilled that it took no effort on my part and no clean up! Usually after a nice dinner, I have a ton of dirty dishes littering my counters and sink. I always dread the clean up after a nice meal…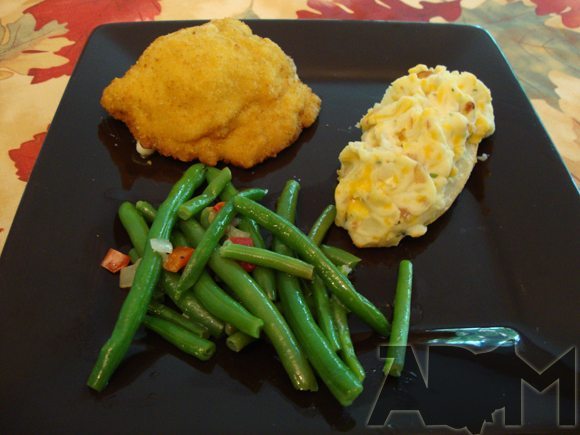 My entire family agree that Omaha Steaks makes a fantastic meal!
The Chicken Cordon Bleu was delicious! The chicken was juicy, the  Swiss & American Cheeses and Canadian Bacon was perfectly matched in flavor. The portions of 8 oz each was generous to say the least. My husband finished his but I could only eat about 1/2! My kids shared one and ate every single bite!
My family doesn't generally like baked or stuffed potatoes. I didn't expect them to like the Omaha Steaks Stuffed Baked Potatoes too much. I knew that I would since I like any kind of potato recipe! I was shocked that my entire family ate up the Omaha Steaks Stuffed Baked Potatoes. My kids split one since they are so large, at almost 6 oz each. They ate every bite though! The Stuffed Baked Potatoes are stuffed with sour cream, cheddar, bacon, and chives. YUM! I think it was the cheese and bacon that won the hearts of my kiddos!
The Whole Green Beans by Omaha Steaks were flavorful and attractive on the plate. The whole green beans were accompanied by red peppers and onions and flavored with garlic. The meal came with 2 containers, we ate about 1-1/2 during our meal. As you can see on the plate above, we served a good portion on each plate. They are just very generous with 13 oz of Whole Green Beans in this meal kit. They are just as delicious the next day rewarmed.
My family agree that we should order Omaha Steaks meals again, soon! After enjoying this gourmet meal, I decided that the next time I have my extended family over for a meal, especially if it happens to be at a holiday, I plan to serve Omaha Steaks products. It will save me a lot of prep and clean up time, while giving my family a restaurant-quality meal. It would make the meal and time together even more special as they enjoy the delicious food and I enjoy their company because I'm not exhausted after preparing a big meal all day. I'm so glad that I was introduced to Omaha Steaks!
Buy Omaha Steaks Chicken Cordon Bleu Dinner
For a limited time, you can buy the Omaha Steaks Chicken Cordon Bleu Dinner at a discounted price of only $34.99! That is for 4 servings, a discount of $36! AkronOhioMoms.com readers can get this promotional discount until November 30, 2011 by clicking here. Whether you want to serve your family a delicious meal, invite friends or family over for a gourmet meal, or celebrate your anniversary at home, an Omaha Steaks Easy Dinner Meal will be enjoyed by all.
Win Omaha Steaks $20 Gift Card (Closed)
Updated: 10-16-11 Winner Announced: Polly
Omaha Steaks is giving you the chance to sample their delicious foods with the chance to win a $20 Omaha Steaks Gift Card!
Important Links to enter this contest: AkronOhioMoms.com on Facebook | AkronOhioMoms.com on Twitter | AkronOhioMoms.com Google Friend Connect | Omaha Steaks Website | Omaha Steaks on Facebook | Omaha Steaks on Twitter

This promotion is in no way sponsored, endorsed or administered by, or associated with, Facebook. In order to comply with the latest Facebook Promotion Guidelines (revised 5/11/11), the following statements are true:
* Giveaway participants release Facebook from any responsibility whatsoever.
* Giveaways on this blog are in no way sponsored, endorsed or administered by, or associated with, Facebook.
* Giveaway participants are providing information to this blog and giveaway sponsors only; not to Facebook.
30 Day Winning Rule applies. For complete contest rules, please see our Contest Statement and Blog Disclosure.
Contest ends at 11:59pm EST on October 11, 2011 when a winner will be drawn at random. I will notify the winners and they will have 36 hours to respond!
This was not a paid post. My own opinions were used based on my perceptions and experience. Thank you to Omaha Steaks who provided the products for review and giveaway.