While traveling, we often eat at small local restaurants to enjoy local cuisine. However, we also seek out familiar restaurants where we know everyone can order their favorite meal and be happy. SONIC Drive-In is one of our favorite restaurants to stop by while traveling near and far. Even on long road trips, everyone is happy when we stop for burgers and real ice cream milk shakes!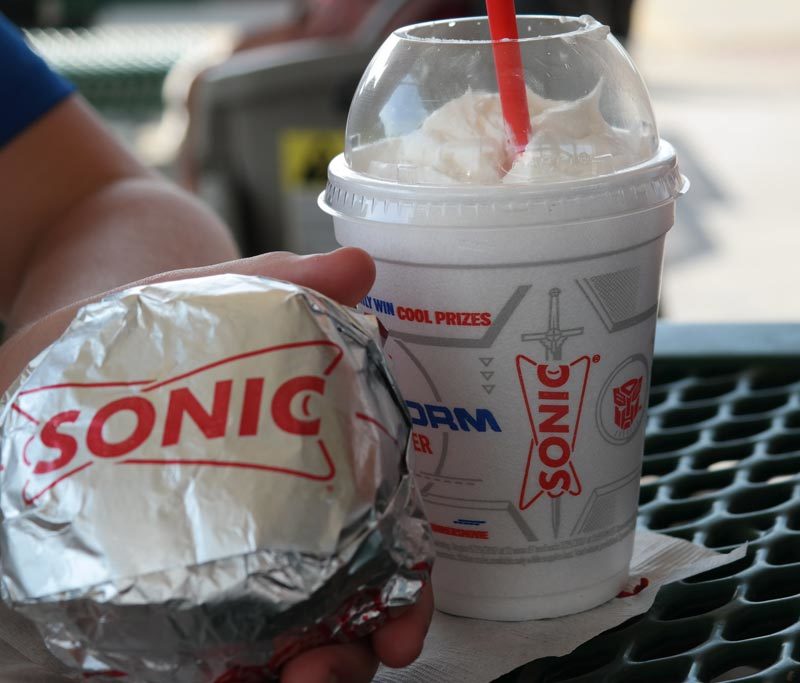 This is a sponsored post.
During our Kidifornia trip this summer, we stopped at several SONIC Drive-In restaurants.  There are many SONICs to choose from on the West coast. Below, we enjoyed a hearty meal of burgers, tots, and corn dogs in Pahrump, NV before venturing into Death Valley. I'm so glad we filled up before that drive as there were NO restaurants in Death Valley until we reached our hotel that evening.
That was our fist time ordering the family sharing size of tots. I didn't know they had a large box size. They also sell fries in family sizes. I believe the full box was around $4-5, which is a great deal.
We were surprised that the SONIC Drive-In in San Diego has both an indoor dining room as well as the traditional drive-up booths and outdoor seating. I would have thought the one near Death Valley where it was 120° would have an eat-in dining room if anywhere did!
I like that SONIC always has our favorites but also new menu items. It seems like they are always adding a new sandwich or dessert, it is like a new restaurant every time we go because we love trying their new menu items. If you want to eat a little lighter, choose one of their grilled chicken sandwiches. I love their Classic Grilled Chicken Sandwich with lettuce, tomato, and mayo on a whole grain ciabatta bun.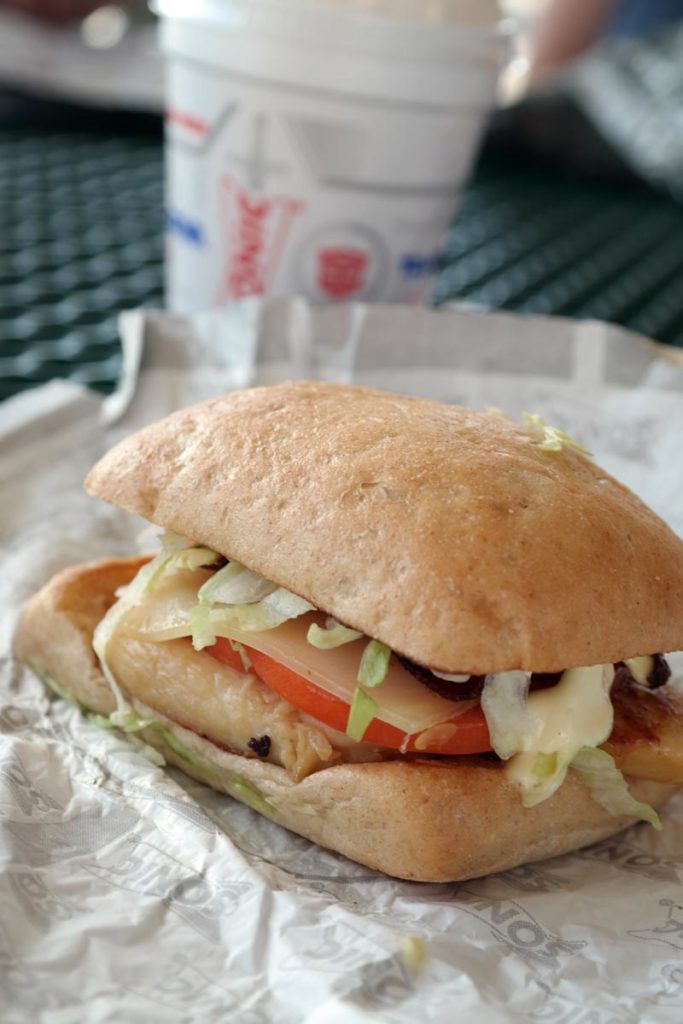 My kids know that when we stop by SONIC that we will also have a treat. We enjoy the variety of soft drinks, lemonades, limeades, frozen drinks, tea, and coffee drinks that we get to choose from. The combinations of flavors are endless. We enjoy adding the Diet Cherry flavor to our limeades, lemonades, and soft drinks!
Of course, no trip to SONIC is complete without ice cream!
We love their real ice cream shakes, blasts, and concretes. We try something new just about every time since there are so many flavor combinations to choose from. Speaking of new flavors, have you tried the new Chocolate Chip Cookie Dough Custard Concrete yet? It's amazing and loaded with Chocolate Chip Cookie Dough Custard Concrete!
Be sure to find a SONIC while you are on the road during your next road trip. Happy smiles are guaranteed!  Sign up to get text messages for exclusive offers and the latest news from your local SONIC ® Drive-In!
Get social with SONIC on Facebook and Twitter.