I love chocolate – who doesn't?! Really good chocolate is hard to find and nearly impossible at local retailers. I've discovered an amazing source for fine chocolate products with The Cocoa Exchange! Whether you enjoy snacking on dark chocolate candies, baking with chocolate, or adding to entrees, they have a product just waiting to be explored by you!
This is a sponsored post.
Above is their Sea Salt Cocoa Caramels, these bite-size indulgences are perfect for gift-giving and receiving! One bite is a mouth-full of rich chocolate, chewy caramel and a earthy touch of sea salt. What an amazing flavor combination. The Cocoa Exchange has plenty of read-to-enjoy chocolates just like this in various flavors. It is always nice to have quality chocolates on hand after a stressful day and to serve to pop-in guests!
If you need an excuse to enjoy these dark chocolate treats, then remind yourself that it is a great source of antioxidants with health benefits including lowering your risk of heart disease. Just don't overindulge, there is sugar involved!
 The Cocoa Exchange Review
Beyond chocolate candies, I love the variety of products The Cocoa Exchange has to entice enjoying chocolate in new ways.  The Cocoa Exchange is part of Mars, Inc, America's favorite chocolate brand for over 100 years. What sets The Cocoa Exchange apart is the way their products allow you to incorporate the rich flavors of cocoa in extraordinary ways. Using only the highest quality ingredients, their classically-trained chefs create specialty cocoa products to be enjoyed in numerous ways. 
The Pure Dark Granola is one of my family's favorites, better than anything you can find at the store. The cocoa nibs mixed in the granola and ginger spice is the perfect combination. We enjoy it as a handful for a satisfying snack, with milk for breakfast, and as toppings. We especially like the Pure Dark Granola on yogurt and ice cream!
Another favorite is the Pure Dark Nibs with Sea Salt. It is not just tiny pieces of chocolate like you may think from the photo above. It is roasted cocoa nibs drenched in 64% cacao chocolate. It is quite unique in texture and taste. If you need a quick chocolate fix, this is a perfect snack. We also enjoy adding the nibs to yogurt, ice cream, and plain cereal.  My favorite way is to just enjoy a few pieces as-is for a snack. It is the perfect size to keep in your desk at work for a quick pick-me-up in the afternoon.
Have you ever seen anything as amazing as the above Pure Dark Chocolate Slab!? This slab of chocolate is nearly 1″ thick of deep, rich cocoa flavor. It is amazing to just break off a piece as a sweet treat. It is also perfect for shaving for recipes too.
If you love sea salt and dark chocolate, you'll love the Sea Salt Chocolate Rounds, it is the ultimate combination. I really like the amount of sea salt on the chocolates, making it an indulgent bite-size treat.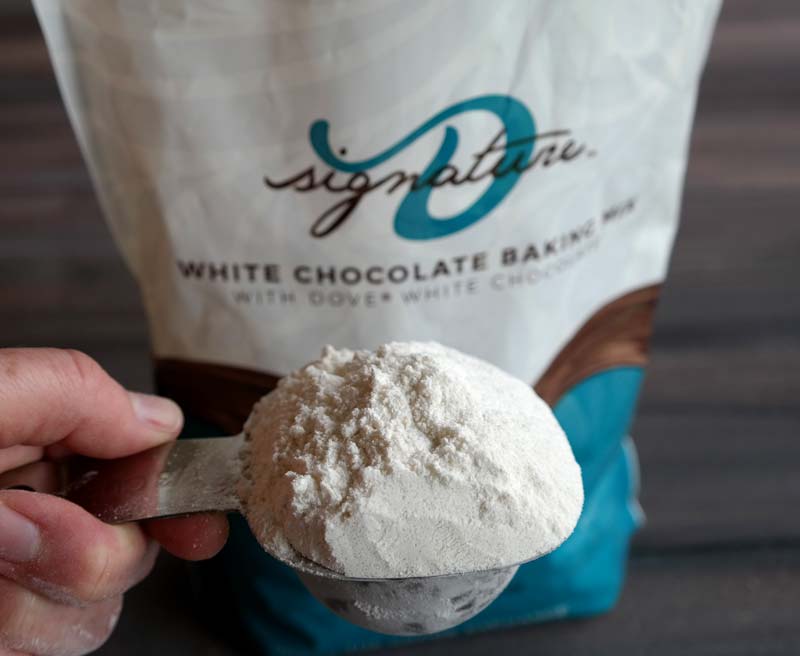 The Dove® Signature™ Collection White Chocolate Baking Mix  is the white chocolate lover's dream come true. It the only mix of its kind that I know of and quite versatile. It can be used in recipes to make white chocolate cupcakes, white chocolate pizzelles, snickerdoodles, and so much more.
Cocoa Inspired Recipes
We all love chocolate. Cocoa has the ability to enhance flavors in other ingredients in all kinds of dishes including meat, vegetables, appetizers, drinks, and more. Why not surprise mom this Mother's Day with this cocoa inspired menu:
Sweet & Spicy Grilled Salmon with a cocoa rub
Grilled Asparagus sweetly seasoned with cocoa rub.
Mango Salsa with Pure Dark Sea Salt Rounds
Ancient Grain Chocolate Chip Scones made with ancient grain chocolate chips.
Check out more cocoa inspired recipes on The Cocoa Exchange website.
Responsibly-Sourced and Sustainable Cocoa
The Cocoa Exchange is committed to sustainable and responsibly-sourced cocoa. By 2020, all of their products will be made with certified, sustainable cocoa. (DOVE is already Rainforest Alliance Certified.) I love that The Cocoa Exchange empowers women. They support female cocoa farmers in Cote d'Ivoire to start their own cocoa-growing small business through their CARE program.
These products are sold through their curators in person through parties as well as on their website.