Be sure to check out the enormous Easter marshmallow treats by Peeps this year!  There are Peeps for everyone including the traditional Peeps in a variety of colors and packaging sizes to irresistible chocolate-covered Peeps for chocolate lovers. There are even chocolate Easter eggs with an Easter marshmallow Peeps inside!  You can even find adorable Peeps themed gift items on their website.
Express Your "Peepsonality"
There is no wrong way to enjoy Peeps. Peeps are versatile and fun – from eating the yummy marshmallow goodness to creating fun recipes and crafts. This Peeps Easter Commercial says it all!

Wasn't that a cute "Forest Gump" type of video?! You can actually click on the 26 different pop-ups and it will take you to the website with those recipes, crafts, and fun ideas on ways to enjoy Peeps. It inspired me to create the Roasted Peeps Recipe with my kids on our Kenyon grill – they are going to love it!  What is your Peepsonality?
Easter Marshmallow Treats by Peeps
Every Easter basket must include Easter marshmallow treats by Peeps!  Who can resist the marshmallow goodness inside and the sugary outside of Peeps? Besides, it is like they were made for Easter with the cute chick and bunny theme!
Easter Marshmallow Peeps Chicks
Choose from a variety of colors to brighten up any Easter basket. I like that they are offered in a variety of sizes too, making it perfect for Easter baskets and even gifts.
Kids are going to really like the Easter marshmallow Peeps Rainbow Pops this year! Each pop comes with yellow, green, pink and blue Peeps connected to a stick. This makes it easy to stick in any Easter basket, gift basket, or as a fun party favor!
Easter Marshmallow Peeps Bunnies
The Easter marshmallow Peeps Bunnies will get your kids hopping!  The delicious little bunnies with the long ears and adorable faces will be gone in no-time!  Chose from traditional colors of Peeps in the multi-pack of 12 each to include in your kids Easter basket or give as gifts. I dropped off a couple to my kids' school secretaries and they loved the kind gesture!  Not bad for a just about $1 gift – it is totally worth making someone's day! Peeps Bunnies come in all kinds of shapes and sizes.
The 3-pack Peeps Bunnies are larger than the multi-pack versions and are so adorable. They look like Peter Cottontail with a little green bow! They are my favorite and I can't wait to give them to my kids in their Easter basket this year!
For chocolate lovers, check out the Peeps Chocolate Mousse Bunnies, they are the same marshmallow goodness of Peeps but with a delicious, mild chocolate flavor.
Easter Marshmallow Chocolate Peeps
There should be a law against Easter marshmallow chocolate covered Peeps!  Peeps offers a an array of chocolate covered Peeps that will spoil any one!
Every Easter basket should have a precious Peeps 3oz Chocolate Egg with a Peeps yellow chick inside!  Where do chicks come from? A chocolate egg if they are Peeps!  The delicious chocolate egg breaks open to reveal a perfect yellow Easter marshmallow chick inside. Your kids will be surprised and delighted by this!
The Peeps dark chocolate and milk chocolate covered chicks are amazing and just as addicting.  A soft yellow Peeps marshmallow is smothered in dark or milk chocolate coating.  Take a bite of the delicious chocolate and into the soft Peeps center. The combination is just perfect. Each individually wrapped chocolate covered chick is 1 oz, the perfect indulgence size!  I dropped off a few for my kids' teachers and they were beyond delighted – you will too once you try them! Surprise with kids with a couple in their Easter basket as well as your kids' bus drivers, the mail carrier and neighbors.
For those that like just a little chocolate with their Peeps, check out the Peeps Milk Chocolate Dipped Chicks. Each 3 pack is perfect for tucking in an Easter basket or for gift giving.  Each Peeps chick is resting on a layer of mouth-watering chocolate. This is perfect for people like my mom who likes chocolate but can't eat a lot of it – a little treat with her Peeps treat.
Easter Marshmallow Chocolate Peeps Peepsters
I like to keep a candy dish out during the holidays at home – and at work when I worked in an office.  Peepsters are milk or dark chocolate covered bite-size candies filled with a creamy, smooth marshmallow filling.  Let me warn you, they are addicting.  Peepsters are individually wrapped, making them the perfect candy dish addition – without fear of germs of unwrapped candies. Plus, you can easily toss a handfull in your kids' Easter baskets.  Kids like these but I think they are the perfect – calorie-controlled size for adults that want a little treat during the day.
Jelly Beans for Easter
If you like traditional jelly beans, go for the Just Born Jelly Beans with all the original fruit flavored candies. If you like something a little more tart, check out Mike and Ike Jelly Beans.  Mike and Ike jelly beans are my favorite for pucker up tartness of fruit flavors of cherry, raspberry, citrus, pineapple and apple! It is the familiar taste of Mike and Ike that you love in cute little jelly beans form.  No Easter basket is complete without a ton of jelly beans hiding in the Easter grass!  They are also perfect for hiding in Easter eggs (cleaned)!
Peeps Gifts
Peeps offers a fun collection of Peeps Easter Gifts for everyone. There are onsies for babies, clothes for kids and adults, and other fun Peeps gifts like beach towels (read my review), mugs, and more. If you have a huge Peeps fan in your house, pick up a Peeps gift to add to their Easter basket or gift.  The cute chick theme makes a Peeps gift perfect for Easter!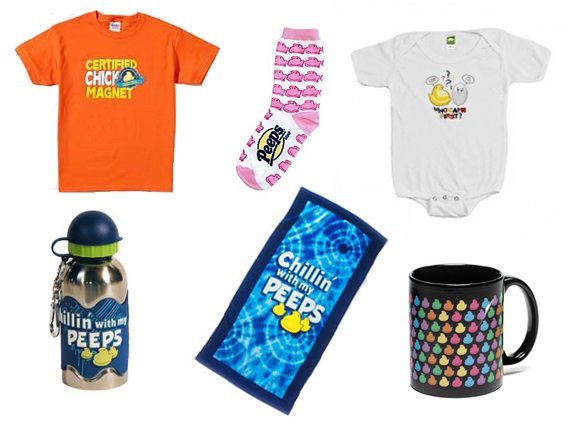 Buy Peeps for Easter
Head on over to the Peeps website for some great Easter sales!! You can even win a free Peeps plush when you buy $50 in Peeps!
Like Peeps on Facebook
Follow Peeps on Twitter
This was not a paid post. My own opinions were used based on my perceptions and experience. Thank you to Peeps who provided the products for review.