My husband and I enjoy Indian cuisine, although I've only attempted to prepare it a handful of times.  Indian cuisine is exciting and mysterious to many. It has been a little intimidating for me as well with so many unknowns. I received the Easy Indian Cooking cookbook to facilitate this post.
Sindhi Chicken Curry Recipe
This is the quintessential north Indian-style chicken curry with onion and tomato-based gravy. It is a simple home-style version, but the amazing flavors and bright, appetizing color make it suitable for company as well.  I was given permission to post the Sindhi Chicken Curry Recipe from the Easy Indian Cooking Cookbook.  The recipe for Sindhi Chicken Curry is found on page 102. It looks amazing and I can't wait to surprise my husband with this dish.
Sindhi Chicken Curry Recipe Ingredients
12 skinless bone-in chicken thighs, about 4 lbs
1 c plain nonfat yogurt, at room temperature
1 tsp cornstarch
2 tbsp  oil
2 cups finely chopped onions
1 tbsp minced peeled gingerroot
1 tbsp minced garlic
1 tbsp minced green chiles
1 tbsp coriander powder
11/2 tsp cumin powder
3/4 tsp turmeric
3/4 tsp  cayenne pepper
1   can (28 oz) tomatoes, chopped, including juice
1/2 c cilantro, chopped
2 tsp salt or to taste
11/2 tsp garam masala
1/4 c cilantro, chopped, divided
Sindhi Chicken Curry Recipe Instructions
Rinse chicken and pat dry.
Stir together yogurt and cornstarch until smooth. Set aside.
In a large saucepan with a tight-fitting lid, heat oil over medium-high heat. Add onions and sauté until beginning to color, 6 to 8 minutes. Reduce heat to medium and sauté until dark golden, 10 to 12 minutes longer.
Stir in ginger, garlic and chile. Sauté for 2 minutes. Increase heat to medium-high. Add chicken and brown well, 6 to 8 minutes.
Serves 8
TIP: This dish freezes very well in an airtight container for up to 4 months. Thaw in refrigerator overnight. Reheat on low heat. Sprinkle with garam masala and cumin powder. Cover and let stand for 2 to 3 minutes to allow the aroma of the spices to infuse the curry. Transfer to a serving dish and sprinkle with chopped cilantro before serving.
Excerpted from Easy Indian Cooking, 2nd Ed. by Suneeta Vaswani © 2013 www.robertrose.ca May not be reprinted without publisher permission.
Easy Indian Cooking Cookbook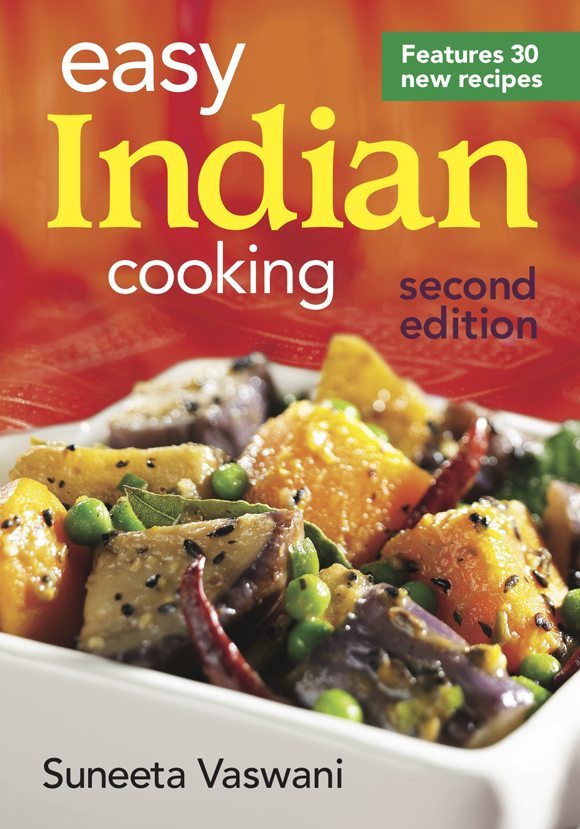 The Easy Indian Cooking second edition cookbook from Robert Rose Publishing makes it easier than ever to cook Indian dishes. It includes 30 Indian recipes with many photos.  The recipes are designed to be easy to create at home, without much complication. If you are a beginner to Indian cuisine, this cookbook is for you.
Easy Indian Cooking is made for beginners as well as experienced cooks.  The recipes give you the ability to make Indian cuisines with authentic flavors.
The Easy Indian Cooking cookbook has recipes for snacks, appetizers, as well as main dishes of poultry, fish, and vegetarian meals.  To make your Indian cuisine authentic, there are also recipes for chutneys, sweets, and beverages.
The Easy Indian Cooking is the perfect place to start for authentic Indian cuisine at home.
Buy Easy Indian Cooking
You can buy the Easy Indian Cooking cookbook for $19.95.
Win Easy Indian Cooking
You have the chance to win your own copy of Easy Indian Cooking.
a Rafflecopter giveaway

This promotion is in no way sponsored, endorsed or administered by, or associated with, Facebook. In order to comply with the latest Facebook Promotion Guidelines (revised 5/11/11), the following statements are true:
* Giveaway participants release Facebook from any responsibility whatsoever.
* Giveaways on this blog are in no way sponsored, endorsed or administered by, or associated with, Facebook.
* Giveaway participants are providing information to this blog and giveaway sponsors only; not to Facebook.
30 Day Winning Rule applies. For complete contest rules, please see our Contest Statement and Blog Disclosure.
Contest ends at 11:59 pm EST on July 15, 2013 when a winner will be drawn at random. I will notify the winners and they will have 36 hours to respond or another winner will be selected!
This was not a paid post. My own opinions were used based on my perceptions and experience. Thank you to Robert Rose who provided the product for review and giveaway.