For the past 30 years, local Huron, Ohio farm, The Chef's Garden has been supplying the nation's most discerning chefs their produce. With recent changes in the restaurant industry, they are now offering their specialty and heirloom vegetables, herbs and microgreens to consumers direct to your doorstep! This specialty produce is unique and cannot be found at any local grocery stores.
Farm to Doorstep Local Produce from Chef's Garden
The Chef's Garden is a sustainable family farm in Huron, Ohio. They are now offering their fresh, nutritious vegetables delivered direct from their farm to their doorstep to families across the nation.
This is a sponsored post.
My family eats a LOT of produce. I'm lucky that my kids will eat a salad at every meal without complaint along with at least another vegetable side dish. We were all excited to open their giant Best of the Season box of produce that is enough to feed a family of 4 fresh produce for at least a week.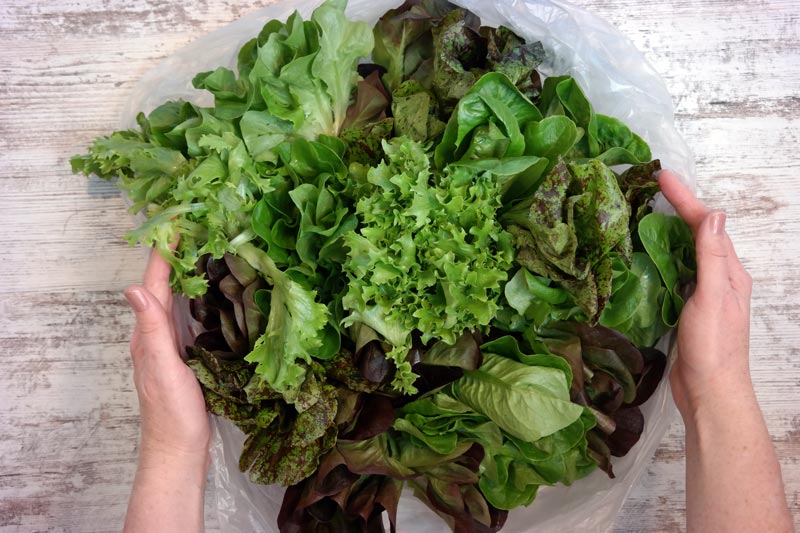 I personally love supporting local businesses and farms whether direct in our local grocery stores (like at Acme Fresh Market) or direct. It is even more important now to support our local farmers, especially those that are changing their course because the restaurant and other large-scale catering industry has suffered. I can't tell you how excited I was to open a box full of fresh produce! I love trying new foods and recipes.
With the root vegetables and potatoes, we made a Sheet Roasted Root Vegetables and Potatoes recipe.
It is a great recipe because it can be used with a variety of vegetables and potatoes – which we had! I don't even honestly know the names of all the root vegetables! I know there are several types of carrots, celery root, garlic root, and parsnips, but that is all I can identify.  It was fun for the whole family to bite into each vegetable to figure out what it was – they all have unique flavors and colors!
Plus, by adding new vegetables into your diet, you are adding more nutrition than you might not get with traditional, ordinary vegetables. The root vegetables provide potassium, folate, manganese, calcium, copper, selenium, phosphatase, and Vitamins, A, B6, C, E, and K to your diet.
The sweet and earthy potatoes are loaded with potassium, and vitamins B6 and C. Again, there are so many varieties! I didn't know there were so many. They are all small in size, so they are perfect for a quick side dish whether you bake, mash, boil, or roast.
This was an exciting dish eat with all the colors and flavors. I loved that it was easy to just pop it in the oven.
Another night, I made a similar recipe and just added chicken for a full meal, not just a side. The key to preparing the vegetables and with a protein is to cut everything about the same size so that it all cooks evening and at the same time.
I have never cooked greens before. I've never even purchased them. So, I was a little intimidated by this massive pile – 1 lb of greens. But I knew it would be really healthy to eat so I was excited to try them!  This is an excellent way to get added nutrition into your family's diet that they wouldn't get otherwise. Included in my bunch was bok choy, kale, kohlrabi, and mustard leaves – that I know of. These cooking greens are rich in folate, calcium, dietary fiber, and vitamins E, A, K, and C.
I preparend and created my own recipe called Ultimate Southern Cooked Greens Recipe. I wouldn't have published the recipe and called it ultimate if it wasn't ultimate!
The Chef's Garden will likely have many vegetables that you are not familiar with – these are vegetables you'd find at a fancy restaurant not in any grocery store I've ever shopped! Don't worry, they do give you tips on how to prepare. I cook a lot and I couldn't even identify the different kinds of root vegetables, potatoes, and lettuces we received but it was easy to find ways to prepare online.
My kids like eating healthy (of course they are still normal and enjoy junk food as well! ha!). In fact, my son has been forging for Ohio edibles while sheltering at home – more on this later. A lot of this desire to try new things and eat healthy stems from my kids cooking with me since they were preschoolers. I encourage you to try new recipes, especially while everyone is at home together. Cooking with kids is so much fun and offers so many benefits including healthier eating.
We eat a lot of salad so we were excited to see the variety and quantity of min-lettuces!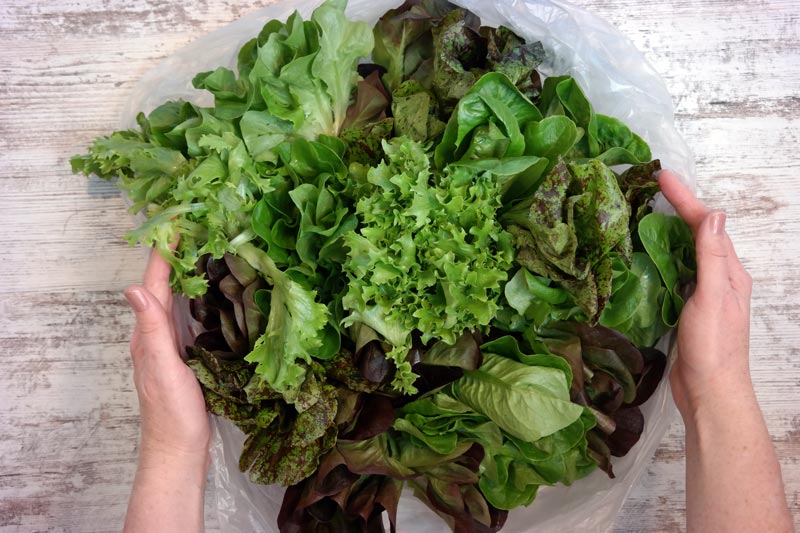 The differences in the lettuces include color, texture, and taste. Some are grassy, nutty, and earthy in flavor while the textures are tender, crunchy, crisp, and/or chewy. We had no problem eating all of the lettuces before any 'went bad'. I think it is because the lettuce is so fresh – it is shipped the day it is picked!
Lettuce contains calcium, iron, magnesium, phosphorus, potassium, sodium, zinc, thiamin, riboflavin, niacin, folate, and vitamins B6 and other B vitamins, plus vitamins C, A, E, K.
We also were able to enjoy micro-greens. If you haven't tried micro-greens, you really should. They are packed with vitamins and nutrients and are even more nutrient dense than traditional vegetables.
You can add microgreens to your salad, sandwiches, burritos, soups, and as a topping for many side dishes.
So, you know the edible flowers that you get at fancy restaurants? Well, now you can make any meal fancy with Mixed Edible Flowers from The Chef's Garden. It was a wonderful way to brighten up any meal – or day.  The flavors and aromas are so unique with each flower, so every bite is a new experience. I'm sure your kids will get a kick out of it like mine did!
You can add the edible flowers as a garnish, to salads or even candy them for a dessert.
Chef's Garden COVID-19 Food Safety Procedures
With the new pandemic it is good to know the safety procedures in which your food is sourced. The Chef's Garden includes 54 standard operating procedures for food safety to growing, processing, and packaging. They even utilize PCR testing of water used to wash their produce which only 1% of US farms do. They also purify the air so that everything that is touched by air molecules in their packing and shipping area is sanitized. On top of that, they have 3 daily cleaning cycles.
Order Farm to Doorstep Local Produce from Chef's Garden
Now is your chance to order Farm to Doorstep Local Produce from Chef's Garden that was once only available to chefs! Order the Best of Season box like we had above, noting that as the season changes, so does the produce. Choose between Small, Medium, or Large boxes depending on the size of your family.
You can also purchase by item. if you don't want the Best of Season box above.   They also have an Anti-Aging Mix and Chef Provision packs that include full meals with meat.
Browse The Chef's Garden website to find gourmet restaurant quality specialty produce for you and your family.