The highly anticipated GetGo in Medina, Ohio right off I-71 and Rt-18 is now open! They are celebrating the grand opening with discounts and fantastic prizes for a limited time!
GetGo Grand Opening Specials and Giveaways:
10 cents off every gallon of fuel when you use your Advantage Card
200 free 3.5" MTO Subs cards will be distributed throughout the weekend.
500 specialty coffee cups will be distributed with an offer for 30 days of free coffee.
Compete in a social media contest to win a GetGo-branded pedal kart.
Compete in interactive games throughout the weekend for more prizes!
This is a sponsored post.
The most exciting part about the new GetGo in Medina off I-71 is their Cafe!  Now you don't have to sacrifice quality food when you are in a hurry. In fact, GetGo Chef Tom Seaman has made it his mission to reinvent what food means in a convenient setting.
The Cafe menu provides an unparalleled assortment of flavorful foods made with healthier ingredients. For instance, all chicken is made with No Antibiotics Ever and seafood is responsibly sourced and sustainable. All of their bread if proofed and baked fresh in house daily.
Step up to the kiosk or order at the counter for custom sandwiches, wraps, subs, burgers, breakfast sandwiches are more. Chef Tom has an amazing line-up of flavorful choices or you can create your own combinations. I really like that Chef Tom utilizes local companies' products to crate one-of-a-kind flavor combinations.  The menu is always rotating and new offerings introduced for fresh new flavors.
If you are a fan of pretzel buns, you can place an order for a burger, cold cut, or breakfast sandwich on a pretzel bun. I was able to taste the Bavarian Burger with bacon, it was amazing.
This state-of-the-art kitchen is immaculate and ready to prepare your breakfast, lunch, dinner, or snack in about 4 minutes. Although you won't find run-of-the-mill food here, GetGo knows that you have a busy life and need your food fast. GetGo is designed for you to get in, get your order, and go, in about 4 minutes. Talk about convenient!
The Cafe is perfect for families because everyone can order exactly what they want. A happy family at meal-time is hard to come by! Pick it up to go or eat in the cafe dining area. I know my kids can't wait to stop by this weekend during the Grand Opening because they love their subs!
If you are in a big rush or just want a snack, you can quickly pick up healthier snacks and meals at the Fresh to Go display. They have fresh fruit, yogurts, hummus, vegetables, and more. This is the type of display that I let my kids pick out whatever they want especially for after-school snacks, after sports practice and for road trips.
The Great to Go display has even more grab and go meal and snack options that will fill you up in a hurry with healthier food options. Choose sandwiches, wraps, salads, meat and cheese trays, pickles, yogurts, fresh fruits, healthy drinks, and more.
Convenient food doesn't have to be junk food – it can be quality, tasty food. That is what I love about GetGo – it is not a gas station with a convenient store attached with a bunch of gross food. It is a market and cafe serving better-for-you food that happens to have a convenient fuel station on the side.
Of course, you'll want to stop for a tasty drink at GetGo too. I don't know about you but my family likes options for drinks. GetGo goes above and beyond in the drink department. Talk about choices!! They have something for everyone – it's hard to pick just one thing. They have carbonated and non carbonated slushes for the kids (and kids at heart).
They are even coming out with a no sugar added smoothie in a few weeks that I can't wait to try with my kids since they are type one diabetics. It is nice for them to have lower carb options. They fountain drink machine is a lot of fun too – offering both Coke and Pepsi products in all their flavors with the option to add even more flavor and even energy shots.
Also available is a Smoothie & Espresso Bar, including lattes, mochas, iced coffees, espresso beverages and more!  There are so many choice, you could visit GetGo everyday and get a brand new flavor combination!
Don't forget, this weekend only, they will be giving away 500 coffee mugs with free refills for a month to select guests – I'm not sure how they choose, it may be with the social media sharing contests they are having. No matter what, it would be a fun prize to win during the grand opening weekend.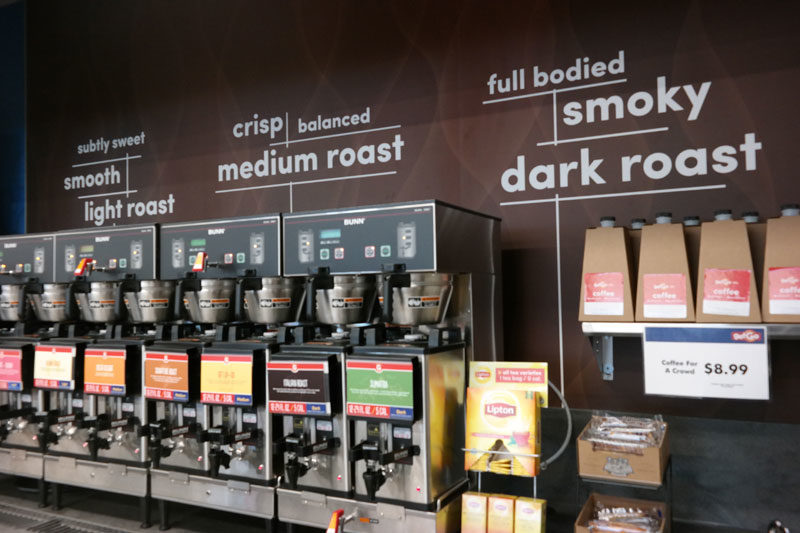 GetGo thinks of everything. Not only do you have lots of coffee choices but you can flavor it anyway you want, even with soy, almond milk, and other specialty creamers!
I love the passion that Chef Tom and GetGo has for providing healthier foods choices in a convenient setting for our busy lives without sacrificing quality. "We understand that folks in Medina are not interested in sacrificing quality for time, making it critically important to create an in-store environment that gets fresh and great tasting foods into their hands quickly so they can continue with their busy lives," said GetGo spokesperson Dan Donovan.
I also like that GetGo is giving back to the Medina community. They have already donated to the Medina High School men and women's cross-country team and women's golf team on Wednesday.  Now, they are donating $1 for every sub purchased at the new location to Feeding Medina Country from March 7-11, 2018. They will be presenting all proceeds raised to Feeding Medina County on Monday, March 12th.
This location also has a surcharge-FREE ATM, full service lottery, FREE Wi-Fi, and FREE air for vehicle tires, as well as no-contract and prepaid wireless phones and more than 150 retailer gift cards. Download the GetGo App for fuel prices, access to your Advantage Card, eCoupons, eGift Cards and more.
Stop by the new GetGo located right off I-71 and Rt-18 during their grand opening celebration all weekend long!
GetGo
3080 Medina Road
Medina, OH
Win $25 Giant Eagle GetGo Gift Card
You have the chance to win a $25 Giant Eagle GetGo Gift Card!
a Rafflecopter giveaway

This promotion is in no way sponsored, endorsed or administered by, or associated with, Facebook. In order to comply with the latest Facebook Promotion Guidelines (revised 5/11/11), the following statements are true: