It is so easy to make fresh, healthy nut butter at home when you use a high quality juicer like the Twin Star Elite that has a homogenizing function.
For making nut butter, you'll want to select and use the blank plate since all the material used will be fully extracted.
Select your favorite nut(s). We used dry roasted peanuts. You can use almonds, pecans, walnuts, cashews, macadamia, Brazil, even sunflower seeds.
Gradually pour in nuts into the juicer, if you push it through fast, you'll have a chunkier texture, if you push it through slowly, it'll be smoother.
About 1/2 way through, you'll want to add 1-2 TBSP of oil to get it creamy. I used olive oil.  Use as little or as much as you'd like for the texture your family enjoys.
Continue to add nuts to make the desired amount.
Add flavor by using a variety of nuts and adding in items like chocolate chips, coconut flakes, and dried fruit.
Add seasoning like cinnamon, salt, sugar, cocoa powder, honey, vanilla – if desired.
Enjoy!
Store in air-tight container in the refrigerator for up to 1 week.
Using Green Star Elite to Make Nut Butter
We were able to review the Green Star Elite Twin Gear Juice Extractor for this review. Using the Green Star Elite to make nut butter couldn't be easier – or quicker. Add your favorite nuts to the top and push it down.
Add flavors if you would like. We used Ghirardelli chocolates and Bakers sweetened shredded coconut.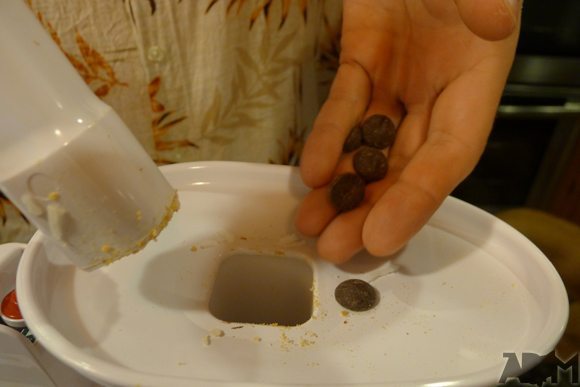 My kids thought it was awesome to make our own nut butter. They were amazed when the nuts come out as nut butter.
In my below 3 minute video, you can see how easy and fun it is to make your own nut butter at home. It was literally done in less than 5 minutes.
The final result was delicious homemade nut butter that is full of flavor – and nutritional benefits!
We enjoyed it with toasted English muffins, it was the perfect snack – great for an afternoon pick-me-up for energy too!
Clean up is a breeze with Green Star too since they provide an easy-to-use cleaning brush. There really is no reason not to provide your family with the healthy benefits of fresh nut butter when you have a juicer in your kitchen. We are hooked and will be experimenting with other nut butter recipes – stay tuned!
Like Tribest on Facebook
Buy Green Star Elite Twin Gear Juice Extractor
You can buy the Tribest GSE-5000 Green Star Elite Jumbo Twin Gear Juicer on the Tribest Life website for $549.95 (saves $79.05 off list). The Green Star Elite ships FREE!
This was not a paid post. My own opinions were used based on my perceptions and experience. Thank you to Tribest who provided the products for review.