Christmas, anniversaries, and special occasions look a little different this year. Many of us are celebrating at home and it may be the first time most of us have tried special recipes. I'm here to empower you with the knowledge that you can do it. You can prepare that special meal in your own kitchen. Preparing special meals like a hearty porterhouse steak or filet mignon is easier than you would ever imagine. Plus, you'll pay less than 1/3 what you'd pay in a restaurant!
I'll guide you step by step on how to get that perfect cut of meat for your next holiday or celebration. This is how the below porterhouse steak got rave reviews of "this is the best steak I've ever had" from 2 of my 4 family members.
This is a sponsored post.
How to Prepare Special Cuts of Meat for the Holidays and Celebrations
First, don't be intimidated. Beef is easier than you may think to prepare. The #1 rule is to purchase the highest quality meat when it comes to meat, the best ingredients make the best meals. I shop at Acme Fresh Market for all meat products because they only sell quality meats – from beef to chicken and most is LOCAL.
I suggest you stop by your local Acme Fresh Market and talk with the butcher. They will give you advice on absolutely everything from what cuts of meat to make for a recipe to how much to purchase per family member to selecting the best cuts. They will even assist in customizing the meat for you including tiring up a roast or trimming to size.
My local Acme's butcher, Johnny is amazing. He's always there to help with any question I have – and I've had many over the years! With grilling season over, I asked Johnny how I should prepare steak as I normally grill. He gave me some good options including baking and cast iron frying. Not to brag, but I can grill a really good steak – so can my husband. But, after talking with Johnny, we now have a new method that I'll share below.
Like I said, Acme Fresh Market has the best of the best when it comes to meat. Certified Angus Beef is a company out of Wooster, Ohio. They go above and a 'cut above' the USDA prime grade quality standards by meeting an additional 10 qualifying standards. You know you are getting the best of the best with Certified Angus Beef. And this is my #1 secret on how to prepare special cuts for holidays and celebrations – get the best quality meat. You can't get cheap stuff at a discount store and expect restaurant quality food that will make everyone go "yum"!  Good for you, Acme has a large assortment and every week there is always a few items on sale too!
This week, I treated my family to Porterhouse Steak – this is a classic steakhouse cut that consists of two tender steaks – the strip and tenderloin (aka filet mignon). If you want melt-in-your-mouth tender steak, this is the one for you! With Johnny's recommendation, I cooked it in a cast iron skillet. I love cooking in cast iron because the signature sear on a steak is easily achieve from a sizzling hot pan. This makes it easy to sear it on the outside and quickly cook to any temperature you'd like from rare to well.
If you have younger kids or some of your family members have a heartier appetite, you can request steaks from Acme Fresh Market in thin, regular, or thick slices. Johnny helped me find the best of the best steaks with the largest tenderloin per steak too – thanks, Johnny!!
For my daughter and I, we usually go thin and for my husband and son either regular or thick. In this below pan, there are 2 thin and one regular. My daughter and I like well done steaks and my husband medium-well, since his steak was larger, I was able to achieve both temperatures in the same pan!  Steaks in cast iron only take around 5 minutes to cook, so you can easily cook one set and then another set while the first set it resting. It's not a big deal to cook two batches.
First, salt and pepper your test on both sides. I like to use kosher salt and fresh ground pepper. I like to add herbs to my steak including garlic, theme, and rosemary. Adding herbs provide a depth of flavor that you really want with a good steak.
For the last few minutes, you'll want to add butter and plenty of it. Melt the butter in the pan and then spoon it over and over the steak. Pouring the butter over the steak for a few minutes will give you the steak house flavor that you love from restaurants. I learned this trick a while ago while watching a cooking show. I had no idea that chefs smothered steak in butter!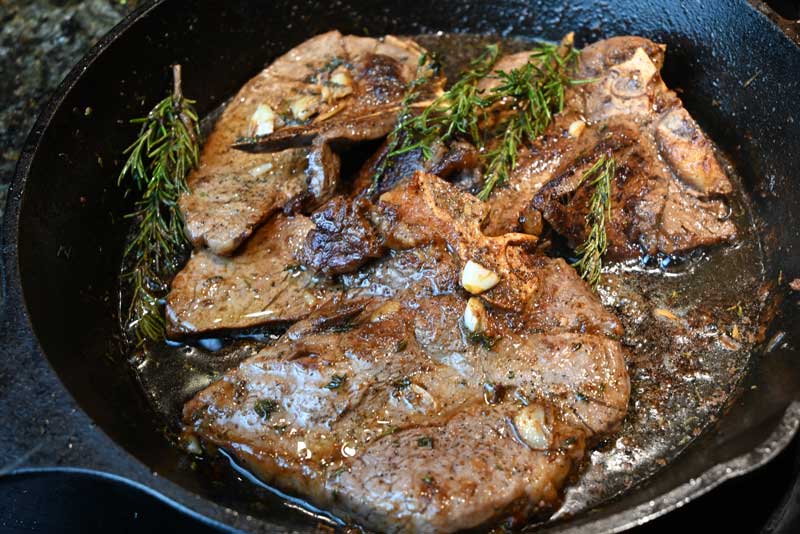 I like to serve steak with a hearty side of potatoes either baked or mashed along with a green salad. Asparagus is another good side for steak and fresh, warm rolls.
If you are looking for recipes for special cuts, check out Acme Fresh Market's recipes online.  Many of the recipes have videos too that makes it easy to see exactly how to prepare the recipe. In fact, head over to YouTube and subscribe to Acme's channel for all the latest recipe videos. Here are a couple recipes that look delicious and tempting to make for Christmas this year:
I will probably make this Prime Rib Roast for Christmas – prime rib is on sale starting on Thursday, December 10th, so I'm getting it then and freezing for Christmas! I'm excited to try this new recipe for my family of 4 since we'll be celebrating solo this year due to the pandemic.
For even more recipe ideas, check out Acme's Local Playlist which features recipes that I personally created and videoed for Acme – each week, I prepare a recipe video that is based on what is on sale! If you are like me, you shop and base your week's menu on what is on sale that week. Acme makes it easy to buy what's on sale and features a recipe for sale items every week!
With the recipes on their website and YouTube, you are well on your way to preparing special cuts of meat for the holidays and celebrations. Stop by Acme today and talk with your store's butcher.
Win $25 Acme Fresh Market Cash
You have the chance to win $25 Acme Fresh Market Acme Cash!
a Rafflecopter giveaway

This promotion is in no way sponsored, endorsed or administered by, or associated with, Facebook. In order to comply with the latest Facebook Promotion Guidelines (revised 5/11/11), the following statements are true: