We all have a sweet tooth, especially kids. It is hard to keep kids away from candy and all the bad side of sugar including added pounds and cavities.  My kids are both Type 1 Diabetics which makes it even more difficult since they have to have insulin for every carb that enters their mouth or their blood glucose levels will sky rocket!
I've discovered a sweet treat with no sugar, no artificial sugars, 0 calories and 0 carbs. Not only that, it tastes great too!
I received product to facilitate this post.
Ice Chips are delicious sweet treats made with Birchwood Xylitol.  There are more than 20 varieties to delight both adults and kids including Peppermint and Cinnamon and their summer-inspired favorites of Root Beer Float, Orange Cream, Lemon and Berry Mix.
We received a variety of Ice Chips on the day before my kids had the extensive state testing this year. What perfect timing! Our schools allow kids to bring candy, mint, or gum on test days – a nightmare for Type 1 Diabetics – carbs all day!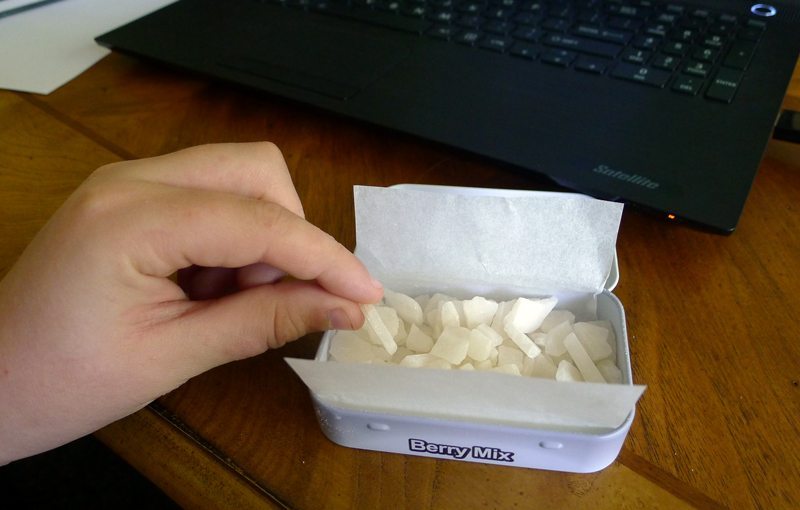 And, honestly, it should be alarming for everyone with constant sugar coating their teeth.  With Ice Chips, I can let my kids enjoy them all day because Birchwood Xylitol is dentist recommended! Xylitol actually inhibits the growth of dental plaque and reduces cavity-causing bacteria. Our pediatric dentist, Dr. Pollock recommends these treats as an alternative to a sweet treat or sweet reward.
In fact, dentists recommend 4-8 servings of Ice Chips a day to receive the full oral health benefits of Birchwood Xylitol. No problem! Pass the Ice Chips!

My kids have all of their friends at school hooked on Ice Chips. Their parents can thank me that they are now requesting 'candy' without sugar and it's harmful side effects! I love that my kids can enjoy this sweet treat without thinking or worrying about diabetes, which is a rarity any other time unless it's a protein like meat and cheese.
Ice Chips come in a small tin that can easily be tucked in your laptop bag, backpack while hiking, or gym bag for a sweet treat without sugar while on-the-go! Plus, the unique chips design are fun as you pick out your favorite piece every time – no boring pieces here!
You and your kids will never miss the sugar!
You can purchase a variety pack with 6 full size tins for $29.95 on the Ice Chips website for $29.99 with FREE Shipping. You can also find Ice Chips at health food stores, dentists, and on Amazon.com.
Win 6 full size Ice Chips Tins
You have the chance to win the Shark Tank Special, 6 full size Ice Chips tins! ($29.99 value)
a Rafflecopter giveaway