Indian Food!  One of the more exotic treats for Americans, the flavors of India are very unique- earthy, spicy, and meant to surprise!
The Kitchen Curry Master is a combination spice tin, spice collection, and recipe book that utilizes the spices provided.  This is really a great tool for anyone interested in trying something completely different in their household.  Also an AWESOME gift for the culinary king or queen!
I received product to facilitate this post.
All of the spices in the Kitchen Curry Master Set come individually wrapped in sealed plastic bags, and it's a short 5 minute effort to load it up and sniff through the flavors and scents.  Each tin is made to fit well into the tins provided.  An extra bag of the often used Cumin/Coriander spice is included.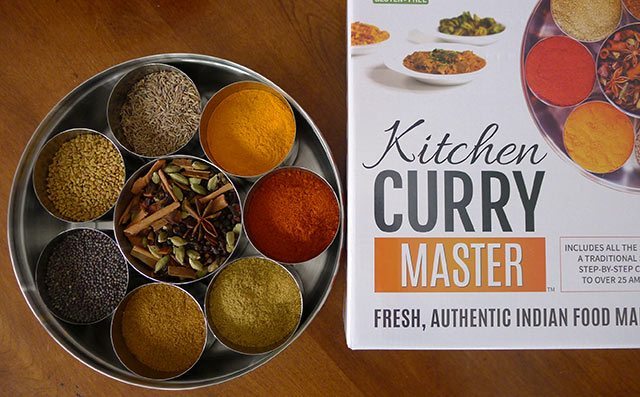 What I like about this is that the tin plays nice with the recipe tin.  First off, there is a convenient flap that you can open up and see which spice is which at any time.  Second the amounts are measured exactly (no pinches, no "to taste").  If you don't know what its supposed to taste like, You need Real instructions!!!
Let's Get Started and Make Something Indian!
Besides the packets that you can buy at the grocery store- I've never made an authentic Indian dish until earlier this evening!
We made two curry recipes- the Lentil Curry and the Chicken Korma Curry.  The recipe book is well laid out, easy to read, and puts the important things right up front (in big letters- YOU HAVE TO SOAK THE LENTILS for 4 hours before you can start!)
Our adventure included some fresh ingredient chopping, and then a sampling of the various flavors into the pan.  The 'hard pieces' like star anise, cloves, and cinnamon are piled together in the middle tin.  When I first received this and saw this, I was a little concerned, but it turns out they're easy to sort out.
Anyway, each dish was a one-pan meal, with lots of simmering, and exotic smells filling my kitchen- truly a cooking adventure!
One thing different that I've noticed in the recipes-spices are added first and are part of the onion browning, or spice mixture before the main ingredients are added.  I'm not sure what to think about this, but maybe its so that certain spices get to rub shoulders directly with others?  I don't know, but I'm following the directions!
Our Lentil Curry tasted like something straight from Juniper Junction or Safran Patch (local Indian Restaurants).  The Chicken was a freshness explosion with the ginger and cilantro.  It was a little too strong for our kiddos- but they tried it!
You can purchase your own Indian Food Made Simple Master Set for $59.99 with free shipping on the Kitchen Curry Master website. It makes a unique Christmas gift for the chef on your list.
Connect with Kitchen Curry Master on Facebook and Twitter.