I love to cook and love spices, especially spice combinations that make cooking tasty meals quick and easy. I just discovered Kitchen Crafted brand of globally-inspired spices (BLND). They are so fun to use in meals, dips, sauces, marinades, and even drinks. My family loves flavor and trying new flavors, so we were excited to test a few out!
This is a sponsored post.
All Kitchen Crafted spices are non-gmo, gluten-free, kosher-certified food flavors powered by their 8 signature herbs and spices. You can feel good about using their products to enhance food for your family because they use only the most natural and healthiest ingredients. Even if you are on a diet or just super health-conscious, BLND spices will get your seal of approval.
My first test was of their Kansas City Smoker BBQ Rub.
There is nothing like a good BBQ pork and the BLND Kansas City Smoker turned this roast into a hearty, flavorful BBQ! I love that I only had to use one spice to get full flavor. Just rub it on thick for great flavor throughout!
I used a generous amount on a pork shoulder for Kansas City style pulled pork. It was delicious! My whole family enjoyed this new flavor for pulled pork from what I usually do, plus it is no added sugar which most BBQ pork is full of with sauces.
I make sheet meals often because I can load my family up with plenty of vegetables! I tried the BLND Chimichurri seasoning on my recent chicken vegetable sheet recipe and it was a hit.
#YUM This Argentinian flavor goes well with just about everything including chicken, burgers, steak, and pizza. It gave an otherwise ordinary dish some really great flavor that my whole family enjoyed.
BLND seasoning turns just about anything into a culinary global adventure. Seriously. Spices can do so much to every single dish you make. Are you tired of ordinary recipes that you make week in and week out? Spice it up with a different flavor and you have a whole new dish! For instance, BLND Moroccan Seasoning turned plain chicken into a tasty, flavorful entree just by sprinkling it on with a little olive oil before baking.
So, this isn't my best photo ever – to say the least – but you can see how it adds color and flavor to otherwise ordinary chicken. The taste was also anything but ordinary!
Another thing that I love about BLND spices by Kitchen Crafted is that they are priced well for the size of the bottle AND the spices are filled to the tippy top of the bottle!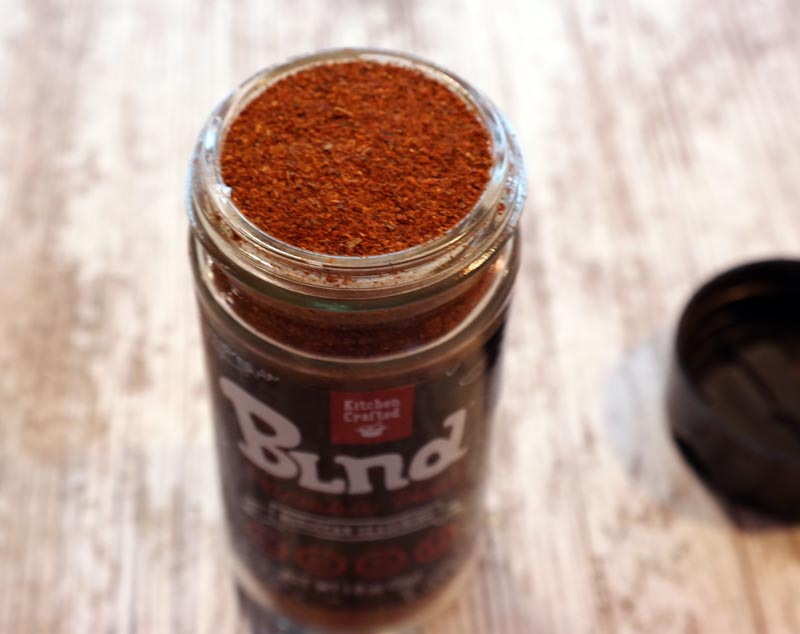 You can spice up all your ordinary recipes with BLND spices to get truly unique flavors or you can check out their recipes to try something completely new!