In our home, we love to do crafts and activity kits as a good break in the playing with toys routine. Sometimes we use this for a fun family night activity or for rainy day fun. We ask for these type of gifts for Christmas and Birthdays because it provides fun entertainment year round. I was thrilled to find Glee Gum's Make Your Own Candy & Gum Kits.
Glee Gum is an all natural chewing gum made with sustainably harvested rain-forest chicle. It's the best alternative to synthetic chewing gum and bubble gum.
Glee Gum also offers fun All Natural Make Your Own Candy and Make Your Own Gum Kits. You can Make Your Own Chocolate, Make Your Own Chewing Gum, and Make Your Own Gummies with their fun, easy to do kits.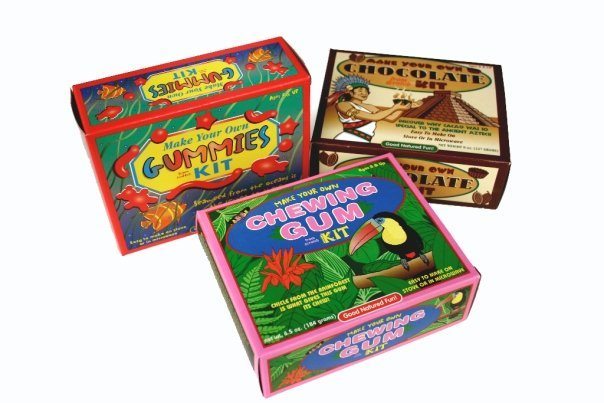 Hands On Review of Make Your Own Gum Kit
We selected to review the Make Your Own Gum Kit because my kids love gum! The kit is for kids 8 and up but my kids have a blast with parental help.  The kit comes with everything you need to make your gum. I only needed to supply a cutting board, rolling pin, and microwave (or stove top).
My kids enjoyed ready all about where gum comes from. This kit uses the sap from the Sapodilla trees that is gathered by the peoples in the rain-forest. Other gum sold in stores is made up synthetic gum bases and chemicals. By using the sap from these trees, there are less reasons to cut down the trees in the rain forest. Taking the sap does not hurt the trees.
Back to the review. The directions were easy to follow step by step. My kids took turns adding ingredients to together and couldn't wait to do the next step.
What a sticky mess! My kids loved it! I let them stir the ingredients together but since it is sticky, I was sure to get it well mixed together before it had time to harden. That's how it is with cooking with kids!
My kids were so into making this gum. I was surprised at how concentrated they were when they had to knead in the flavors (we had cherry & cinnamon) and the confectioner's sugar into the gum base. They had fun pulling and stretching the gum.
I let the kids take a turn at rolling out the gum but in the end I had to finish it up. Next, we cut it up into about 50 pieces!
My kids were so proud of their home made gum. Elizabeth made the cherry gum and Elijah made the cinnamon gum. The flavor and smells of the gum were great. I don't think we quite kneaded it through enough to reach the center but it was still good. Elijah wrapped up some to give to his bus driver and teacher at school. He was so proud that he made gum. Yes, the Make Your Own Gum Kit is worth it and lots of fun!
Buy Make Your Own Candy & Gum Kits
This would make an excellent kids birthday gift, kids Christmas gift, or just for fun kit to have when you need it the most! You can buy your own Make Your Own Kit on the Glee Gum website for about $13 each or find a retailer near you. You can also find the Make Your Own Chewing Gum Kit
for under $12, the Make Your Own Gummies Kit
for under $13, and the Make Your Own Chocolate Kit
for about $13 on Amazon.com.
Win Make Your Own Candy & Gum Kits (Closed)
Updated: 11-27-10 Winner Announced: Congratulations, Julie L.
Glee Gum is offering you the chance to win your choice of Make Your Own Candy or Gum Kits.
Required Entry
To Enter: You must visit the Glee Gum website and leave a comment below on your favorite product.
Increase your Chances of Winning with Extra Entries
Leave an additional comment for the value of each extra entry and a way to verify the entry.
"Like" AkronOhioMoms on Facebook (posting a comment is appreciated but not required)
"Like" Glee Gum / Make Your Own Kits on Facebook (tell them AkronOhioMoms sent you is appreciated but not required)
Follow AkronOhioMoms on twitter
Follow Make Your Own Kits/Glee Gum on twitter
For 2 extra entries every day, comment on my post (voting not required but APPRECIATED)
For 1 entry each, up to 2 X a day, tweet my Pillsbury Finalist status for up to 2 extra entries every day! Copy and paste: You could win $5,000 when you vote for mommy blogger Cindy Orley Cheesecake recipe http://bit.ly/dmnKWS #sweepstakes #contest
Tweet about this giveaway. Tweet daily for an extra entry every day! Copy and paste: Win your choice of Make Your Own gum & candy Kits from www.akronohiomoms.com #contests #sweepstakes
For 3 entries each, comment on any Total House Remodel post
For 5 entries, blog about this giveaway on your website and link back to us and Glee Gum
For 3 entries, Stumble Upon this post with button on top of screen
Join us with Google Friend Connect (on the sidebar)
Cast a vote for us on Top Baby Blogs
Rate my site on Top 100 Mommy Blogs

Leave one new comment on any other post or giveaway
The 30 day winning rule does not apply to this contest. For complete contest rules, please see our Contest Statement and Blog Disclosure.
Contest ends at 11:59pm EST on November 26, 2010 when a winner will be drawn at random and announced the next day. When commenting, please include your email address (not visible to public). I will notify the winners and they will have 36 hours to respond!
This was not a paid post. My own opinions were used based on my perceptions and experience. Thank you to Glee Gum who provided the products for review & giveaway.