Biscotti Bites are a mini-version of Nonni's Biscotti, making it the perfect size for snacking at home or on the go. For me, this is the perfect size for Biscotti. It doesn't feel like you are committing yourself to something huge. It is better portion control for me, except for the fact that with so many delicious flavors, I tend to eat 2 or 3 at a time. 🙂  It is the perfect snack-size though, great for a Biscotti Moment any time of the day.
My "me" time is after our kids are in bed. That is when my husband and I will have a snack together. We've enjoyed the three new flavors of Biscotti together the last couple weeks, you could say that is our Biscotti Moment. The Biscotti Bites are rich in some great flavors like Almond Dark Chocolate, Caramel Milk Chocolate, and Classic Almond. My favorite is Caramel Milk Chocolate – YUM!  I don't drink coffee although my husband does and thinks that Biscotti and Coffee are great together. I like them plain or with a cold glass of skim milk.
Biscotti Bites make for a delicious, light and crunchy sweet treat any time of day – and anywhere with the convenient new size. When I am rushed to get out in the morning, I can easily grab a couple for breakfast.
Biscotti Moment Sweepstakes
Nonni's Biscotti is offering you the chance to win some fabulous prizes with their Biscotti Moment Contest.  Give yourself a Biscotti Break, take a picture of it and upload it to the Nonni's Biscotti Facebook page for your chance to win.  The grand prize is a trip for 2 to Hollywood ($2,500 value)!  Plus, they are selecting 3 weekly winners to receive a Nonni's Biscotti's Gift Basket ($15 value)!  The contest is for ages 18 and older and ends on June 15, 2012.
Like I said, my husband and I enjoy Biscotti in the evening. Below is my contest entry. My favorite is the Caramel Milk Chocolate and my husband's favorite is the  Almond Dark Chocolate.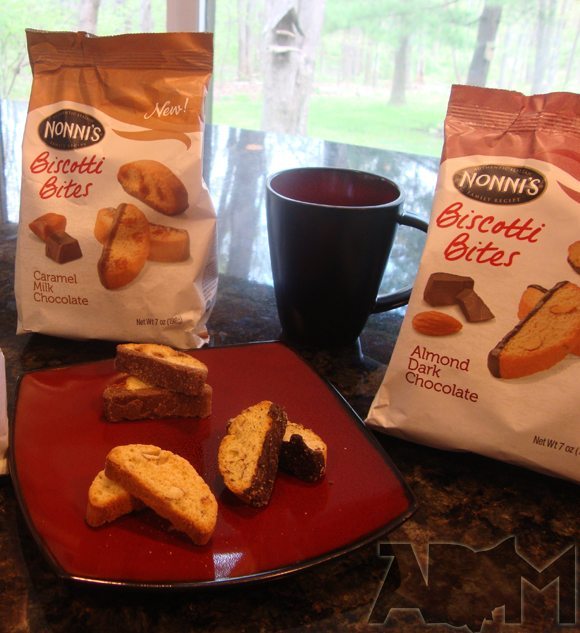 Like Nonni's Biscotti on Facebook
Buy Nonni's Biscotti Bites
You can buy Nonni's Biscotti Bites in stores nationwide and on Amazon.com. In the Akron, Ohio area, you can find Biscotti at BJ's, Costco, and Sam's Club.
I wrote this review while participating in a campaign by Mom Central Consulting on behalf of Nonni's Biscotti and received a product sample to facilitate my review and a promotional item to thank me for taking the time to participate.