Staying hydrated in the summer is essential, especially with the extreme heat we are experiencing.  Whether you are at home, work, or traveling, it is easy to stay hydrated with ice cold drinks with Contigo spill-proof bottles.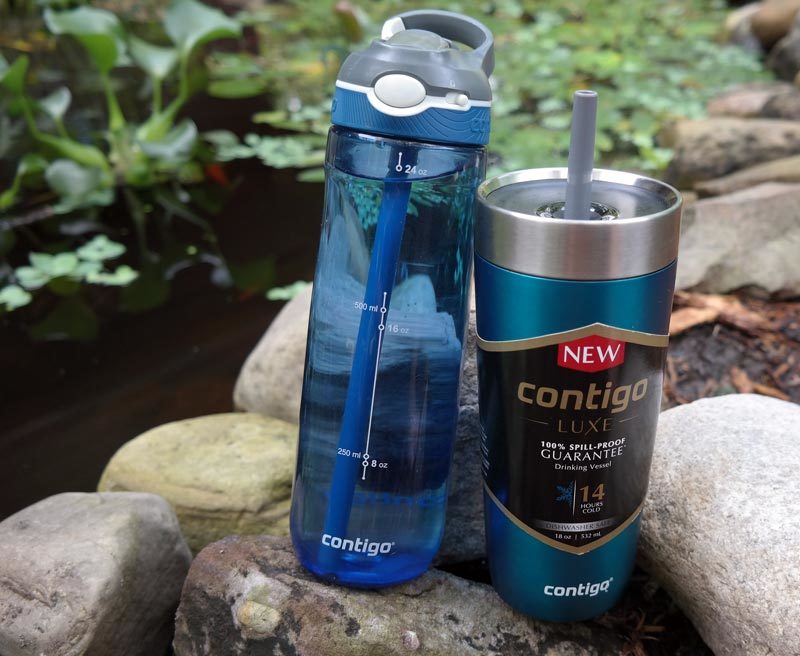 This is a sponsored post.
I love to drink ice-cold water and iced coffee in the summer. The Contigo Luxe Insulated Stainless Steel Travel Tumbler keeps my drinks cold for 14 hours – even in extreme hot weather, it  goes with me everywhere in the summer. It fits perfectly in my car's cup holder and keeps my drinks cold all day long – the ice doesn't even melt because of the double-wall vacuum insulation!  It's amazing. One thing that is very important to me is a spill-proof option while traveling.  Most tumblers are not spill-proof but the Luxe is spill-proof, even if you knock the tumbler over, it won't spill. The lid and straw are both spill proof, the straw actually has an inner valve to prevent accidental spills.
I like to make my own iced coffee both at home and while traveling. This tumbler is just perfect for it! I can sip my iced coffee without rushing like I would if I purchased it from a coffee shop because it stays cold!
When I'm done for the day, I pop it in the upper rack of my dishwasher – simple! If you love drinking from tumblers but hate the mess, treat yourself to a Contigo Luxe Insulated Stainless Steel Travel Tumbler. Buy it Amazon.com or at a retailer near you including Target and Walmart. They even have kid-size and themed tumblers!
So, I am a bit of a Contigo fan and have many Contigo bottles for different activities!  Another favorite water bottle that I like to keep on the ready for my whole family whether we are at home or traveling is their AUTOSPOUT® Straw Addison Water Bottle.
It offers single hand operation so you can quickly grab a sip of water even while biking. My whole family keeps a full water bottle on hand with us while biking, hiking, and especially while traveling. Most amusement parks, stores with fountain drinks, and restaurants will fill your water bottle for free if you just ask too.
It is so important to stay hydrated in the summer, especially while exercising, sightseeing, and away from home. If you are looking for a good quality water bottle that won't leak (my kids keep one in their book bags during school year next to electronics!), this one is for you. Buy it Amazon.com or at a retailer near you including Target and Walmart.
Stay hydrated, friends!!!