June is National Dairy Month and a good time to prepare delicious and healthy snacks and foods for your family. Dairy products contain 9 essential nutrients that can lead to better weight management, reduce your risk for high blood pressure, osteoporosis and some cancers. What's not to love?
We snack on dairy products a LOT since my kids are both Type 1 Diabetics, most dairy is no or low-carb. Check out a few of our favorite healthy recipe ideas below!
I am a BJ's Blogger Ambassador, I received gift cards to facilitate this post.
Caprese Kabobs
We love the freshness of a summer Caprese salad.  My kids don't typically go for the traditional salad but they love my Caprese Kabobs.
I used Horizon Organic Mozzarella String Cheese, cut into 8 pieces. I slice a cherry tomato in half or a grape tomato into 3 sections. Next, I add a couple pieces of fresh basil from my garden. I skew these delicious pieces on a party size toothpick for a fun and healthy snack. Each Horizon Organic Mozzarella String Cheese will make 2 Caprese Kabobs. They are the perfect size for slicing for these mini kabobs.
Feel free to drizzle a dressing of oil, balsamic vinegar, salt, and pepper on top if you wish for a more traditional Caprese Salad – but it taste great without.
You can purchase Horizon Organic Mozzarella String Cheese at BJ's in a 20 count package for savings and convenience this summer. Plus, it is USDA Organic, so you can feel good about serving this healthy snack to your kids and guests this summer.
Mini Cheese Sandwich Appitizers
We love Babybel Cheese wheels, they are the perfect little snack anytime, anywhere. We've turned ours into Mini Cheese Sandwich Appetizers by adding meat, veggies, and herbs.
We simply slice one Babybel Snack Cheese (original or light) in half and sandwich in things like sliced salami or other deli meat, hard salami, lettuce, cucumbers, basil, etc. This is a quick and easy appetizer to make for play dates, parties, or healthy snacks for anytime, anywhere. This is a no or low-carb snack that is healthy and delicious for everyone, but excellent for Type 1 Diabetics that have to count carbs.
We buy our Babybel Snack Cheeses in 28 count packs at BJ's. It is the most affordable way I've found to enjoy the delicious Babybel mini cheeses. They are excellent alone, with crackers, or as cheese sandwiches!
Mr. Hero Romanburger Hack
If you like the taste of the Mr. Hero Romanburger, check out our hack using Babybel cheese! It's better than the original!!
First, cook your burgers the way you like them – we like them well-done. Next, add a Babybel cheese snack on top and melt for a couple minutes, next layer salami and/or other Italian luncheon meats, and top with a hearty onion slice.
The result is a perfectly melted, cheesy, flavorful burger that you won't believe was made at home. This is such a simple recipe and easy way to add a new flavor to your next backyard BBQ or family dinner.
This burger is sure to steal the show during your next cookout – you've gotta try it! You don't know what you are missing until you try it. Add the toppings and flavors you want to it including lettuce, tomato, mayo, or other condiments.
Prepackaged Healthy Snacks
I don't often purchase prepackaged snacks, oftentimes they are not healthy. This is not the case with Sargento Balanced Breaks. My family loves these healthy cheese, nuts, and fruit snacks! I mean, really, really loves them. They come in 3 flavors of cheeses (Natural Sharp White Cheddar, Natural Sharp Cheddar Cheese, and Natural Pepper Jack Cheese) and each cheese has a unique combination of nuts and fruits.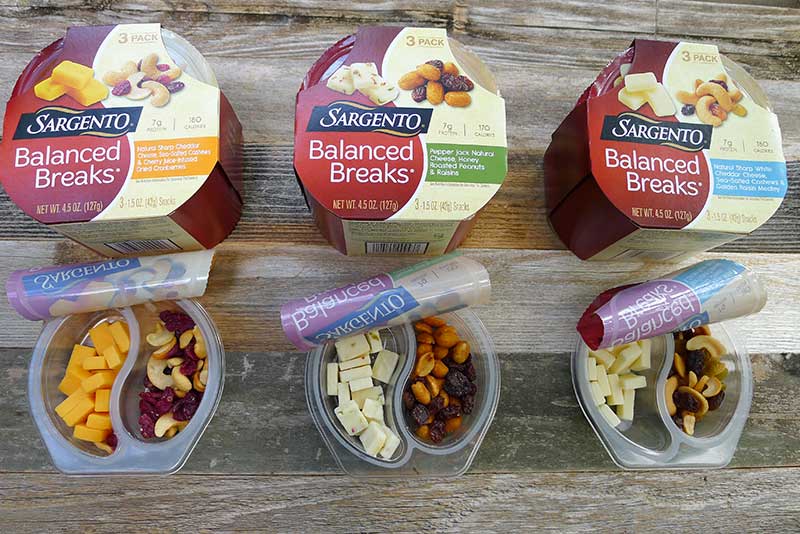 We snack on these all the time, they have replaced chips during game time and movie time! We take them on road trips, enjoy them as an afternoon snack, and pack them with our lunches!
You can purchase Sargento Balanced Breaks in a 3 pack (9 snacks total) at BJ's. Stock up on these healthy snacks that come in at only about 12 carbs and 170-190 calories each so you can snack healthy at home or on the go!
Yogurt Snacks for Anywhere, Even While Traveling
The best trick I learned years ago is to pack healthy snacks while traveling to avoid fast food and gas station junk food. One way is to pack delicious yogurts like Stonyfield Organic Yogurt. They come in pouches, cups, and squeezers that make them very portable and fun for kids! Another tip is to freeze the squeezers and pouches, then let them thaw while traveling – no cooler necessary if you consume within a few hours. They will be perfectly chilled or eat them frozen for a healthy frozen treat on hot summer days!
You can purchase Stonyfield Organic Yogurt varieties at BJ's in 8, 18, and 24 count packages, depending on the style.
BJ's Demo Event
This Saturday, June 11th from 11am – 5pm, all BJ's Wholesale Clubs will host a special Own Brands demo event to sample new hummus varieties, occasion cakes, organic lemonade and more just in time for Father's Day, graduation, and summer entertaining!
You can even save an additional $20 on Wellsley Farms products just for sampling and receiving a stamp at each station!
Stock up on these and many more delicious dairy products available at BJ's this month for healthier snacking and eating. By having a good selection of dairy products on hand all of the time, you and your family will reach for healthier snacks more often.
Not a BJ's member yet? BJ's is offering a 15 month membership for $40 now through Sunday, July 3 plus a coupon book with more than $2,000 worth of savings.
Get social with BJ's on Facebook and Twitter.
Win $50 BJ's Gift Card
You have the chance to win a $50 BJ's Gift Card!
a Rafflecopter giveaway

This promotion is in no way sponsored, endorsed or administered by, or associated with, Facebook. In order to comply with the latest
Facebook Promotion Guidelines
(revised 5/11/11), the following statements are true:
* Giveaway participants release Facebook from any responsibility whatsoever.
* Giveaways on this blog are in no way sponsored, endorsed or administered by, or associated with, Facebook.
* Giveaway participants are providing information to this blog and giveaway sponsors only; not to Facebook.
Contest ends at 11:59pm EST on July 5, 2016 when a winner will be drawn at random.