Not all coffee is created equally – or the same. For full, robust flavor like no other, try Peet's Coffee. They coffee is made with fresh beans in small batches to produce a rich coffee that is famous in their hometown of Berkeley, CA and now made available across the country.
Peet's Coffee offers a great tasting cup of coffee for coffee lovers in every type and roast imaginable from various regions. You are sure to find one you'll love. We were able to review and sample one of Peet's best sellers, Arabian Mocha-Java.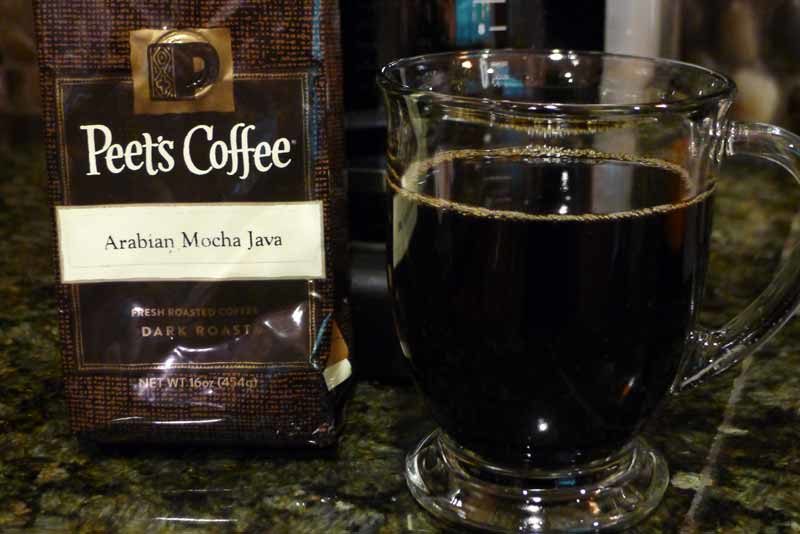 My husband loves dark roasts, so this was the perfect choice. Rich and dark with bittersweet chocolate undertones of taste that are associated with the word, "mocha".  If you are looking for a rich, full body, dark roast, we recommend this blend. It may quickly become your favorite cup of coffee! The consistency of Peet's is unlike any other coffee we've had, it's almost a powder – which is traditionally how coffee was brewed. Their commitment to quality is noticeable from the moment you open the bag of coffee to the last drop in your cup.
Peet's also offers a wide array of teas from China, India & Sri Lanka, and Japan in many flavors and types. I like hot tea when the weather starts to chill but I enjoy iced tea year-round. I was able to sample a few of their Iced Teac Pouches and I'm officially hooked on them! I especially enjoy the Calypso Mango Black Tea and the Sunburst Green Tea (pictured).
Sometimes green tea can be bitter and it is hard to brew the green tea perfectly. I've found every pitcher of Peet's Sunburst Green Iced Tea has been perfect. I've served it to friends who also agree that it is a delicious green tea.  The iced tea I chose came in pouches that brew 64 ounces of tea. Peet's also offers tea bags, tea by the pound, and loose leaf.
Find a Peet's near you  or buy online. Locally, you can find Peet's Coffee & Tea at Giant Eagle, Heinens, Earth Fare, WalMart, Marc's, and Target.  If you like to save money and never run out of coffee and/or tea, sign up for a Peet's Coffee & Tea Subscription. You'll enjoy Peet's automatically delivered to you as often as you select, plus you'll receive a 10% discount!