I am always on the lookout for something new and healthy to feed my family for breakfast. Quaker Oatmeal has just come out with breakfast innovations with flavors that my family just loves.
I received product to facilitate this post.
Our favorite is the new Quaker Warm & Crunchy Granola. It is a cross between hot cereal and crunchy granola. Simply add milk to the proportioned packets and heat in the microwave for 25 seconds.
On a cold morning like this week, enjoying a warm breakfast is a necessity! The cereal has all the flavor and crunch that you expect from a granola cereal but the warm milk really takes you by surprise. It is genius!
Quaker Warm & Crunchy Granola comes in 3 flavors: Honey Almond, Apple Cinnamon, and Cranberry Almond.  The clusters of granola and flavor combinations are all truly tasty and the perfect start to any day.  You'll love the crunchy/warm combination too. It has all the health benefits that you already enjoy with Quaker oatmeal too, including the same amount of fiber and whole grains as Original Quaker Instant Oatmeal.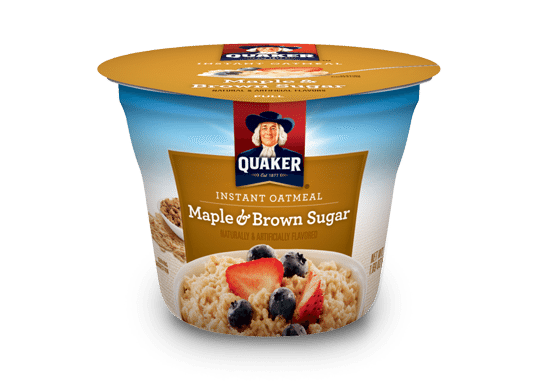 For those on the go in the morning, the new Quaker Instant Oatmeal Cups is the perfect solution. They come in ready to cook and eat containers. Simply add water, heat in the microwave and enjoy. This is perfect for busy mornings at home, at the office, and for dorms! Enjoy, then toss with no clean up. Enjoy favorite flavors like Apples & Cranberries or Honey & Almonds. Start the day right or curb your afternoon hunger with healthy oatmeal that is under 200 calories and packed with 7 grams of protein and 5 grams of fiber.
My new favorite cold cereal is the new Quaker Real Medleys Ready-to-Eat Cereal. If you enjoy crunchy, fruity, nutty cereal, this is for you. The Quaker Real Medleys Peach Apple Walnut Multigrain Cereal offers a burst of flavor and crunch in every single bite. Each spoonful is loaded with sweet pieces of peaches and apples, and crunchy walnuts, granola clusters, and multigrain flakes. It is a full mouth experience of flavor! Plus, it stays crunchy in your bowl until the last spoonful.
My absolute favorite is the Quaker Real Medleys Cherry Almond Pecan Multigrain Cereal! YUM! It includes a delicious flavor combination of tart cherries, roasted almonds, pecans, multigrain flakes, and crunchy granola clusters. The cherries with pecans together are perfect, but adding everything else makes it totally satisfying and delicious.
Check out their new Quaker Real Medleys Fruit and Nut Bars too!

I'm hooked on these brand new breakfast innovations by Quaker. I'm sure you will too. Pick up a few boxes during your next grocery shopping trip or online.
Like Quaker on Facebook
Follow Quaker on Twitter
This was not a paid post. My own opinions were used based on my perceptions and experience. Thank you to Quaker who provided products for review.