What could be better than S'mores and Hot Chocolate? Two favorites combine to make this delicious S'mores Hot Choclate recipe using the new TruMoo Chocolate marshmallow Milk.
I received product to facilitate this post.
S'mores Hot Chocolate Recipe
This is a fun and easy recipe that your kids will enjoy helping you with and ask for it on every cold day!
S'mores Hot Chocolate Recipe Ingredients
TruMoo Chocolate Marshmallow Milk
Graham Crackers, crushed
Chocolate Syrup
Marshmallows
S'mores Hot Chocolate Recipe Directions
Prepare your favorite mug by spreading chocolate syrup around the rim of the mug. I use a clean, new sponge paintbrush to spread the chocolate.
Next, sprinkle the crushed graham crackers on top of the chocolate.
Freeze for 5 minutes to allow it to set. I put mine outside for a few minutes and it froze fast in the 1 degree temps today!
Remove any fallen graham cracker crumbs from inside the mug.
Heat the TruMoo Chocolate Marshmallow Milk in the microwave in a microwave safe dish for 30 seconds.
Pour heated milk into your mug.
Add a couple marshmallows
Drizzle additional chocolate sauce, if desired. Enjoy!
My kids got a kick out of their fancy S'mores Hot Chocolate! It is quite tasty.
For a limited time, you too can enjoy the new TruMoo Chocolate Marshmallow Milk, available at stores like Target and Giant Eagle.
If you've never tried TruMoo, you are in for a treat. TruMoo is fresh white milk from local area farms with an amazing chocolate taste. The good news is that TruMoo contains No High Fructose Corn Syrup and made with No Artificial Growth Hormones. It is a very welcomed addition to any meal or as a treat with the S'mores Hot Chocolate recipe.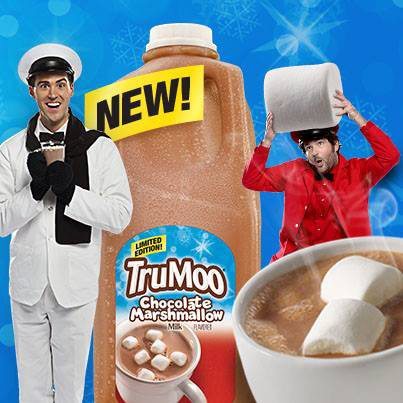 The limited edition TruMoo Chocolate Marshmallow Milk is satisfying both cold and hot. It taste just like a s'more.
This was not a paid post. My own opinions were used based on my perceptions and experience. Thank you to TruMoo who provided the product for review.