Super Bowl Sunday will quickly be upon us. (Sunday, February 6, 2011. Kickoff at 6:30pm EST)  People will be gathering around the TV with friends and family nation-wide. How do you satisfy all those taste buds without making yourself go crazy? Party foods should be fun, simple, and yummy. Bring the favorites of  bbq, popcorn fish, and meatballs into a new, fun way with a build-your-own-slider bar. Sliders are all the rage right now! People love the fun little sandwiches filled with the great tastes they love. The build-your-own-slider bar is also fun and allows people to customize their sliders however they want. You look like a genius for having the variety laid out but secretly, this is the easiest party food idea around!
Make everyone happy this Super Bowl Sunday with great and easy recipes.
This truly is a fast way to prepare for your  Super Bowl Party or any other party. We used products from our local Sam's Club for affordable party food. We used Byron's Bar-B-Q for the BBQ Sliders, SeaPak for the Popcorn Fish Sliders and Casa Di Bertacchi Meatballs for the Meatball Sliders.
Hands on Review of Build Your Own Sliders Bar
Not sure what people will think of this build your own sliders bar idea? We tested all 3 of the above recipes on our family and friends at our kids' birthday party over the weekend. Everyone loved it! Sliders made the party food fun, not just food. People loved creating their own slider masterpieces. My mother-in-law is an amazing cook, she really enjoyed the sliders and said she would never have thought of this. It sort of made my day. 🙂
So, at this party, we had kids from toddlers to age 12, every single kid ate at least 1 slider without bribes! Kids like the size of sliders because it is just the perfect size for them. Most adults had 2 sliders, a couple of the guys had 3. Not only were the sliders a big hit at the party but this was the easiest party food I've ever prepared! With the main ingredients of Byron's BBQ, SeaPak, and Casa Di Bertacchi Meatballs, everything was easy to prepare with the perfect balance of flavors for every taste. There was something for everyone.
What makes these sliders great for Super Bowl Sunday is that there is a lot of variety plus they are easy to assemble so there is no time wasted away from the game!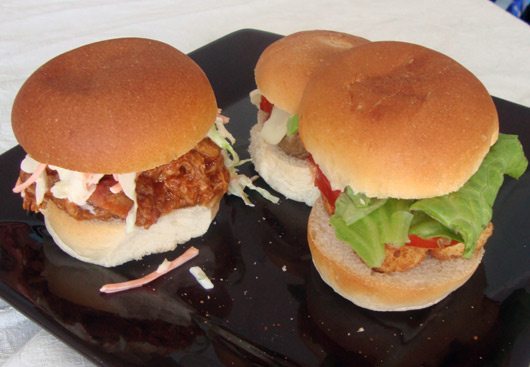 BBQ Sliders
The BBQ Sliders were made with Byron's BBQ hickory-smoked BBQ pork. It is a bit zestier than mild BBQ but not overwhelming at all. My 4 & 6 year olds both liked it even with the Cole Slaw. The Cole Slaw really pairs well with the the BBQ, it really created a whole new experience for me and many at the party who have never had this combination. Just 1 tray can make 30-60 sliders.
Popcorn Fish Sliders
To be honest, I wasn't sure about a fish slider. I was excited to try both the BBQ and the Meatball Sliders but not so much the Fish Sliders. Let me tell you, the Popcorn Fish Sliders were a huge hit! They were actually my favorite. The popcorn fish is mild and has a nice breaded, crunchy outside. This paired with fresh tarter sauce, lettuce, and tomato was delicious. We use the SeaPak Popcorn Fish for this recipe. You can get 10 – 20 sliders out of just one 22 oz bag.
Meatball Sliders
The Meatball Sliders taste like a great meatball sub. We used Casa Di Bertacchi Meatballs for this recipe. My family uses Casa meatballs all of the time in many, many recipes for the authentic Italian taste as well as the convenience. They have made it so easy to prepare hearty meals. This is fail-safe recipe. Everyone likes meatballs, sauce and cheese. You can't go wrong with a meatball slider at any party.
Buy It
You can purchase Byron's BBQ at Sam's Club and BJ's nationwide. SeaPack Popcorn Fish is available at your local C&S Tops, Heinan's, Meijer, Sav-a-Lot, Winco Foods, and Wal-Mart. Casa Di Bertacchi Meatballs are available at your local Sam's Club.
Win 101 Things to do with Meatballs (Closed)
Updated: 2-11-11 Winner Announced: Congrats Janice Crespo
Win 101 Things to do with Meatballs cook book from the NY Times Best Selling Cookbook Author, Stephanie Ashcraft. Her preferred meatballs are Casa Di Bertacchi Meatballs! Say goodbye to boring dishes with creative, fun, and delicious recipes your family will love.
Contest ends at 11:59pm EST on February 9, 2011 when a winner will be drawn at random and announced the next day. When commenting, please include your email address (not visible to public). I will notify the winners and they will have 36 hours to respond!
This was not a paid post. My own opinions were used based on my perceptions and experience. Thank you to The But In Group who provided the products for review & giveaway.