Does your family enjoy a bedtime snack or dessert? We have always enjoyed a little something before bedtime. If my kids are lucky, it is a sweet treat! Just in time for the holiday season, Entenmann's Little Bites has a brand new, limited edition flavor: Cookies & Creme that families all over are going to really enjoy for a bedtime (or anytime!) snack!
The coupons for product redemption, information, and gift card have been provided by Entenmann's Little Bites® so that I could try the product and share my thoughts and information about Entenmann's Little Bites®. The opinions expressed in this post are my own and do not reflect the opinions of Entenmann's Little Bites®.
My family has enjoyed Entenmann's Little Bites since our kids were just toddlers. They are always super soft and flavorful no matter what the flavor. We have our favorites but always love trying their new flavors and they never fail to delight! We are really enjoying the brand new Cookies & Creme muffins! They are similar to a classic chocolate sandwich cookie – you know the kind with chocolate on the outside and creme in the middle! Is there any better flavor combo?
Like I said, this is the perfect bedtime snack to hold 'em over until morning. We eat dinner really early at 5pm, so by 9, everyone can use a little snack before bed. I like Little Bites because they are perfectly portion-controlled sizes – whether for a bedtime snack, breakfast, or after school snack, they are portioned just right. At night, we usually enjoy a glass of milk, which pairs perfectly with Cookies & Creme muffins! It's a good idea to get that extra glass of milk in kids before bed to get the daily calcium needs met, plus it is good at keeping blood sugar levels steady which is very important for families with type one diabetics. Speaking of T1D, unlike other muffins that are LOADED with carbs, this pouch of 4 muffins is just 27 carbs, again, perfectly portioned controlled.
Have fun and get creative with Little Bites with this fun Snowman Muffins recipe! A few decorating touches and you and your kids can create one-of-a-kind treats! Cooking with kids is always a fun activity on cold days that we are experiencing right now!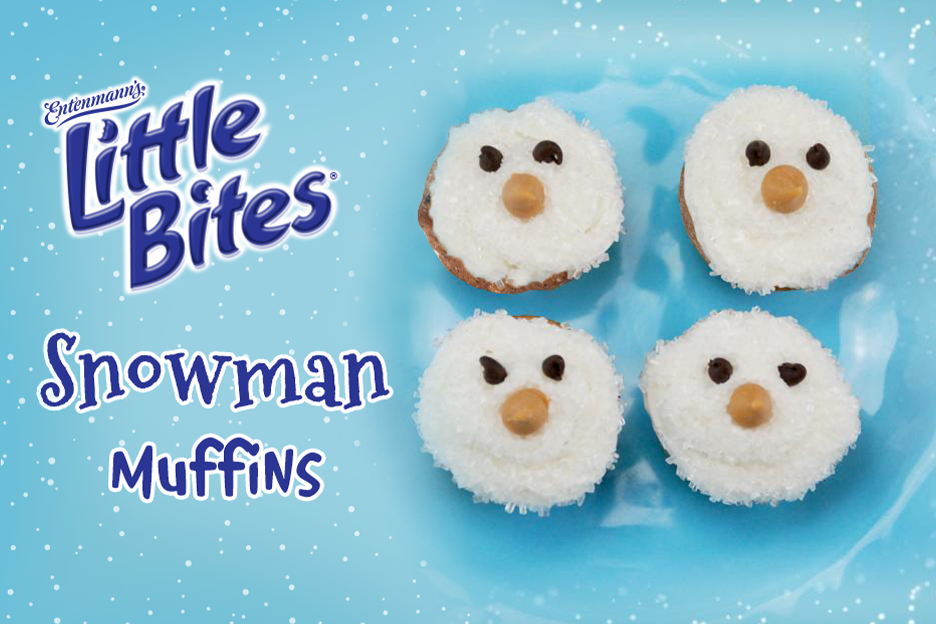 Stop by your local grocery store to pick up this new, delicious limited time flavor! I saw that Acme Fresh Market had Little Bites on sale for BOGO this week, so you might want to stock up!