Now you can enjoy your favorite McDonald's food and drinks delivered to your home, office, dorm, school, or party with McDelivery.  McDelivery is available through the UberEATS app for 8 McDonald's restaurants across the the greater Akron, Ohio area.
Simply place your McDonald's McDelivery order on the UberEATS mobile app (Google Play or Apps Store) or on UberEATS.com (using same account you use for Uber rides).
Were you running late to work and skipped breakfast? No worries, order your favorite breakfast with UberEATS and get it within 20-30 minutes. This is perfect for morning office meetings, overnight group camp-outs, church lock-ins, and slumber parties too! You can order from the All Day Breakfast all day long.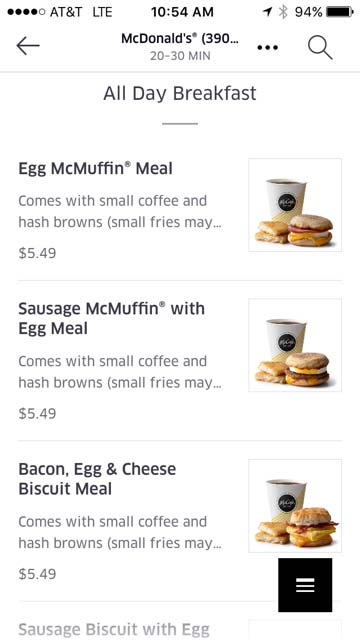 Did you skip your morning coffee or need an extra boost in the afternoon? Moms, I think we can all agree that a McCafe Macchiato or Cappuccino sounds really good right about now! It is all within easy reach without even leaving your desk at work or home.
There are so many times that we are rushed for dinner on week nights with busy after school, sports, church, and other activities. Having the option of having dinner delivered to our home or sports practice is going to be such a time saver! It is sure to be your family's favorite family meal time option too!
Plus, McDelivery is perfect for impromptu get-togethers, parties, game night, and sleepovers. Moms, you'll be the coolest mom ever if you have McDonald's delivered to your kid's next playdate or hangout.
I love that McDonald's Extra Value Meals are also available through McDelivery UberEATS. McDonald's knows what their customers want. In fact, McDonald's delivery is the #1 request by customers on the UberEATS app.
Akron is the fourth market in Ohio to offer delivery. So far, McDelivery is available to 7,800 McDonald's in 47 countries and 6 continents (out of a total of 36,000 locations and 100 countries).  I'm pretty happy that Akron is part of that trend. Click here to see if McDelivery is in your area.
So far, the most popular McDelivery meals are the Big Mac, Double Quarter Pounder with Cheese, and Buttermilk Crispy Chicken Sandwich Meals.  You can't go wrong with any!  There is no need to ever skip lunch or dinner because you don't have time, enjoy your favorites within 20-30 minutes.
Download the UberEATS mobile app (Google Play or Apps Store) or go on UberEATS.com now for your first McDelivery!  If you are a new UberEATS customer, you can get $5 OFF your first McDonald's delivery with McDelivery coupon code EATSMCDS. UberEATS booking fee applies.
Akron area McDonald's offering McDelivery:
246 East Exchange, Akron
1365 Vernon Odom Boulevard, Akron
390 W. Market Street, Akron
578 E. Market Street, Akron
1720 W. Exchange Street, Akron
1650 Copley Road, Akron
482 Howe Avenue, Cuyahoga Falls
3875 Medina Road, Montrose