I don't indulge in candy bars like I would like to, but I probably have one more than I should. When the afternoon hits, so does my snack cravings – and chocolate is always at the top of the list! I was given samples of the new Fiber One Protein Bars to review for this post. Let me tell you, they could pass for candy bars but you can get away with calling it a healthy protein bar! 🙂  The new Fiber One Protein Bars are packed with chewy deliciousness, you hardly know that they are packed with protein and fiber!  Actually, the combination helps me get through my afternoon with more energy and less snacking!
People are using protein as their secret weapon to weight management and energy. Maybe that is why we've seen protein consumption on the rise this year.  Fiber One is leading the way by providing consumers what they want with this fiber/protein combo to curb hunger.
Caramel Nut Fiber One Protein Bars
The Caramel Nut Fiber One Protein Bars are a hearty 1.17 oz size per bar – a good candy bar size. At only 130 calories, you can enjoy it with no guilt.

The Caramel Nut  Fiber One Protein Bars contains 7 grams of protein but that isn't what you are eying below is it? Nope, it is gooey caramel, crunchy peanuts and smooth chocolate covering. Believe me, I get it.  It's delicious! There is no problem trading in my old empty calorie candy bar for this delicious snack alternative.

Coconut Almond Fiber One Protein Bars
My favorite of the two flavors has to be the Coconut Almond Fiber One Protein Bars. Let me just tell you it is an amazing, flavorful combination! Yum!  At only 140 calories and six grams of protein, I feel like I'm cheating!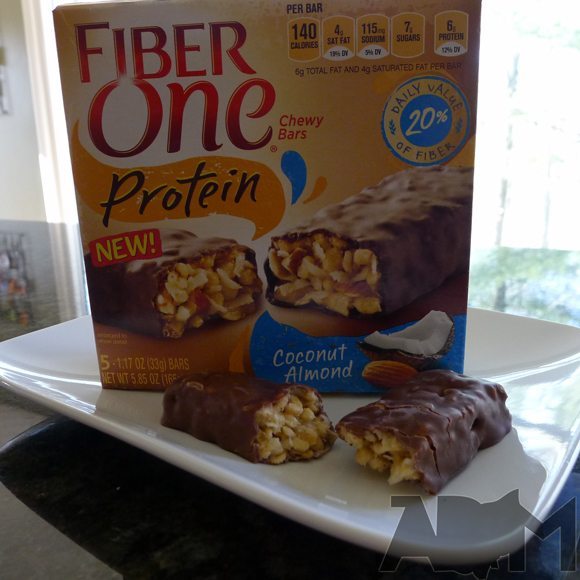 The coconut flavors literally burst forth with each and every chewy bite. I think I've found my new favorite afternoon pick-me-up snack! Adding fiber to your diet is important and sometimes hard to do. Just one protein bar and you've got 20% covered – that's easy!

So, are you up for the challenge? Trade in your candy bar this week for a Fiber One Protein Bar that is packed with fiber and protein that will keep you satisfied with all the chewy and chocolate goodness your taste buds will thank you for!
Like Fiber One on Facebook
Buy Fiber One Protein Bars
You can buy Fiber One Protein Bars are available at major grocery stores nationwide in five-count boxes, at a suggested retail price of $4.19
This was not a paid post. My own opinions were used based on my perceptions and experience. Thank you to Fiber One who provided the products for review.