During cooler months, my family eats a lot of soup. There are only a few recipes that I make home-made including Chicken Noodle, Broccoli, Chili, and Alfredo Chicken Soup. Beyond that and when I don't have time to make my own, I turn to Progresso Soup. I eagerly accepted the opportunity to review a couple Progresso Soups.
But first, did you know that Progresso has 3 lines of soups designed to with your specific health needs in mind? The Progresso Reduced Sodium Soups are great for those concerned about high cholesterol. The Progresso High Fiber Soups offer an impressive 7 grams of fiber per serving, sure to help the 9 out of 10 Americans not getting the recommended daily fiber. Progresso's Light Soups are America's #1 Light soup.
Progresso Soup Dinner Time Review
Like I said, we buy a variety of Progresso Soup already and like them. For this review, we were able to review 2 Progresso Soups:  Tortilla y Pollo, Progresso and Light New England Clam Chowder
Progresso Tortilla y Pollo (Chicken Tortilla)
The Progresso Tortilla y Pollo (Chicken Tortilla) is part of the Progresso New World Recipes™. This line of soup is inspired by Mexican recipes. The recipes are made with authentic Mexican ingredients and seasonings. New World Recipes include: Chicken Tortilla, Meatball & Rice, Black Bean Jalapeno and Chicken & Vegetable.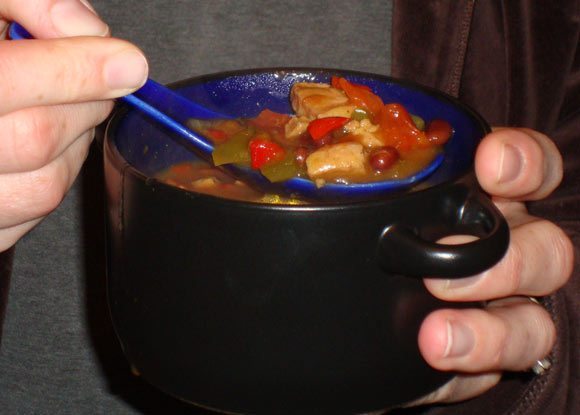 You can see in the above picture that the Progresso New World Tortilla y Pollo Soup is a hearty soup. My family eats a lot of Mexican foods, my son even enjoys food spicier than I do – he gets that from his dad. This particular recipe was far too spicy for kids and I did not honestly care for it. If you enjoy spicy, Mexican food, then I suggest giving it a try, you'll probably like it. That being said, I WILL try the other New World varieties to find our favorite in that line.
Progresso Light New England Clam Chowder
We were also given the Progresso Light New England Clam Chowder to try. I have never made clam chowder before and only had it a few times, once in San Fransisco  at the Fisherman's Wharf. Yummy!  This is the 1st creamy light ready to serve soup with just 1 Weight Watchers® POINTS® value per serving. Perfect for those New Year Resolutions.
You can see just how creamy and hearty this soup is. Although I am not a huge fan of having clam chowder all of the time, when I feel the urge, I will pick up a can of Progresso's Clam Chowder.
Progresso Soup Commercials
Have you seen the fun Progresso Soup commercials this season? I love the one where the lady is standing in the grocery store wearing her wedding dress. She calls the kitchens of Progresso and thanks them for helping her fit into her wedding dress. They ask when her wedding is and she said like 10 years ago! Premise is that she can still fit into her dress because she stays fit with Progresso Soups.
Our kit came with our very own Progresso Soup can telephones. My kids have had a blast playing with them! I had my nephew and son make up a commercial for Progresso from a kid's point of view. They know fresh vegetables are nutritious and loaded in Progresso Soup. They used the storyline of eating nutritious vegetables in soup to have more super hero powers to fight the bad guys. Here's their take on Progresso Super Soup!
Win Progresso Soup Prize Pack (Closed)
Updated: 1-26-11 Winner Announced: Pamela
Progresso Soup is generously offering you a chance to win your own Progresso Soup 'Prize Pack. Your prize pack will include VIP coupons for 2 cans of Progresso Soup, a Spoon Rest, a Soup Can Rack and a Soup Mug with matching Spoon.
Contest ends at 11:59pm EST on January 24, 2011 when a winner will be drawn at random and announced the next day. When commenting, please include your email address (not visible to public). I will notify the winners and they will have 36 hours to respond!
This was not a paid post. My own opinions were used based on my perceptions and experience. Thank you to  Progresso Soup who provided the products for review & giveaway through MyBlogSpark.