Enter below for the AkronOhioMoms Christmas Gift Guide Giveaway $1411 Total Value!
We have 5 amazing Christmas Gift Guides this season for Babies & Toddlers, Grade-School Kids, Tweens & Teens, Adults, and Book Lovers.  Many of those gifts are in this giveaway!
There will be 2 Grand Prizes – enter below daily for your chance to win the prizes below!
Swagboard T380 Hoverboard ($350 value)
Swagboard T380 Elite Hoverboard features dual 300-watt motors, LED lights and built-in Bluetooth speakers. You can get up to speeds of 8 mph and up to 11 miles on a single charge. Teens will enjoy the smooth and responsive handling with excellent stability and the sleek, sporty design.
Levo G2 Deluxe Tablet Stand ($190 Value)
Cool tech device for chronic back and neck pain sufferers. The Levo G2 Deluxe Table Stand "floats" your tablet at the perfect position and eye level for you. It can be swiveled and tilted in any position.
Copper Chef 14 in 1 Multi-Use Wonder Cooker ($100 Value)
This Copper Chef Wonder Cooker includes a 12 QT roasting pan and lid, Multi-Use Grill pan, 9 X13 Roasting Pan (perfect for casseroles & roasting turkey and more), Shallow Roaster pan, Deep Roaster pan, and Deep Frying baskets. Transforms into 14 different cooking applications with nonstick ceramic coating for easy cooking and clean-up.
Singing Machine Groove Cube ($70 Value)
Groove Cube karaoke system lets you play your music CDs and CDGs or stream audio via your Bluetooth compatible devices. Follow the karaoke lyrics on your TV screen via the included RCA cables. Record your voice performances to the integrated USB jack. Built with over 40 multi-colored LED lights that synchronize to the music plus speakers in a custom designed cabinet for a crispy sound, you are party-ready at a moment notice!!
Godlfish Swim School Gift ($290 Value)
Goldfish Swim School prize includes 2 months of group or advanced swim lessons for ages 4 months – 12 years old, Annual Membership fee, limited-edition Goldfish towel, Bubbles bath toy, Bubbles storybook, Goldfish goggles or i play. swim diaper, and 3 Family Swim passes. Valid at Cleveland East Side, Fairview Park, Hudson and North Canton, Ohio.
SPIbeams LED Hat ($30 Value)
SPIbeams™ LED Hat has battery operated 128 Lumes lights with easy on/off switch on the rim of the hat. Lights up your path ahead similar to a headlamp but with more comfort of a hat made of breathable material.
The Floor is Lava! ($20 Value)
The Floor is Lava is a fun family game incorporates physical activity, imagination and pure fun as you imagine the floor is molten hot lava, while spinning for their color and jumping along foam game pieces in order to reach safety. 2-6 players, ages 5+
STEAM Kits ($75 Value)
Griddly Games Just Add STEAM Kits include experiments and activities. This is a fun introduction to chemistry, art & material engineering for ages 6+.
Just Add Milk explores surface tension when you add food color, soda pop, and vinegar to milk. After experimenting, create colorful designs to turn into a suncatcher, mouse pad, and more.
Just Add Sugar gives young scientists the opportunity to make rock candy, sugar cubes, and homemade soap.
Just Add Glue Basic will stretch your imagination with super stretchy polmers as you make balls, crystals, and window clings.
PopSocket from RizTech ($10)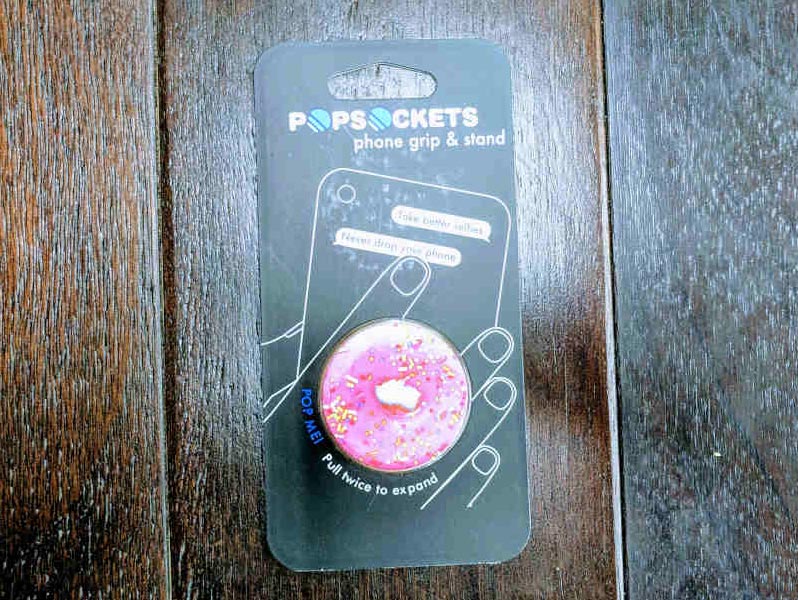 PopSockets are the perfect edition for your phone to help you hold onto it better when taking pictures or watching videos! This cute doughnut design adds a fun touch to your phone case! Provided by RizTech in Medina, Ohio.
Thirty-One Custom Statement Canvas Pillow ($50 Value)
Create a soft & beautiful statement decor piece with this Thirty-One 18″x18″ cotton canvas throw pillow cover with insert. Customize with names, message & embroidered icon designs.
Intelliskin Essential Bra ($120 Value)

The only bra that will energize you throughout the day with PostureCue™ Technology for better postures and +CoolCue™ fabric for comfortable compression and ventilation.
Name 5 ($20 Value)
Name 5 is an outrageous party game that asks the easy questions you know the answers to but can you Name 5?! It is harder than you think! For 2+ players, ages 12+
The Art of Doodle Words ($20 Value)
Turn Your Everyday Doodles into Cute Hand Lettering with this fun and easy approach to lettering by combining it with doodling for word-art limited only by your imagination.
Hashtagit! Adult Party Game ($20 Value)
Start with a ridiculous photo, add your best Hashtagit caption, and vote on the winner! Hashtagit! is for adults as the photos are outrageous, quirky and possibly offensive in good fun.
SmartControl Fuel Can System ($18 Value)
New generation of gas can with Scepter SmartControl easy pour spout. Win this 2 gallon can to fill lawn mowers, rec vehicles, and more fast without spills.
STICK-AMIS ($13 Value)
Must-have smartphone accessory, STICK-AMIS is a hands-free anti gravity selfie phone sticker sticks to Wall, Mirror, Glass, Tile, Most Smooth Flat Surfaces up to 1,000 times.
Ohio State Spot it! Card Game ($15 Value)
Spot It! NCAA The Ohio State Edition puts a college spin on the family favorite, Spot it! How many symbols can you identify and match from card to card? Many of the symbols represent your favorite NCAA The Ohio State and other college memorabilia on 55 unique cards!
Shop our Christmas Gift Guides
Find these and more exciting and unique gift ideas with easy links for online shopping in our 5 amazing Christmas Gift Guides this season!
Babies & Toddlers
Enter AkronOhioMoms Great Christmas Gift Guide Giveaway
Enter to win AkronOhioMoms Christmas Gift Guide Giveaway!  Total prize value is $1411. Enter daily to increase your odds of winning!
There will 2 be randomly drawn winners! The first name drawn will choose between Prize #1 and Prize #2. The second name drawn will receive the other prize.
Prize 1: ($691 Value)
Swagboard T380 Hoverboard
14 in 1 Multi-Use Wonder Cooker
SPIbeams LED Hat
Thirty-One Custom Statement Canvas Pillow
Intelliskin Essential Bra
STICK-AMIS
SmartControl Fuel Can System
PopSocket from RizTech
Prize 2:($720 Value)
Levo G2 Deluxe Tablet Stand
Goldfish Swim School
The Art of Doodle Words
Hashtagit! Adult Party Game
STEAM Kits
The Floor is Lava!
Name 5
Ohio State Spot it! Card Game
Groove Cube
a Rafflecopter giveaway

This promotion is in no way sponsored, endorsed or administered by, or associated with, Facebook. In order to comply with the latest Facebook Promotion Guidelines (revised 5/11/11), the following statements are true: