What is the point of having great styling tools if your hair dryer isn't drying your hair fast enough and is damaging your hair? My hair is thick and long, drying my hair has always been a chore and time consuming. I was thrilled to review the Babyliss Pro Ionic Ceramic Hair Dryer to see if a better quality hair dryer makes any difference.
I was blown away by the Babyliss Pro Ionic Ceramic Hair Dryer
Seriously, I was blown away by the Babyliss Pro Ionic Ceramic Hair Dryer. I did not expect a huge difference between my old hair dryer and this new one. When I opened the box and pulled out the gorgeous, red Babyliss Pro Ionic Ceramic Hair Dryer, I fell in love. This is one serious hair dryer.
Just holding it, I could tell it was higher quality than what I am use to. It just feels good holding as it contours perfectly to my hand. The surface is easy to grip as it has a rubberized finish. It is substantial but weighs less than most full size dryers.
The best part about this hair dryer for me was the power! Try 1750 watts of power! This way outdoes any previous hair dryer that I have owned. That is not all though, with this power comes amazing technology that eliminates static, reduced frizz, and gives your hair a gentle dry. The ceramic plated dryer heats and emits far infrared heat, then the negative ions do the rest. Negative Ion Energy it is so powerful that it breaks water molecule clusters into tiny particles so that it can penetrate the hair shaft! The hair absorbs the moisture, the cuticle tightens, leaving your hair regenerated. Stronger, healthier hair is everyone's dream!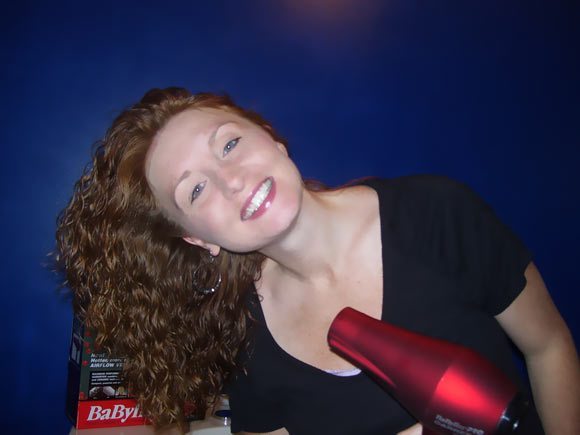 Flat Iron Experts Babyliss Pro Ionic Ceramic Hair Dryer comes with an easy snap-on concentrator nozzle for directional drying. I love that my large diffuser fits on the dryer to be used for my permed, curly hair. It stays on too with a snug fit, unlike my old dyer where it constantly came off.
The dyer comes with 2 speeds and 3 heat controls that are recessed in the handle. I've only bumped them a couple times but it wasn't a big deal to switch them back. There is also an excellent cool shot button that delivers a powerful cool shot for your style. You'll love the extra long professional power cord too, it just makes life easier.
This hair dryer will cut down on your time getting ready in the morning while delivering healthy, shiner looking hair. I am so thrilled to have a dryer that I can rely on especially as the cooler months are coming and I can't just run out with damp hair! I love that the negative ions are strengthening my hair everyday that I dry my hair instead of how traditional dryers damage hair.
Flat Iron Experts Babyliss Pro Ionic Ceramic Hair Dryer Features
This hair dryer has the new technology and features of the more expensive dryers! I took this long list from the Flat Iron Experts website so I didn't miss anything!
1750 watts.
Dual ionic chambers produce a steady stream of negative ions
Ceramic grill radiates negative ions for maximum performance
High heat and extra powerful airflow
Professional long life AC motor
Compact design and ergonomic handle offers more styling control and comfort
Weights less and delivers more air pressure and higher heat than standard full size dryer
2 speed and 3 heat settings
Cool shot button
Soft velour finish
Snap-on concentrator nozzlle
Extra long professional power cord with high flex pretection prolongs the life of the cord
AC 110V 60Hz for use in USA/Canada
One-year limited warranty
More on Flat Iron Experts
Flat Iron Experts are just that, experts in the styling iron field. They have compiled a Top Hair Dryers list with pros and cons of various hair dryers based on versatility, functionality, and warranty periods. Flat Iron Experts has done all of the research and homework for you, so you can be confident in the product you select. It is not hard to understand why the Babyliss Pro Ionic Ceramic Hair Dryer is ranked right up in the Top 3!   It is a quality product that is affordable while delivering the latest in technology.
Flat Iron Experts has everything you need for beautiful, healthy hair. They have all of the top brands in curling irons, flat irons, hair dryers, styling tools, hair care products, and cosmetics. Their prices are great with special promotions and free shipping on orders $75 and more.
Flat Iron Experts is not just a retailer of great beauty products, but they conduct research on each product to offer you the best products available. Check out their Top 3 Lists for their products to find the best products of today. You can even search for the product that fits your needs based on type of product and price ranges.
Also, If you love your hair super smooth and straight, please check out my review on the Flat Iron Experts KQC X-Heat Flat Iron.
If you rock with curly hair, please check out my review on the BaByliss Tourmaline Ceramic Professional Curling Iron.
Buy
Babyliss Pro Ionic Ceramic Hair Dryer – BAB6685RDC
You can buy the Babyliss Pro Ionic Ceramic Hair Dryer – BAB6685RDC for only $109.99 on Sale at Flat Iron Experts Website, normal price $140. Flat Iron Expers offer "1 Month 100% Satisfaction Money-Back Guarantee" to ease your mind. If you do not like the product just simply mail it back. This is what we call Risk-Free-Online-Shopping!
Win
Babyliss Pro Ionic Ceramic Hair Dryer (Closed)
Updated: 10-8-10  Winner Announced: Congratulations, Debbie Bellows!
Our friends at Flat Iron Experts is giving one lucky winner their own Babyliss Pro Ionic Ceramic Hair Dryer ($140 value!).
Required Entry
To Enter: You must visit Flat Iron Experts and leave one Comment Below on this blog about another product you might like to try that you see there.
Increase your Chances of Winning with Extra Entries
Leave an additional comment for the value of each extra entry and a way to verify the entry.
"Like" AkronOhioMoms on Facebook (posting a comment is appreciated but not required)
Follow AkronOhioMoms on twitter
Tweet about this giveaway. Tweet daily for an extra entry every day! Copy and paste: Win$140 Babyliss Pro Ionic Ceramic Hair Dryer https://www.akronohiomoms.com #contests #sweepstakes
For 2 entries/day, tweet my Pillsbury Finalist status. Copy and paste: Cindy Orley is a Pillsbury Crescent Cook finalist, vote for her (redhead) & you can win $5,000 http://bit.ly/dmnKWS #sweepstakes #contest
For 2 entries, comment on my (voting not required but APPRECIATED)
For 3 entries, comment on any Total House Remodel post
For 5 entries, blog about this giveaway on your website and link back to us .
For 3 entries, Stumble Upon this post with button on top of screen
Yahoo Buzz this post with button on top of screen
Google Buzz this post with button on top of screen
Join us with Google Friend Connect (on the sidebar)
Email 5 friends about this giveaway and CC me. I do not keep email addresses
Cast a vote for us on Top Baby Blogs
Rate my site on Top 100 Mommy Blogs

Leave one new comment on any other post or giveaway
For complete contest rules, please see our Contest Statement and Blog Disclosure.
Contest ends at 11:59pm EST on October 6, 2010 when a winner will be drawn at random and announced the next day. When commenting, please include your email address (not visible to public). I will notify the winners and they will have 36 hours to respond!
This was not a paid post. My own opinions were used based on my perceptions and experience. Thank you to Flat Iron Experts who supplied the products for review and giveaway.