It's
-1°F and feels like -12°F, which is an improvement over the -30°F we had earlier today, sort of. It's days and winters like this that make us long for Summer. How does the forecast at Castaway Bay look to you? 82°F!! Like a dream come true, right?!

I received accommodations to facilitate this post.
We were able to escape to Castaway Bay a couple weeks ago, you may have followed along with my social media shares with #bloggingatcp. That weekend was equally as cold and in the middle of a huge snow storm. I can't tell you how good it felt to escape to a tropical paradise with a short 1-1/2 hour car drive!
Our first stop was the cozy fire place in the lobby. It's always warm and inviting!
The large shipwrecked ship with talking parrot is always a fun photo opp too – and perfect place for kids and a parent to hang out while the other parent registers. We were there to check out their newest Room, Waterpark and Breakfast Buffet Package – it's a great deal for an affordable waterpark getaway any time!
Aww… 82°F felt amazing! The palm trees and decor adds to the tropical appeal – making it feel like thousands of miles from the brutal cold of Ohio! Our first stop is always the wave pool! Castaway Bay is one of just a few waterparks that offers a wave pool – my kids' favorite. We met up with my sister and her kids – making this an absolute blast for the kids!
Whether you are splashing, crashing into the waves or riding the waves, the wave pool is the best! It is where we spend most of the time. Minus the time I spent taking pictures for this post, I was in the water the whole time with my kiddos. Sometimes it is easier just to "let the kids play" but if you do this, you really miss out on all the fun! If I can give you any advice at all, it is to play with your kids. They do grow up way too fast. They have more fun and so will you if you get your hair wet and splash right along with them!
Next stop,  for the big kids was Cargo Crossing. My kids love showing off their skills as they make their way across the floating barrels and cargo boxes by only using the net above as assistance. As ages 8 and 10, they can both cross without falling in!
Whether your kids like to swim around, play water basketball, or climbing on the floating structures, Creature Cove is hours of fun! Literally, hours! My kids never get tired of climbing on the floating python, turtle, and dolphin. Now that my son is a little older, he enjoys a little friendly competition with other boys playing "king of the hill" on the structures too!
One of my personal favorites is the Lookout Lagoon Family Funhouse! Who can resist the giant bucket dumping 1,00 gallons of water on your head every 2 minutes?! Plus, we love being a little ornery and spraying water at people from up on top! ha!
There are also several smaller waterslides at the funhouse to go down – perfect for kids and adults alike.   There are also Tropical Tube Slides that actually start inside and wrap around the outside of the building and end in a splash pool too.
Something that no other waterpark has is the Rendezvous Run water roller coaster! Leave it to Cedar Point to throw in a roller coaster, right?! We LOVE it and went on it many, many times – as we do every time we are at Castaway Bay. It's a thrill as you speed down the hills, through tunnels, and splash at the bottom. I scream – loud- every time – it's starting to embarrass my kids – oh well! 🙂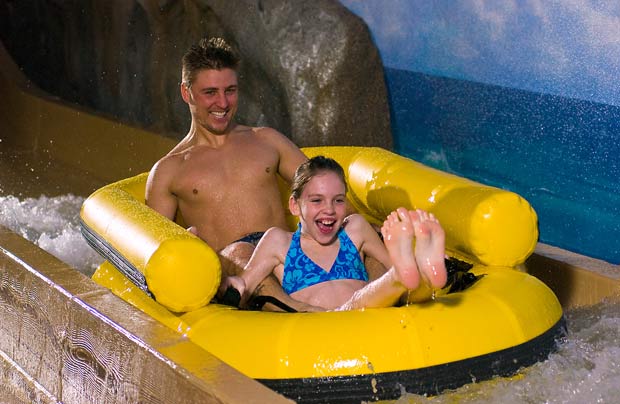 We spent plenty of time in the indoor/outdoor hot tub, The Grotto too! Kids can't get enough of being outside with snow on the ground while sitting in hot, bubbly water!
The rooms are always clean, spacious, and inviting at Castaway Bay. We've never had a problem with any room there. I like that there is a mini-fridge and microwave in every room. This is a must-have for families! It makes it easy to bring along plenty of snacks for hungry kids – because kids are always starving after spending hours playing in the water. There is a snack shop called Big Daddy's Snack Shack in the waterpark for pizza and snacks, but we still need snacks in the room too.
The new Castaway Bay Room, Waterpark and Breakfast Buffet Package includes a delicious breakfast buffet at Mango Mike's. It is a fun, tropical themed restaurant that overlooks the water – or ice – outside of the waterpark. The buffet is amazing – offering delicious breakfast favorites for every age including fresh fruit, pastries, scrambled eggs, cold cereals, hash browns, pancakes, french toast, biscuits and gravy, and more.
You might even get a special visit from Snoopy at Mango Mike's! The buffet is open for dinner too, based on occupancy. While we were at Castaway Bay, I was sharing socially – to keep all of you feeling the warm 82°F fun! It gave my daughter and niece the idea to become bloggers too! ha!
There is so much more to do and see at Castaway Bay – do yourself a favor and book at least 2 nights so you can get the full retreat effect! We had to leave early due to the huge snow storm but still had a fabulous time. When you allow yourself enough time, you can take part in all the extras like the arcade, story time with Snoopy, crafts and activities, and tons more time at the waterpark!
Book Your Stay with an Exclusive Castaway Bay Promo Code
Get an exclusive rate for the new Castaway Bay Room, Waterpark and Breakfast Buffet Package when you use the Castaway Bay Promo Code: BLOG! This new package starts at just $149.
Castaway Bay
2001 Cleveland Road
Sandusky, OH 44870
Reservations (419) 627-2106
Get social with Castaway Bay on Facebook and on Twitter.
Ohio's Lake Erie Shores & Islands
During the blogger event, we were able to learn about more fantastic fun things to do in the Sandusky area with the Ohio's Lake Erie Shores & Islands!  There is so much to do on Lake Erie! Plan your trip today for fun at the beach, on the coasters, at the water park, on the islands, and more.  Plan a trip this Summer – there is so much to do – as this video clearly shows!

Win 4 Passes to Castaway Bay
You have the chance to win 4 day passes to Castaway Bay! ($116 value!)
a Rafflecopter giveaway

This promotion is in no way sponsored, endorsed or administered by, or associated with, Facebook. In order to comply with the latest Facebook Promotion Guidelines (revised 5/11/11), the following statements are true:
* Giveaway participants release Facebook from any responsibility whatsoever.
* Giveaways on this blog are in no way sponsored, endorsed or administered by, or associated with, Facebook.
* Giveaway participants are providing information to this blog and giveaway sponsors only; not to Facebook
30 Day Winning Rule applies. For complete contest rules, please see our Contest Statement and Blog Disclosure.
Contest ends at 11:59 pm EST on March 1, 2014 when a winner will be drawn at random. I will notify the winners and they will have 36 hours to respond or another winner will be selected!