Now that Easter is behind us and Mother's Day is right around the corner I have been asked what I would like as a gift from the hubby and kiddos for this Mother's Day.  First I laughed and said "SLEEP" but I knew I truly desired a unique, fun and simple token to remind me and celebrate how proud I am to have a wonderful stepson and beautiful daughter in my life!
I quickly realized that jewelry was probably the route the hubby would go but I also didn't want him to spend an arm and a leg!  Don't get me wrong ladies, I LOVE jewelry-but I love my family more so plain, simple and beautiful would be just fine for this mom. When researching I had lots of options for Mother's necklaces, rings, bracelets etc., but one store I found was exactly what I had wanted my gift to be from my precious kiddos.
The Vintage Pearl
When I found The Vintage Pearl's website I was amazed at the fun, hip hand stamped silver keepsake jewelry they were creating!  The Vintage Pearl was started in 2007 by Erin Edwards, a fellow mom who desired to be at home mom with her 4 young children but also enjoyed her "creative outlet" making jewelry.  They are based out of Tulsa Oklahoma and although The Vintage Pearl has a storefront in Tulsa they do quite a lot of business online…lucky for us Buckeyes!  I love to support businesses started by fellow moms who are passionate not only about what they do in business but their family as well!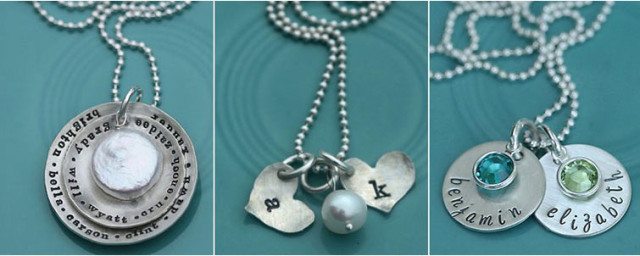 The Vintage Pearl jewelry can be customized with any names, dates or words of inspiration, and they have several fonts and charm shapes (circle, square, flower, heart etc.) to choose from.   They have many unique designs available online and come out with new designs often so be sure to check back on their website The Vintage Pearl to see new items available.  The Vintage Pearl wants your piece to be meaningful to you to enjoy in the years to come.
Things I love about the Vintage Pearl
Each piece is handcrafted from start to finish with care in their studio in Tulsa, OK.
Quality – they use raw sterling silver, freshwater pearls and birthstone crystals in every piece
Fun – you can "design your own" handstamped necklace by picking your favorite shapes and fonts with their eclectic necklace or dainty eclectic necklace!
Great GIFT ideas – necklaces, bracelets, keychains, leather cuffs, earrings, dog tags, baby spoons and more!
Very affordable prices – perfect for gifts OR to treat yourself!
Versatile – only have one child/grandchild for now? no problem!  You can add "a la carte" other adorable charms with your growing family!
Charitable – The Vintage Pearl works closely with several non profit organizations and the success of the company allows them the opportunity to give to others in need.
Not just for moms! The Vintage Pearl has gifts for the men in your life too!  Gifts for Father's Day anyone?

The Vintage Pearl also has products for the men in your life too!
Want more info on The Vintage Pearl?
To find out more about The Vintage Pearl or to purchase their amazing jewelry products visit their website or their blog, like their facebook page or tweet them on twitter.  To sign up for The Vintage Pearl newsletter please visit their website.
Giveaway Time!
The Vintage Pearl is offering 2, yes 2 $50.00 gift certificates for 2 lucky AOM readers!  How awesome is this!?  Perfect timing for Fathers Day gifts or for a treat for yourself!
WIN one of two $50 Gift Cards from The Vintage Pearl (Closed)
The Vintage Pearl is generously offering 2 lucky winners each a $50 Gift Card!
Updated: 5/22/11 Winners Announced: Congratulations, Trishden and Sara!
For complete contest rules, please see our Contest Statement and Blog Disclosure.
Contest ends at 11:59pm EST on May 18, 2011 when a winner will be drawn at random and announced the next day. When commenting, please include your email address (not visible to public). I will notify the winners and they will have 36 hours to respond!
This was not a paid post. My own opinions were used based on my perceptions and experience. Thank you to The Vintage Pearl who provided the products for  review and giveaway.