Tired of your boring, old mouse? Want something fresh and exciting made just for you? The new Logitech Wireless Mouse M310 is more than just pretty, it will be your favorite mouse the moment you lay your hand on it. Why? I'll use their slogan it "feels just right" and it does. It contours perfectly to your hand, whether you are right handed or left handed, male or female.
Logitech Wireless Mouse M310 Hands On Review
Liven up your computer whether at work or at home with the Logitech Wireless Mouse M310. Work won't feel so much like work with a smooth gliding, fun mouse, at least for a little while. Soon, you'll get use to the comfort this mouse gives your hand as it fits like a glove with it's contoured shape and soft rubber side grips. If you are looking for an ergonomic mouse, this is it. You'll never go back to the standard mouse again. It really is amazing how the right tools can make life easier and more enjoyable, isn't it?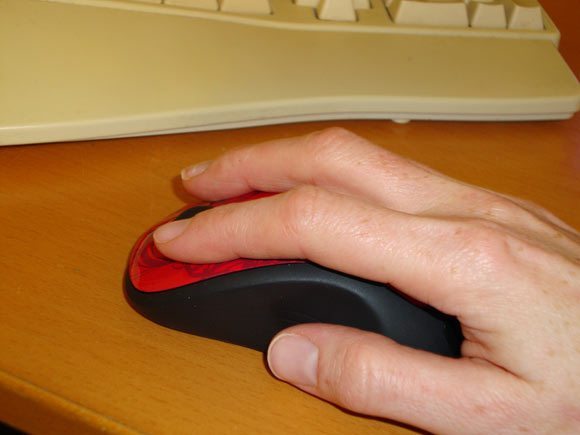 Set up of the Logitech M310 is easy. Turn on your computer. Put the AA battery into mouse. Plug in the USB Nano receiver into any USB port. Go!
Plus, with this wireless mouse, you just plug it into the USB port and forget about it, for a year! This wireless mouse has a 12 month battery life, which is exceptional.
This mouse works right out of the box. It delivers smooth results across the screen, selects text easily, and scrolls effortlessly. It fits perfectly and works just as well.
The M310 is so versatile that it is a perfect gift for anyone on your shopping list for the holidays, birthdays, or anytime.
Did you notice the cool colors the M310 comes in? Grey, Glamour Strip, Red Tendrils, and Peacock Blue. Way better than standard cream.
Buy the Logitech Wireless Mouse M310
You can buy the Logitech Wireless Mouse M310 on the Logitech Website for $29.99 each. Check out their Trade In program where you can trade in your old Logitech products for up to 20% off your new Logitech purchase. Also available in stores nationwide and on Amazon.com
Win the Logitech Wireless Mouse M310 (Closed)
Logitech is generously offering you a chance to win your own Logitech Wireless Mouse M310!
Updated: 1/8/2011 Winner Announced: Jeanette K
This was not a paid post. My own opinions were used based on my perceptions and experience. Thank you to Logitech for providing the products for review & giveaway.