We had a great time reviewing Wits & Wagers from North Star Games. When asked what other game you'd like to try, the majority of AkronOhioMoms fans said "Say Anything"! Let's check it out to see if it is as fun as it looks…
Say Anything Hands On Review
Games are engaging, entertaining, and when you get the right one, addicting! After playing Say Anything just once, I can honestly say that this is one of those games that we'll bring out again and again! What I love about this game is that it is relaxed, there are no wrong answers, and anyone can play.  There is no pressure, just lots of laughs, conversation, and plenty of crazy stories! You will find out what your friends really think about life and you with this fun, light-hearted game. This game is fun and recommended for ages 13 – adults.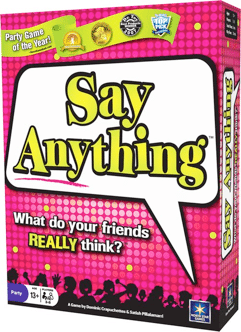 How do you play Say Anything Game?
This is a relaxed game without a lot of game pieces to keep track of. You do need at least 3 people to play the game, so this is definitely a party game, not something just you and your spouse can play together.
Basically to play this game, each person gets their own answer board, dry erase pen, and 2 tokens.  One person will select a Say Anything card with 5 questions on it. They will select one question to ask. Each person writes their answer on their answer board and place face-up on the table. From there, the same person that asked the question will spin the Select-o-matic 5000 to select the winner and place the spinner face down on the table. Now, each person uses their 2 tokens to guess which answer you picked by placing their tokens on their chosen answer card(s). If you are right, you get points, if you are not, you get 0 points, and if your answer was the selected card, you get a point too.
What I really like about this game is that it is tastefully made for both teens and adults. So many adult board game have questions that go against my moral standards, implying stuff that go against my beliefs of what is acceptable. You know what I mean?  I like that this is a game that families can play with their teenagers. I like that it is a fun game that I can play, as a conservative type girl, without blushing .
Example of Say Anything questions: What's the best movie sequel of all time? What would I most want for  my next birthday? What company would I most want to run? What announcement would most make Oprah's audience go crazy? What's the most important invention of all time? A genie just granted me a wish. What should I ask for? What's the worst thing to say to a cop after getting pulled over?
Buy Say Anything Board Game
Say Anything is a great gift idea for the person on your list that enjoys games and entertaining. Great for teens and adults.
Say Anything
is available nationwide in the following stores: Borders, Barnes & Noble, and Books-a-Million. Locally in the Akron area, Borders in Cuyahoga Falls carries it. Buy Wits & Wagers Family Game online at barnesandnoble.com. Price is between $18-25. Find it on Amazon.com by clicking below.
Win Say Anything game Closed
Updated: 1/6/10 Winner Announced: Donna K
Contest ends at 11:59pm EST on January 4, 2011 when a winner will be drawn at random and announced the next day. When commenting, please include your email address (not visible to public). I will notify the winners and they will have 36 hours to respond!
This was not a paid post. My own opinions were used based on my perceptions and experience. Thank you to NorthStarGames who provided the products for review & giveaway through Walsh PR.