Happy New Year! I hope that 2015 shapes up to be the best year yet for you and your family. This is the perfect time to start fresh with a clean slate – the opportunities for the year are endless. It is also a great time to reflect on 2014.
I enjoy all the year-in-review photos, videos, and commercials. What better way to reflect on 2014 than with Play-Doh!? 🙂 They have created "A Year in Play-Doh Moments" sculptures that reflect 2014 in a colorful way – made entirely of Play-Doh!
A Year in Play-Doh Moments
Check out 2014's most memorable moments below, including the Selfie pictured above. The Selfie has been known as the greatest "invention" of 2014, made popular by Beyonce and other celebs.
Who can forget the Polar Vortex we all experienced last year?! It was brutal!
The frigid air from the Northern Hemisphere took residence over delivering subzero temperatures to USA and Canada for days, and weeks at a time. So far, we've been spared but the Old Farmer's Almanac is predicting  another "teeth-chatteringly" cold winter – yikes!
The Ice Bucket Challenge was also "teeth-chatteringly" as we poured buckets of ice water over us for ALS awareness.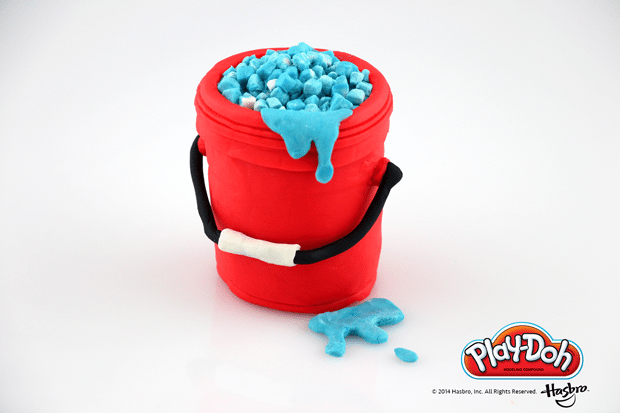 The Ice Bucket Challenge went global and raised $16.2+ million dollars for the ALS Association which researches Amyotrophic lateral sclerosis, aka Lou Gehrig's disease. That's amazing compared to the $1.8 million raised last year! The power of social media!!
2014 also brought the Smartwatch with 4K TVs, virtual reality headsets, connected tech, and more. They are in their infancy with many improvements on the way.

I haven't seen The Fault in Our Stars yet but apparently everyone else has as it grossed over $304 million worldwide and is now available on DVD. The story reminds me of the book series 6 Months to Live that I read in middle school.
If it hasn't been your day — or even your year– you can still count on a select group of "Friends" to make you smile as they celebrated 20 year anniversary in 2014.
The fashion movement of Normcore hit 2014. This odd fashion trend is essentially people wearing whatever they have on hand – but nothing trendy. Normcore took being normal into a popular movement with everyday casual clothes like boots, flannels, hoodies, t-shirts, and other unisex styles to the streets nationwide.
2014 is also when Jimmy Fallon said good bye to LATE NIGHT before becoming the official host of The Tonight Show.
I hope you have enjoyed this year in review with Play-Doh. Remember, if you can imagine it, you can create anything with Play-Doh!